Drexel University introduced a 24-hour self-service MacBook rental kiosk in the W.W. Hagerty Library for students, faculty and staff Dec. 4.
Anyone with a Drexel ID can check out one of the dozen 15-inch MacBooks to use inside the library and Bookmark Cafe. Library patrons are required to swipe their Drexel ID, enter their University password and agree to the terms and conditions before a laptop is issued.
"I think [the kiosk] is better, especially for the students who are here late at night. It gives students the option to come [to the cafe] and rent one really fast. I personally don't like carrying laptops around because they're heavy, and safetywise it's a big improvement for those who commute and live off campus," Nick Thibodeau, a senior majoring in international business, said.
Omer Hashmi, a recent Drexel graduate and representative from the Undergraduate Student Government Association, approached Dean of Libraries Danuta Nitecki with the idea of making laptops accessible 24 hours per day to students.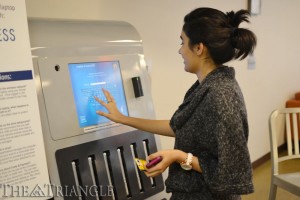 Prior to the kiosk there was no central location for students of all majors to have 24-hour laptop access, creating a problem for some students. Student safety is always a concern, and carrying expensive pieces of technology can put a student at risk.
"The neighborhood that we live in, and for commuter students who live within in a 10-block radius, it's not safe, especially during midterm and finals week when students are traveling all hours of night," Hashmi said.
Students are not constrained to sit at a desk and use one of the library's desktop computers. The laptops provide flexibility for students to move around. Popular Drexel software is installed on the laptops, including Maple, EndNote, SketchUp and Microsoft Office.
"[The laptop] does what I need it to do, which is mostly use the Internet, but I can see most students needing exactly this. The biggest thing is convenience because it has everything you need on it, and it's right in the library cafe. It's awesome for group projects for those who need to can quickly run in and meet and put the laptop right back," Thibodeau said.
The library staff was already searching for new, innovative technologies that could be useful to students, one of them being a kiosk to circulate technologies.
"I think this is a very nice and exciting opportunity where the libraries can be responsive to student need. We are delighted to do what we can, and this is an example of the Drexel innovative spirit to apply technologies to solve problems," Nitecki said.
The laptops are free of charge for the first five hours of use, but a $5 late fee charge is applied for the first 15 minutes the laptop is not returned and $15 for every additional hour after that. Security tags are on all of the laptops to ensure they do not leave the library or cafe. Once the MacBook is returned to the kiosk, all information is wiped clean and the kiosk will charge the battery.
"This past week I went down to the Hagerty Library and tried the machine myself. I was very proud to see this initiative and positive step taken by Drexel and the administrative authorities. I'm very excited for the students to have this resource," Hashmi said.
According to Nitecki, this is the first college MacBook kiosk in Philadelphia and the third on the East Coast. Approximately 400 transactions have occurred since the launch.
The library created a partnership with LaptopsAnytime to customize the kiosk for Drexel. Nitecki's office is considering adding kiosks to the University's other libraries and other locations around campus, as well as adding different technologies like iPads.
Associate Vice Provost Toni Torres, the Office of Campus Activities and the College of Arts and Sciences also collaborated to bring the MacBook kiosk to campus.