The Drexel community can look forward to two newly announced additions to Chestnut Square later this year. The additions of Joe Coffee, a New York City-based coffee shop, and a yet-to-be named Japanese restaurant that will be opened by the owner and operator of Zama's sushi, were announced Feb. 6.
"The expansion of the dining within [Chestnut Square] to include more restaurants will be good, acting in a similar fashion for dining," Malinka Ranasinghe, a sophomore economics major, said.
Jonathan Rubenstein, the owner of Joe Coffee, said, "[I am] excited to have a new audience to introduce great specialty coffee to and a new group of baristas to train." Rubenstein believes that there is plenty of room for some healthy competition with the existing Starbucks on campus and argues that his company will be marketing a different product.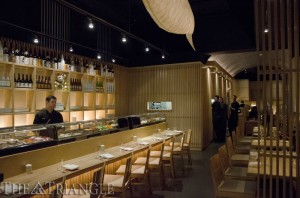 As a smaller-sized indie chain of unique coffee, Joe Coffee is a "different animal than Starbucks," especially now that they plan to begin roasting their beans "in order to control quality, reduce footprint and provide new jobs," Rubenstein explained. The company has already tested prices on the campuses of Columbia University and New York University in New York City, and Rubenstein is confident that his offerings will be affordable and be delivered at a level that will appeal to college students. Because coffee "is not a commodity product," the prices Starbucks and other smaller dealers charge are justified.
"Joe Coffee sounds like a great addition to campus," Julian Gilson, a sophomore music industry major, said.
As of right now, prices have not been finalized for the store opening at Chestnut Square, but at the stores in New York, the price for a small coffee begins at $2, "which compares to the current prices for a soda at some places," Rubenstein said.
The menu hasn't been decided either but should include pastries, breads, and grab-and-go items such as small-farm yogurt and healthy snacks. Gluten-free and vegan options will also be available.
With another store opening simultaneously in Rittenhouse Square, Rubenstein is looking to expand his franchise along the East Coast. The University City location, in particular, will be "more modern in feel, have more communal tables, and focus on a more theatrical edge to the products," he said. In addition to the beverage and food on sale, the shop will also be the first Joe branch to offer cooking classes and demos at Drexel.
Zama, a sushi restaurant whose owner will be opening a restaurant in Chestnut Square, is one of the better-reviewed and more popular sushi destinations in Philadelphia. Hiroyuki "Zama" Tanaka, the owner and main operator, originally worked at Morimoto's restaurant Pod and is now expanding his own chain to University City.
"I am pretty excited for the Japanese restaurant since right now there is only the one noodle place that offers that sort of food, … and it is always nice to have more diversity in dining options," Ashley Malone, a freshman studying biomedical engineering, said.
Currently the unnamed restaurant does not plan to offer sushi but will instead "focus on a variety of Japanese foods, particularly Yakitori style," Tanaka said. Yakitori can be compared to an American- or British-influenced Gastro-pub type of fair.
"I'm stoked about the Japanese place; I'm always looking for healthy places to eat, and now there will be some right on campus," Jacob Spear, a junior business major, said.
The restaurant will hold 140 people, but as of right now, no further information has been released. It is likely the prices will reflect the location, and a large discrepancy in price will exist between the more expensive and more reasonable items on the menu.
Nothing has been said as to whether either location will accept Dragon Dollars. Iryna Hrubiy, a freshman economics major, said, "If Dragon Dollars aren't accepted [at these locations] they would have a much harder time competing with other business[es] on campus."