The festival known as Recess made its way to Drexel as part of its nationwide tour April 8. The events of the festival took place both in front of Gerri C. LeBow Hall and inside the building as activities progressed into the later part of the evening. The entire act of Recess being present in Philadelphia was possible due to both The Good Idea Fund and the Close School of Entrepreneurship, as part of Recess' first college tour of 2014.
Recess is a unique festival geared toward college students that consists of numerous entrepreneurs who are in the start-up phase or have already launched their respective companies. For the tour itself, 16 companies travel with the Recess team, and the crew reaches out to local companies for each destination of the tour.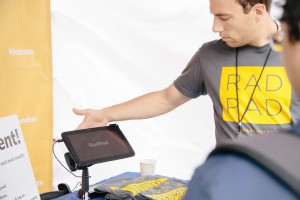 "Having so many people our age who have accomplished so much already and keep striving for greater success is incredible," Mary Schiffer, a freshman marketing major who was caught up in the crowd while on her way to class, said. "Every person here can relate to us. It's inspiring."
During the first part of the day, various booths and tents for each of the companies with which Recess presents and tours advertised their products to the students on campus. They gave away free merchandise to anyone who stopped by to listen to their missions or sign up for a chance to win free prizes toward the end of the day.
The second feature of the program was a panel of speakers who all had experience as entrepreneurs; many were founders of various companies and influential artists in today's media.  Some of the headline speakers were Brent Freeman, co-founder and CEO of Rootz.com; disc jockey Diplo; Jake Udell, manager of Krewella; and Miki Agrawal, a bestselling author and co-founder of THINX. The speakers talked about their own work experiences and took questions from the audience.
The third and final part of the night was a pitch competition where students tried to sell an idea to a panel of judges. "It's essentially a college-level version of Shark Tank," Deuce Thevenow, co-founder of Recess, said.
The winning team of the local college competition was to receive a paid trip to Las Vegas and a chance to pitch their idea to investors.
"We're trying to show them that it's possible, really trying to give students the best chance to follow their dreams because now is their best opportunity," Thevenow explained. "Too many young adults nowadays are working nine-to-five jobs they settle for and hate because they're in over their heads in student debts. We want them to be able to do what they want, what they love."
Thevenow is from Indianapolis and Recess is based out of Los Angeles. Drexel is the second school on the list of destinations on the nationwide tour. "We've worked a lot to be where we are, especially this week, too," Thevenow said. "We start at 8 a.m. and end at 2 a.m., so at best I'm hoping for maybe a couple hours of sleep."
The festival was well received by both the students and the school administration. "The whole production and idea that Recess is advocating really embodies the spirit of LeBow," freshman business major Drew Salko said while attending the festivities. "It's extremely start-up oriented and that's what most students here, especially business majors, are interested in."
In addition to the professional aspect, the festival also has a much lighter component and advertises itself as a music tour as well; part of the schedule of events that usually take place at each visit to a college ends with a concert. However, the concert for Drexel's campus was absent due to unexpected circumstances. Notable artists that have performed and are touring this year are DJ Diplo, Paper Diamond, Sage the Gemini and Robert Delong.
The tour is set to continue the rest of this week with Recess traveling to the University of Maryland, New York University and Cornell University. Plans are in the works for having Recess come again next year and the years to follow.