After battling leukemia for several years and undergoing double hip replacement surgery, Drexel freshman Kerry Walsh competed as a coxswain in the women's varsity boat in the Aberdeen Dad Vail Regatta May 13.
Paul Savell, head coach of the Drexel varsity men's and women's rowing team, asked Walsh to step in as coxswain for the women's varsity eight boat only a couple of weeks before their last race of the season.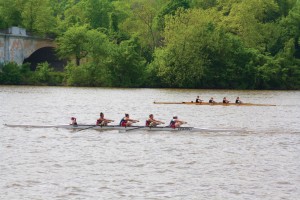 "It was asking a lot for a freshman to step in there, but she really rose to the occasion," Savell said. "We already knew she was a strong coxswain, so her story only makes her that much more motivating."
While a freshman coxing a varsity boat was already unusual, Walsh thought she may have not be able to participate in sports at all. She was diagnosed with leukemia June 27, 2003, at the age of 11.
While treatment went smoothly at first, she eventually developed typhlitis, a condition that causes the bowels to perforate, and was admitted to the hospital on Valentines Day 2004.
"I was in the ICU for four months and medically sedated for two," Walsh said. "I had to have emergency surgery and the doctors weren't sure what would happen. They told my parents to prepare for the worst."
Yet she was able to walk out of the hospital later that June, at which time she had to relearn how to walk.
Unfortunately, her health trouble didn't end there. In seventh grade, as a result of her steroid treatment for leukemia, she developed avascular necrosis, a condition casing a shortage of blood traveling to her bones.
By May 2005, Walsh had a double hip replacement, which left her restricted to a wheelchair and crutches for a large portion of her eighth grade year. After finishing her leukemia treatment June 24, 2006, Walsh wanted to start high school as active as possible.
"I did an a cappella group, and there were clubs and things to do but my family's really competitive and I still wanted to do more," Walsh said. "My sister was a rower and she suggested that I become a coxswain because it doesn't involve too much movement."
Under Walsh's coxing, the women's varsity eight went on to take first place in the Petite Finals at the Dad Vail.
"The more time she spent in the [varsity eight], the more they bonded with her, and that's what the rowers really need from a coxswain," Savell said. "When we were looking to recruit her, just talking to her coaches, you could tell they thought the world of her. She's a strong coxswain."
Although Walsh was offered an athletic scholarship to Drexel, it was Drexel's nursing program that convinced her to enroll.
"I got really close with some of the nurses, having spent so much time in the hospital," Walsh said. "Drexel has a great program, and I really want to do something with pediatrics. I want to be in the room with the patients."
This June, Walsh and her family plan to celebrate her five-year anniversary of being declared cancer-free. Five years is typically considered the amount of time after finishing treatment that a person can officially be considered cured.