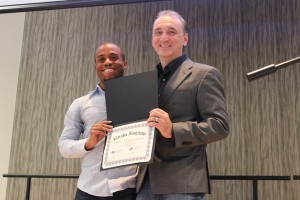 The conversation over rising costs of college is ongoing across the nation. Concurrently, the financial woes of students are a hot topic in both higher education and national media. To counter the high costs of college, many students turn to scholarships: a topic that Drexel University business student Christopher Gray is more than familiar with.
Gray came off of a successful week at Drexel Startup Day Nov. 5, winning the first place prize of $33,000 up front and $15,000 in services with the Scholly app. Scholly is a resource for students and parents from all backgrounds. It simplifies the process of searching for a scholarship applicable to an individual's situation. Within Scholly, users are allowed to select any of the opportunities displayed and read more information, or save them to apply later.
This 99 cent app available on the App Store and Google Play gives opportunities catered to one's background just a few taps away. Many scholarships go unclaimed every year and may be challenging for students to find. Gray breaks down the app's structure stating, "Scholly essentially removes the search process and allows them to focus on applying for the scholarship."
Gray is an expert on scholarships. During his high school and college career, he applied for 70 different scholarships and claims to have obtained $1.3 million from 34 different awards. The awards ranged from corporate and local endowments, the Gates Millennium scholarship, Walmart, Coca Cola and the Alabama Student of the year award.
Although successful in his pursuit of scholarships, Gray realized how demanding the process of searching and applying for scholarships was. Many students come from incredibly different avenues of life and face different hardships when it comes to finances. "Students don't know they exist, they are extremely hard to find, websites are not up to date; Scholly solves this problem for them," he said, advertising his groundbreaking mobile app.
The two other members of the Scholly team include Bryson Alef, a student at Amherst College, and Nick Pirollo, a Drexel computer science major. Pirollo specializes in app development, and the team works together to check the given scholarships lists for accuracy. This was their first time participating in Drexel's incubator competition, although they are a partner of Dorm Room Fund, a student-run venture capital firm that invests in student-run enterprises.
However, the demands of school often interfere with their growing business. "We're still students," Gray said. "We're trying to manage a full course load and you go from closing a deal to worrying about physics."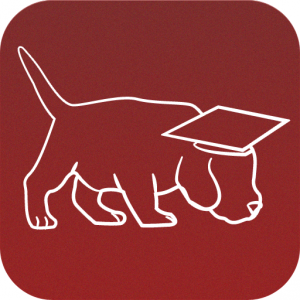 Yet the hard work pays off, and he offered advice to other entrepreneurs. "People not only want to know your target market but quantify it; not only just know your idea but your market. Refining the pitch is great, and take advantage of [the] University resources," Gray said, citing the LeBow School of Business and the Close School of Entrepreneurship as essential resources. In particular, Gray referenced the class "Launch It!" which offers $2,000 in funding for a unique startup.
Scholly will be airing on season six of "Shark Tank," the ABC show, which highlights promising start-ups. The team is excited about the opportunity with Gray hopeful for both the app and the show. "I think Drexel will be very proud. "Shark Tank" is a television show with 7.5 million viewers." Moreover, Scholly has been featured in eight magazines, and downloads have increased dramatically with their marketing drive.
The future of Scholly looks promising and Gray foresees a future where Scholly offers additional resources. "We have some really cool plans to go beyond scholarships and really be a place where students can get access to college in general." College counseling is an area Gray sees potential; he will be focusing on Scholly full-time upon his graduation.
Gray's ambition is to see the app go beyond the profit margin and truly aid students who struggle financially and search for aid. "Yes we're a company, but the impact we are making is helping people who wouldn't find access to this money otherwise," he said.  Gray recently saw the fruits of his labor upon visiting a local bank. The manager, a recent a master's of business administration graduate, was able to fund his academics through the app. The results are a foreshadowing for future prospects the app could hold.