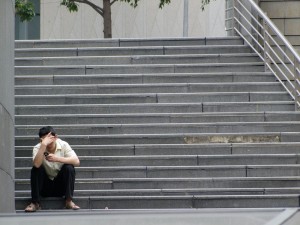 The Scattergood Foundation will be installing a mental health screening kiosk at the Drexel Recreation Center in February. The kiosk will be a self-serve screening machine where students can go to evaluate their mental health without having to talk to a professional or mental health specialist. It will be private, but not hidden. One of the goals is to use the kiosks to help eliminate the stigma currently associated with mental health and mental health disorders. In addition to the main campus location, another kiosk is planned to be installed at the Stephen and Sandra Sheller 11th Street Family Health Services Center, which is run by the College of Nursing and Health Professions.
According to their website, the Thomas Scattergood Behavioral Health Foundation is a non-profit, "philanthropic, grant-making foundation" dedicated to increasing productive and innovative dialogue about mental health and its impact on our society. The foundation awards grants to companies and people who demonstrate initiative and innovation in the behavioral health field. The Scattergood Foundation and Screening for Mental Health Inc. partnered up and started an Indiegogo crowdfunding campaign Nov. 17 with a goal of raising $25,000.
The money was set to be used for development of new kiosks, the identification of new and secure locations, advertisement of new kiosk locations, kiosk delivery and installation, training of staff for kiosk use and the introduction of mental health awareness and evaluation of kiosk use and impact. The Scattergood Foundation has also pledged to match the first $5,000 raised to show commitment to the betterment of mental health awareness in the city of Philadelphia.
The partnership has already resulted in the first kiosk, which is now installed in a Philadelphia ShopRite clinic inside of a grocery store. The goal of the kiosks being placed in public places is "to reduce stigma by making learning about and screening for treatable conditions like depression or anxiety as commonplace as a blood pressure screening," according to the campaign description. The questionnaire offered by the kiosks is also available online, starting with a simple question: "How are you feeling?" followed by a brief explanation of the screening, which states: "Mental health is a key part of your overall health. Brief screenings are the quickest way to determine if you or someone you care about should connect with a mental health professional — they are a checkup from your neck up."
Upon starting a screening, there are six options which fall into the broad categories: depression, bipolar disorder, generalized anxiety disorder, alcohol use disorder, eating disorder and post-traumatic stress disorder, listed beneath small statements about general feelings. Then, the questionnaire asks for age, gender, racial identity, year in college and residence (on or off campus). At the end of the screening, a broad "diagnosis" is given, followed by a statement that the screening is "not a substitute for a clinical evaluation and cannot provide an actual diagnosis." Finally, a large list of resources is provided related to the relevant mental health issue.
Caitlin O'Brien, a second year master of public health student, is working with the Scattergood Foundation, helping with their annual design project and on other projects based on mental health parity issues. In a blog post for Drexel's School of Public Health, O'Brien wrote about the severe issues of mental health aid and funding in Philadelphia and in America as a whole. O'Brien pointed out that "one in [four] American adults have a diagnosable mental health condition … [and that those] living with serious mental illness have a life expectancy that is 25 years lower than the general population."
In 2008, Congress passed the Mental Health Parity and Addiction Equality Act, but five years later regulations were still being added, and insurance companies were completely ignoring the provisions of the act. According to O'Brien, approximately 4 million individuals with diagnosed mental health disorders remain uninsured despite legal requirements that mental health illness be treated equally with physical illness. "From 2009 to 2012, 29 states cut their funding for mental health programs. Pennsylvania cut $6 million, which paled in comparison to New York's $204.9 million cut and California's appalling $764.8 million cut," O'Brien said.