For the fourth year in a row, the departments of materials science and engineering at Drexel University and the University of Pennsylvania presented the Philly Materials Science and Engineering Day Saturday, Feb. 1. at Drexel's Bossone Research Center. Student volunteers from both Drexel and Penn came together to give the public an insight into their field. Through hands-on experiments, demonstrations and lectures, both children and their parents were able to learn about the materials out of which our world is made.
A popular children's experiment proved to be the "Oobleck" — a mixture of cornstarch and water that illustrated the different behavior of non-Newtonian fluids in response to stress. If the children walked through the mixture slowly they experienced a quicksand-like sinking in the cornstarch water mixture. However, if they ran across the surface quickly enough they could keep from sinking.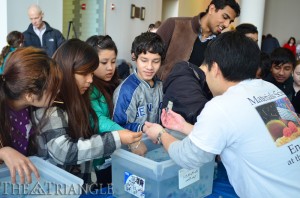 Many of the children were so surprised by the effect that they asked their parents if they could get cornstarch and make a bath of it at home.
"Considering that you would need over a hundred pounds of corn starch, I doubt their parents want to make that investment," Ryan Wade, a fourth-year doctoral student at Penn, explained.
No less popular were the liquid nitrogen experiments. To demonstrate how cold liquid nitrogen is, different items such as a rubber band and a rose were immersed into the chemical. The spectators were impressed to see how the rubber band could be easily crushed in one's hand afterward and to see the rose become so brittle that it shattered like glass.
"The kids loved this experiment because it was something they weren't really expecting," Darya Drahun, a Drexel materials science and engineering student, said.
Everyone's appetite for exploring science was piqued during the demonstration of making ice cream with the use of liquid nitrogen.
Overall, Drahun believed that the demonstrations were a great success.
According to Dorilona Rose, one of the main organizers of the Philly Materials Science and Engineering Day, more than 1,300 visitors attended the event this year. "There is such a diversity in [the visitors'] age[s] and background[s] and it is really satisfying to see all of these people getting to experience materials science and engineering, especially the kids," Rose said.
In the past four years, the event has grown substantially and was even featured on WXPN's Kids Corner this year. This success was reflected in the positive feedback that reached Rose both personally and via several Facebook posts.
Not only did children enjoy the event, but company representatives proved to have a good time as well.
"It's great to see the kids' eyes light up when you have sparked an interest in material science. This is where the fun comes in," Senior Research Scientist Peter Dluzneski of Arkema explained.
Arkema is a leading chemicals manufacturer and one of the main sponsors of the Philly Materials Science and Engineering Day, along with GKN Powder Metallurgy.
The children's excitement about the many areas in which Arkema's chemicals are involved, ranging from the trees in Disneyland to iPhone covers, was obvious and one of the reasons why company representatives like Dluzneski participated in the event and plan on doing so next year.