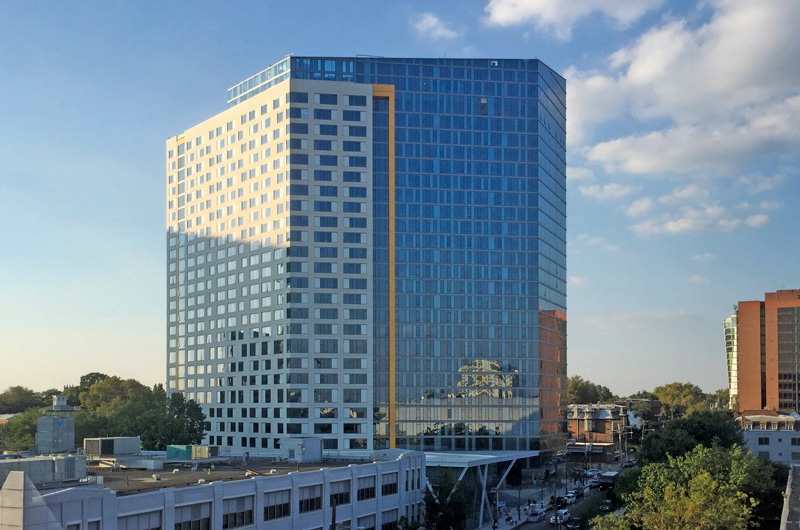 A significant number of Drexel upperclassmen are staying in University City despite classes and most co-ops being remote, The Triangle found through a survey.
According to a survey evaluating Drexel students' experiences with housing since the COVID-19 pandemic began, 64 percent of non-freshman respondents are currently living in Philadelphia. In addition, 57 percent of those students were staying in the city because they were "tied to a lease signed before knowing classes/ co-op were going to be remote" or they "wanted to live with friends." The survey had 56 participants and was spread to the community on big social media groups of students, like the Facebook groups of the Classes of 2020-2025 and the Drexel Discord group.
Nick Liotta, a Construction Management pre-junior, is taking his classes at home despite having signed a lease with University Crossings.
"I tried to get out of my lease at UCross that I only signed because classes were still in-person as of Aug. 3, despite them telling us we would have a decision regarding the term then (which they never said anything, leading me to believe class was in-person)," wrote Liotta in the survey. "About two or three weeks later when President Fry moved classes online, I was told there's no way to get out of my lease, despite not having moved in and having put nothing down for the apartment."
A similar situation happened to International Business and Legal Studies junior Nick Constantino, who decided to move to Philadelphia when he could not get out of his lease with American Campus Communities.
One advantage that Constantino has is that he does not have to worry about catching COVID-19 from his roommates, because none of them decided to move in this term. However, this is not the case for Public Health sophomore Grace Castle, who also decided to live on-campus.
"It definitely stresses me out having to rely on the actions of so many different people. Everyone has a 'small circle,' but there are plenty of intersections between circles," Castle said.
Unlike Castle, most sophomores surveyed decided to use the rent abatement option announced on Aug. 20, 2020 via email for all the ACC residents on campus. The abatement releases second-year students of their rent for the months that Drexel is working remotely until Dec. 13, 2020.
"This rent rebate offer has not been extended to upperclassmen (junior, seniors, graduate students) who are not required to live on campus, and who have made an open-market decision to be part of our community," read an email sent by The Summit, one of the ACC buildings.
Nonetheless, for some sophomores, this is not enough. A second-year nursing student who has a compromised immune system from chronic illnesses said The Summit did not let her out of the pandemic despite her situation.
"Living with any roommate wasn't going to be a good situation for me, and I was originally supposed to be in Summit sharing with three girls I didn't know. This wasn't going to fly — I don't trust other college kids to do what they're supposed to and wear a mask. But, Summit wouldn't let me out of my lease, and like everyone else, I couldn't get anyone to take mine over," said the student, who wished to remain anonymous because she did not want to compromise her lease with ACC.
This student did not think that moving back to Summit in January would be safe, so she had to go out of her way to get a co-op in Harrisburg, outside of the 10-mile ratio where ACC housing allows you to be released from your contract for the duration of your work. "This is a temporary solution, but I do not know what I will do if, by the spring, I have to go back to The Summit and the pandemic is not over," the student said.
International students faced huge issues with housing during the pandemic. Some struggled to get back to their home countries after dorms were closed;, others are being forced to return to the U.S. (despite their home countries handling the pandemic more safely), just because they are tied to a lease here. In addition, travel bans have kept students from traveling to and from the U.S., and those who made it home, now struggle to attend classes at different time zones.
An Economics and Finance junior from Nigeria had to pay his rent for University Crossing for two school terms last school year, after he was barred from entering the U.S. The student, who also chose to remain anonymous, was doing his co-op in Crete, Greece, for the fall and winter terms of the 2019-20 school year (his pre-junior year). He had signed this lease during his sophomore year, not knowing he would have an international co-op.Though his lease relieved him of rent for those six months of co-op, his responsibility returned after his co-op ended.
"I was [in Greece] until March, and just in that month, COVID broke out. I was meant to return to the U.S. 10 days before COVID was declared a worldwide pandemic. I remember the night of March 13 pretty well; it was when President Trump announced the travel ban on Europe and me, not being a citizen or a Green Card Holder, had to go back to my country because I was not going to be allowed back into the U.S. traveling from a European country," the student said.
Just a few days after he arrived in Nigeria, the government shut down its borders, so he would not be able to return to Philadelphia after a period of quarantine as planned. He was responsible for paying his UCross rent from April to the beginning of September, but he could not use his apartment even if he wanted to. He tried to call the building administration to cancel his lease, but they told him it was not possible and his only option was to find someone to take over it. This was incredibly difficult to do when he was not even in the country and has never been in the apartment, he said.
"I don't think I am the only one in this situation, I think there are more people going through this as well. I was very disappointed with the organization and landlords. I hoped they could be more sympathetic and understanding of the situation, especially when the whole world is going through tough times financially, but I guess they just don't even care about the well-being of the Drexel Community," the Economics and Finance student said.
In September, after his University Crossing lease was over, the student was finally able to return to the U.S. He is now doing his third co-op in Philadelphia while living in an off-campus apartment.
Another group of the student body who is struggling is the Resident Assistants, who are usually provided with free housing during the school year. However, they were revoked of this privilege when the dorms closed.
Alexandra George is a third-year Communication student who is living in Philadelphia because of her in-person co-op. Like several other students, she lost her RA position amid the pandemic.
"This was an extreme financial burden on me. I would have chosen a co-op closer to home had I known I would need to pay rent in Philly. Additionally, RA covers meals for me as well, so that's another additional cost I was not expecting," George said.
Furthermore, George reached out to the COVID emergency fund to help her with her situation, but her request was denied.
On the other hand, there are also a handful of students who decided to return to Philadelphia voluntarily and feel safer on campus.
Clara Meskin, a third-year Communication student, lives with her 97-year-old grandma at home and had to be extremely cautious. Therefore, she decided to return to campus and be with her friends without compromising a loved one.
For Electrical Engineering pre-junior Juliana Wallgren, going back to campus meant finally having an optimal workplace after so many months of quarantine.
"I moved home in March, but I'm the oldest of six kids and the environment was just not conducive to being productive… I had classes March through September and even though I knew my co-op would be fully remote, I was looking forward to getting some space to myself," Wallgren said in the survey. "I signed with ACC, and since I'm not a sophomore I don't get rent abatement, but honestly that lease was an excuse for me to convince my parents I had to move back."
For pre-junior Nicole Cusimano, the decision was easy because, despite being from out-of-state, Philadelphia is now what she considers her place of residence. She had the option to live at home for the term but decided it would be better to remain in the city for her mental health. Cusimano already stayed in the city through the spring and summer terms because she could not end her lease early, so she decided to stay simply because she was paying for it and did not want to move out.
"One big downside was that I was unable to tour any new apartments, so I didn't see my new place until about a week before I moved in," Cusimano said. "Being able to tour apartments in the spring would have made it much easier to consider all living options rather than feeling like I needed to settle." Cusimano is happy with where she currently lives, but she said the potential for it to go south was really high.
Although the school year began, the doubts about housing are not over. A lot of sophomores wonder if the rent abatement will be extended because they still do not feel safe moving to campus. Other students currently staying home question if they should find a lease for winter in case classes return to be in-person. As long as the pandemic continues, none of these doubts will be fully solved, and as long as students do not know when physical activities will resume, it will be difficult to make a guess.
Officials from American Campus Communities were contacted via email to comment on these issues but, to the date this article was written, they could not arrange an interview.