The artists featured in Making Moves, a series of singles produced by MAD Dragon Records and members of the band Motion City Soundtrack, will appear together for the first time March 14 at the South by Southwest Music Conference in Austin, Texas.
The project, which was sponsored by the Kal and Lucille Rudman Institute, began when Drexel University professor Terry Tompkins approached a member of Motion City Soundtrack at last year's South by Southwest Music Conference.
Each member of Motion City Soundtrack produced two singles that will be released digitally and on 7-inch vinyl in support of Making Moves. All but one of the bands featured in Making Moves were hand-selected by Motion City Soundtrack, including The Company We Keep, whose single will become the first release of the series April 24.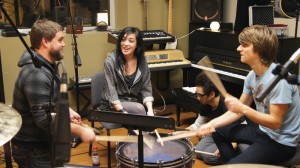 In addition to being included in Alternative Press' "100 Artists You Need to Know for 2012" list, The Company We Keep will be featured on MTV as a "Buzzworthy Artist" on March 12 or 13.
Amanda Moorhead, the Making Moves project manager and a junior music industry major at Drexel, spent time with the artists to coordinate the efforts of the individual bands with the initiative of the whole series.
"[Motion City Soundtrack] was so excited to be on this project and really heavily involved in what was going on," Moorhead said. "We recorded the albums in November, December and a little bit in January, and at least one of the guys was here for every single session."
Moorhead, who grew up listening to Motion City Soundtrack, jumped at the opportunity to assist them in the production of the series.
"They were producing it and doing backup vocals and just really involved in the process. And they let us document the whole thing," Moorhead said, referring to two Drexel seniors who filmed each session for the "Making Of" DVD that will be released along with the box set of the singles in late 2012.
In addition to working with Motion City Soundtrack, the artists of Making Moves will have a performance of their singles filmed by La Blogotheque, a French music blog responsible for filming breaking indie bands performing in odd locations all in one take.
Though the singles will be released individually on iTunes, Drexel students can hear them in advance during the annual Mad Dragon Concert on campus this May.