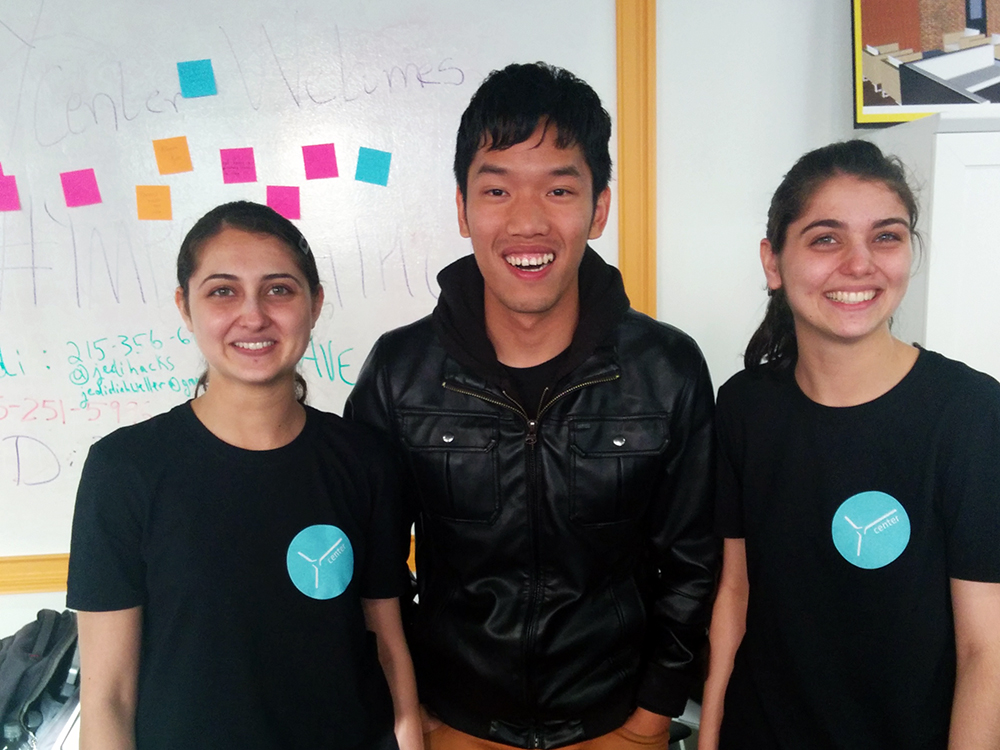 Three Drexel undergraduates created a text messaging-based tool over the course of one weekend that could potentially improve the lives of millions of people in Africa. Tamanna Chawla, Tarika Chawla and Yi Lao, fourth year information systems majors, won first place in the Ycenter's Impactathon, a two day hackathon-styled event held in Center City May 30 and June 1.
Hackathons are events that ask programmers and coders to use current platforms and technologies to create innovative software. The event brought together university students from all over Philadelphia to focus on creating novel solutions for health care in Africa.
One of several problems presented at the event was the lack of data on malaria cases. According to the World Health Organization, over 90 percent of the world's malaria cases are likely to go unreported due to the fact that the tools for collecting data are weakest in the places where malaria is the most common. While only 117,704 malaria deaths were officially reported in 2009, WHO estimated that closer to 800,000 people died of the disease that year. The Drexel team chose to address this issue as they believed it would have the most impact.
Their solution, a program called "Connect the Dots," serves two functions: to connect patients in remote areas suffering from an illness to health care professionals and to create an epidemiological data collection and visualization tool for large health agencies such as WHO and mid-level agencies such as local non-governmental organizations to record and visualize cases of malaria and predict the direction of spread of the disease.
"The original problem we were asked to solve only required us to create a data collection tool," Tamanna Chawla said. "However, we wanted to create a program that would also benefit the patient and improve their lives rather than just create a sophisticated program for collecting statistics. The ability of the program to go beyond the initial problem of just collecting data and actually improving an individual life by bringing health services to him/her is what we're most proud of."
Most developing nations in Africa lack mobile broadband services, especially in remote areas. The majority of people use a phone with basic functions, such as voice and text communication, without any GPS capability. Due to these issues, Connect the Dots utilizes text messaging to collect the name, age, location and a short description of the symptoms of the patient.
"We wanted to make sure anyone with a phone could use our product," Yi said. "Most people don't have smartphones or mobile broadband services so we couldn't create an app that could be downloaded. We decided to use the Nokia 1100 as a model for the phone an average person in a developing nation in Africa uses. It can only perform basic functions such as making calls and sending a SMS and since a SMS costs less than 1 cent per message, we decided that would be the ideal way for a person to communicate with health care agencies."
Connect the Dots works by a patient texting an initial message to a number dedicated to this service. They receive an automated welcome message and instructions on how to use the program in both English and the national language of the country they are located. The patient then texts their name, age, location and short description of their symptoms. This information is relayed to the nearest mobile clinic, which visits the patient at their location and tests for malaria. The results of the test are sent by the health care worker via text message to a hospital which records the information. If the test is positive for malaria, the result is sent to WHO or a local NGO which can record and map the case. Collecting these statistics and mapping them provides a picture of whether malaria cases are increasing or decreasing and the direction of spread of the disease.
"We tried to build GPS capability into our program in order to make it more convenient for the patient," Yi said. "However, most people don't have smartphones with built-in GPS capability and we can't triangulate their cell phone signal because a single cell tower usually covers a wide range."
Despite the minor issue of a lack of GPS capability, the judges awarded Connect the Dots first place for finding a solution that went beyond the scope of the problem, its adaptability for issues other than malaria and ability to be implemented in its current state at a large scale.
"The project was already developed to a level at which it can be implemented today," Dhariya Pujara, CEO and founder of the Ycenter and a Drexel biomedical engineering alumnus, said. "The idea started from nothing and each component was built from scratch, making it a true innovation, and it also showed potential to be implemented at a large scale. In addition, the team showed willingness to learn and readiness to adapt so the decision to award them first place is not only an indication of the ingenuity of their project but also evidence of our faith in the team members' potential and willingness to do whatever it takes to implement their idea and create an impact on people's lives."
When asked if they expected to win after they completed their project, Tarika Chawla said, "We didn't really decide to participate to win a prize. We just wanted to create a product that will have an impact on people's lives and this event guaranteed that our ideas would be implemented — unlike other hackathons, in which an idea is created and then discarded after the event is over. We didn't really think about the prize until one of the judges announced us as the winner."
The Ycenter is currently working with Drexel in order to figure out a schedule that would allow the team to travel to Mozambique for three months and implement their idea. In addition, the Ycenter is already consulting with Google, Microsoft and WHO in order to raise funds and figure out the best way to implement and raise awareness of the idea in Mozambique.
According to Pujara, once the logistics are resolved, they would begin with a test phase in Philadelphia to iron out any initial issues that may arise. The idea will then be implemented in March 2015 at Chicuque Rural Hospital in Chicuque, Mozambique, which services approximately 500,000 residents. If successful, the idea will scale to include more towns and villages and eventually multiple countries.