Drexel University President John A. Fry announced Oct. 25 that Philip B. Lindy would be receiving the 2012 Joseph Jacovini Outstanding Service Award for his contributions to the Lindy Center for Civic Engagement.
The Outstanding Service Award is Drexel's most prestigious award given to nonalumni affiliates for their dedicated service to the University. Lindy's name is well known on campus for his work with the Lindy Center for Civic Engagement, which was named after him as a result of his $15 million donation to the center and its programs.
"I think it's an amazing honor to think that of all the people that they could select, that I'd be selected. It's an incredible honor." Lindy said.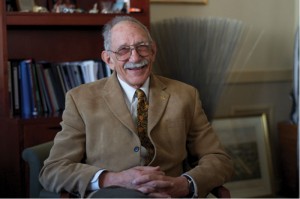 Part of what attracted Lindy to the University in the first place is Fry's mission for Drexel to be the most civically engaged university in the U.S. This may be accomplished by more than undergraduate research, co-op or extracurricular activities. "It's also anything that you [can be involved in] just by getting some hands-on experience. Civic engagement definitely falls into that," Jennifer Johnson Kebea, associate director of the Lindy Center, said.
The value of helping the community is a foundation for the majority of Drexel's pursuits.
"I think that's always been in our spirit, and in the way that Drexel has done things … the bottom line is we think the world of Mr. Lindy. He's given a lot to our philanthropic focus," Kebea said.
Having worked with Lindy, Ken Goldman, senior assistant vice president and chief philanthropic officer of the Office of Institutional Advancement, could think of no better person to receive the award.
"It was an easy choice in many ways. … He's just a truly giving philanthropic person who really wants to make a difference in the city where he's lived his whole life," Goldman said. "He is a person who is genuinely committed to trying to make life better for people in Philadelphia. … It's nice to give him some recognition," he continued..
However, Lindy sees no other alternative for how to share his financial and entrepreneurial successes.
"Believe me, there's nothing special about me. I've just been lucky," Lindy said.
As a lifelong resident of Philadelphia, he knows what it's like to live, go to school, work and raise a family in the same place.
"People seem to think that that is very parochial, and it probably is, but I like it," Lindy said.
Lindy explained he couldn't be happier with the way his life has turned out. In his humorous and lighthearted manner, he humbly joked that he puts so much effort and passion into bettering Philadelphia because it's better than playing golf.
The Lindy Center for Civic Engagement aims to contribute to the greater public good and community involvement programs. The Lindy Scholars program, which was created in 2008, is one of Lindy's many notable contributions to the University. Through the program, 25 Drexel students are paired with 75 middle school students in the Philadelphia school district to provide academic tutoring and personal mentoring.
"You see these kids that don't really have a chance, and there's no reason they shouldn't have a chance," Lindy said. By connecting students in the public school district with Drexel students, it allows for a relationship to grow between those kids without a chance and college students who do have one. It is the expression of a symbiotic relationship in which the mentors gain as much from the experience as the mentees. "I think that's a win-win situation," he said.
The program also involves parents and teachers in the mentoring process and holds professional development workshops on a monthly basis.
"I think that kids today are growing up in a much tougher world than the one [I] grew up in. But you need to make it work, and the way you make it work is through civic engagement," Lindy said.
Lindy has shown his dedication to improving the quality of the community not only by his time and intellectual efforts but also through his financial assistance to the Center. In April 2011, he donated $15 million to the Lindy Center.
"It's a big chunk, but it's a good thing to do. What better way to use it? I am lucky enough not to have to worry about where I'm going to live, where I'm going to eat or where I'm going to get clothes. … Why not do something that's going to be beneficial to the community and that you can have fun with?" Lindy said.
It's apparent that his efforts are not laborious but rather an enjoyment, as he refers to his work as "fun."
"I'm very lucky in life. I think Drexel is a good place to work with. The people I've worked with like what they do. … They like working for Drexel. And that creates an energy where things happen rather than an energy where things don't happen," Lindy said.
In terms of his future endeavors, he looks forward to seeing the Drexel connections that are made through the Lindy Scholars Program and increased civic engagement among students.
Having accomplished so much in his life, his advice to others is this: "Do what you enjoy doing, do it constructively and hope for the best. … Work is, by definition, doing something whether you like it or not. But if you have a choice of doing something you more enjoy doing, then you're going to live a better life, and you'll probably do more good for your job."
Lindy will receive his award at the annual black-tie Anthony J. Drexel Society Gala Nov. 17. Any questions about the Lindy Center or how to get involved can be found at www. drexel.edu/lindycenter or emailed to [email protected].