Ellen Staurowsky, a Drexel University professor, launched a website Oct. 11 that compiles the work of scholars and activists around the country on lesbian, gay, bisexual and transgender issues in sports.
Staurowsky, a professor in the Goodwin College of Professional Studies, spearheaded "LGBT Issues in Sport: Theory to Practice," but the network includes contributions from more than 20 professors from around the nation.
The Sexual Orientation and Gender Identity in Sport Conference, hosted earlier this year in April, and the LGBT Sports Summit, hosted in June, were the inspiration for the project.
"Last spring, I was … asked to speak at the Sexual Orientation and Gender Identity in Sport Conference at [Texas A&M University]. While there, I kept hearing that there was a need for a resource that would provide public access to research on LGBT issues in sport and that would showcase the work of scholars and activists around the country," Staurowsky wrote in an email.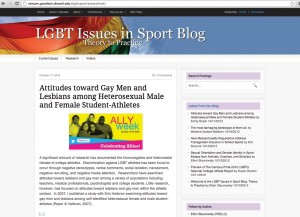 At the top of the Web page, a resources drop-down menu features choices such as "LGBT Sports Reference List," "High School," "College," "Pro Sports," "Transgender" and "Sports Media." An abundance of research is already posted and available on the site. Academic resources on LGBT issues in sport are listed and easily accessible to the blog's readers. There have been five posts since its launch, but new content is expected to be added regularly. The site will feature individual posts as well as collaborative additions from the 20-plus contributors.
"With more than 20 experts who work on LGBT issues in sport on a regular basis, we expect that we will have new material on the blog four or five days a week. The blog also provides a good starting point in terms of contacting people with expertise in this area," Staurowsky wrote in an email.
This project shows hope for many in the athletic world by bringing awareness to the subject.
"I think that there are instances every day where someone gets discriminated against because of their sexuality in the athletic world. Some are directed specifically to an individual, while others are generalized statements by people who are ignorant to the words they are saying. Of course, everyone is entitled to his or her opinions and beliefs. We live in the land of the free, but being closed-minded is a choice," a Drexel student-athlete who asked to remain anonymous said.
"Professional sports is the first and perhaps most influential area that comes to mind. Even today, we have a handful of top professional athletes who use antigay slurs via Twitter and/or outright oppose LGBT legislation to the media. Imagine being a young sports fan reading that your favorite pro athlete is antigay. Chances are this will impact how you see members of the LGBT community in the moment and down the road," Kevin Giordano, a junior sport management major and the president of Drexel's Sport Management Student Union, said.
The blog's content has gained international traction since its launch.
"To date, the reactions have been very positive. We know that we have reached an international audience given some of the emails I have received. Just this morning I was responding to a sport sciences scholar who wrote from Japan," Saurowsky said.