Drexel pre-junior Christopher Peterson was found dead Nov. 15 in his off-campus apartment. No foul play is suspected, but an official cause of death has not yet been released.
Peterson, 20, of Reading, Pa., was a business administration major with a marketing concentration in the LeBow College of Business. LeBow interim Dean Frank Linnehan broke the news to the college Nov. 16 in an email. Peterson was in the middle of his second co-op, working as a marketing intern for IKEA.
Peterson was passionate about his fraternity, Alpha Kappa Psi, which is the co-ed business fraternity at Drexel. He loved Indian food and going down to the shore in the summer. He spent much of his time fostering brotherhood within AKPsi and was currently serving as brotherhood chair.
"Of course everyone was sad that he passed away. It was very unexpected, and nobody could've anticipated this loss. … It really did bring AKPsi and the brotherhood closer. We had alumni come from everywhere just to be with us … to be there for the chapter. It's definitely what Chris wanted; he was all about brotherhood and just being close and bonding with everyone, and that's exactly what we did after his passing," Nisha Mistry, a junior business major and member of AKPsi, said.
Mistry, who is concentrating in marketing and finance, rushed and pledged Alpha Kappa Psi at the same time as Peterson. Since pledging in the fall of 2010, the two have been active members in the chapter together.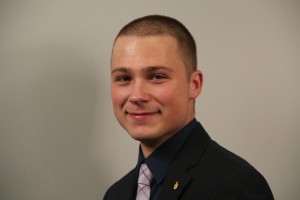 "He always had a lot of ideas; his mind was always running. … He was always saying, 'This is a new way we could do rush. This is way we could do this,' … and just with brotherhood, he always wanted to have a brotherhood that did a lot of things together, professionally as well as socially," Mistry said.
His brothers and classmates will remember his upbeat personality and the bond he helped to form between members of AKPsi.
When asked what in particular about Peterson she would remember, Mistry said, "Just his optimism and happiness. … He was always there for you when you needed him the most. … He was very caring and optimistic and happy," Mistry said.
"He made a lasting impression, a lasting mark, on all of these people. Even these people who he met for a day or so, or not that long. He created that lasting impression," she added.
Friends of Peterson were quick to offer an outpouring of fond memories and shared experiences from their time with him. Emma Rosen, a junior graphic design major at Drexel, met Peterson during her freshman year through a friend who lived on his floor in Race Hall. Rosen said the way he lit up a room could not be overstated.
"He could make you feel like you were on top of the world with one flash of that goofy smile. Everyone he came in contact with has been touched with a little bit of Chris magic, and we are so grateful for that," Rosen said.
Sean Marks, a pre-junior economics major, also explained how Peterson touched his life.
"I would not be where I am today without Chris. He's been my rock as much as I hope I was his. From dorm life to spring breaks to birthdays to holidays to apartment renting to pet ownership and everything in between, we were always in it together. His light will forever shine in our hearts," Marks said.
Other friends described Peterson as loyal, compassionate and a hard worker who made others want to be better through his company.
"He was all about having fun and helping other people out," Lisa DeSantis, a junior fashion design and merchandising student, said.
She continued, "A few weeks ago, there was a mouse in my apartment and he didn't hesitate for one minute before bringing his cat over. The cat didn't catch the mouse, but he was right there when I needed him. I am lucky to call him my friend and was changed by having him and his generosity in my life."
Others took to the Internet to describe their affection for Peterson. Kaelee Dooley, a pre-junior international area studies student, wrote about Peterson on her personal blog.
"Your smile, your laugh, your personality, your outlook on life, your genuine kindness and care for others have truly impacted my life for the better. I am so thankful to have met you and had the time that I did with you," she wrote.
Members of Alpha Kappa Psi organized a memorial service in memory of Peterson that will be held Monday, Dec. 3, from 3 to 4 p.m. in the basement of the James E. Marks Intercultural Center. All students are invited to attend.
The University encourages students struggling with Peterson's loss to reach out to Drexel's Counseling Center for support at 215-895-1415 or after regular hours at 215-416-3337. The Center also offers a peer counseling helpline open Sunday through Thursday from 8 p.m. to midnight at 215-895-1523. The service is composed of trained student volunteers.
Additional reporting by Stan Wright.