Al West, the chairman and CEO of SEI Investments Co., was named the LeBow College of Business' 59th Business Leader of the Year. In the past, LeBow has presented this award to recipients such as George W. Romney, president of American Motors Corp., and Gen. Douglas MacArthur.
Continuing the tradition of excellence exemplified by Business Leader of the Year recipients, West was chosen because of his visionary leadership at SEI.
"We look for someone who has a record of innovation and success in leading a company," Frank Linnehan, interim dean of LeBow, said.
Headquartered in Oaks, Pa., SEI is a financial services company that helps institutional investors, private investors and wealth managers with asset management, investment processing and investment operations.
Publicly listed on Nasdaq, SEI currently manages $458 billion for 7,000 global clients.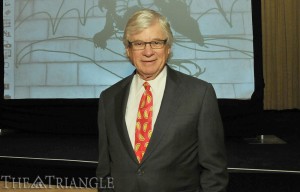 "SEI is an incredibly creative and financially sound organization known for innovative approaches," Linnehan said. With the creativity and vision of West, SEI has had a long history of innovation.
West established SEI in 1968 to improve training for loan officers by creating computer-simulated training technology. Shortly after, during the 1970s, SEI modernized the accounting system. While other companies relied on old-fashioned handwritten records, SEI created an automated system. Though it was still a relatively new company, it was ahead of the game. Throughout the decades, SEI continued to innovate, pushing boundaries and limits.
SEI is also an innovator in the workplace environment. What distinguishes SEI from other companies is its unique work setting.
"At the corporate headquarters, there are no offices, the CEO sits with other employees, and there are no formal titles," Linnehan said. The direct openness and lack of hierarchy is not what one would typically expect in a corporate setting.
It takes a visionary leader to create a collaborative environment, and Linnehan said he hopes Drexel students can learn from West's cooperative leadership skills. "Leadership is not about an individual," he said.
To prepare Drexel students to become business leaders as successful as West, Linnehan said, "We make sure that students are technically competent, and we make sure that students understand that collaboration and working together are integral to leadership in business." Taking inspiration from West's innovation and collaborative leadership, the new LeBow College of Business building will contain collaboration rooms for use by both faculty and students.
West's achievements with SEI were honored March 5 at a luncheon at Park Hyatt Philadelphia at The Bellevue. Proceeds will go to the LeBow College of Business.