Drexel University has made a commitment to support a more sustainable community, including the construction of new buildings on campus. The future LeBow College of Business building, set to replace the outdated Matheson Hall, is one of the University's many green initiatives.
The 177,500 square foot building will be "the largest building project Drexel has undertaken," according to Robert Francis, vice president of University Facilities, and will feature a green roof among many other sustainability-focused aspects. The green roof will assist in stormwater mitigation, and will help absorb about an inch of rainfall during every shower, which decreases the amount of water traveling into stormwater runoff drains.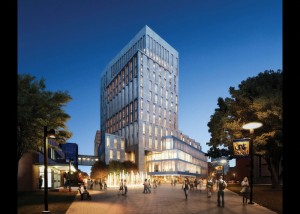 Kayleigh Jackson, a pre-junior nursing major, acknowledged the fact that Philadelphia is one of America's dirtiest cities, saying, "I'm hoping the new building has designs that require a lower amount of energy, and adds some plant life and greenery to our campus. I'm glad Drexel is committed to sustainability because this city needs a trail blazer in that department in order to eliminate our [reputation] as [one of] America's dirtiest."
A characteristic of the building will be the chilled beam air conditioning system, which will use about 25 percent less energy than standard air conditioning units.
"The idea of sustainability has been around for, say, 40 years, so now when you're simply following building code, you're building sustainably," Francis said.
Another energy saving facet occurs during the day, when sunlight enters most areas of the building, lessening or even eliminating the need for artificial light and therefore decreasing the need for energy to power those lights.
The demolition of Matheson Hall and construction of the new LeBow building will feature environmentally friendly processes. The rubble of Matheson will be broken down and recycled in the structure of the new building.
"We will be limiting the distance materials have to travel to get to the site, all of our steel will be Pennsylvania-made and will have to travel no further than 300 miles, lowering the use of fuel on this project," Francis said. "We're hoping for a Green Globes System of Environmental Certification rating of three out of four globes," he continued.
Demolition of Matheson Hall will begin in the coming weeks, closing the underpass between Matheson Hall and the Pearlstein Business Learning Center; the LeBow College of Business Building is scheduled to open March of 2014.
"Not many people are building much, so the fact that we are is a sign of a successful campus, and we are all a part of that success," Francis added.
For more information, log on to buildinglebow.com.