Drexel continued to expand eastbound by securing 186,000 square feet of Center City property earlier in January in the Three Parkway office building located at 1601 Cherry St. The College of Nursing and Health Professions will use this space to accommodate recent and anticipated growth.
In addition to renting space in the Friends Center across the street, CNHP shares the Bellet Building, located at 15th and Race streets, with the School of Public Health.
"We have maxed out the Bellet Building," Gloria Donnelly, dean of CNHP, said. "We are even renting extra space across the street."
Andrew DeMaio, a sophomore nursing major, wrote in an email, "Some classrooms at 15th and Race streets were mostly outdated and, for example, lacked outlets for student laptops. And there was only one lounge area to eat or study, and at peak times there were not many places to sit."
CNHP, Drexel's second largest college, consists of 170 faculty, 95 staff members and 4,300 students. Significant growth is expected given the area's present and future demand for nurse practitioners and physician assistants. Due to Drexel's growing doctoral programs, two floors of Three Parkway will be dedicated to practice and research space for faculty.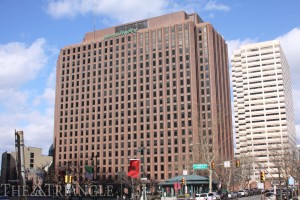 "It will be interesting to see if they bring some of the mock hospital rooms over to the new parkway building. It would be nice to have more practice facilities to learn skills such as [working with intravenous] or other nursing skills we are required to practice," DeMaio wrote.
In addition, office space will occupy two floors, while a fifth floor will be devoted to student lounges and classrooms. Space will also be developed for physical therapy programs and a Pediatrics and Musculoskeletal Research Center lab.
"I've had multiple classes in the New Parkway Building [sic], and it is fantastic. Most rooms are set up with either long tables or circular tables, all outfitted with outlets for student technology. There are also multiple lounges on each floor, which many students and I have used," DeMaio wrote.
CNHP will move floor by floor in phases beginning in spring 2013. and the move is projected to be completed by fall 2014. The College of Medicine will then occupy the Bellet Building.
Three Parkway, also known as the Pennwalt Building, spans 561,351 square feet in 20 stories. The former headquarters of the Pennwalt Chemical Corp. now house companies such as ExcelleRx and Reliance Insurance. Drexel will inhabit 119,000 square feet over five stories of the Class A Office Building, which is 96 percent of the building. The 10-year lease, facilitated through Newmark Grubb Knight Frank, was the largest expansion by any single tenant in downtown Philadelphia last year.
Downtown Philadelphia offers students of CNHP and the College of Medicine convenient accessibility to Drexel's affiliated medical center, Hahnemann University Hospital. In addition, the move will place CNHP closer to its partner, the Academy of Natural Sciences of Drexel University. According to Donnelly, additional partnerships in the area are being considered, including one with the Friends School faculty. Center City also offers access to all Philadelphia public transportation systems and major highways.