Representatives from the Earle Mack School of Law have postponed their preliminary plans to build the new law facility in light of market conditions and expense, according to Founding Dean Roger Dennis.
"It's a challenging time for the legal profession and we didn't think it would be responsible to increase the size of the law school in light of the challenges of the profession," Dennis said.
Additionally, more pressing construction jobs, including the LeBow College of Business building and the URBN Center, have preempted talk of revamping the law school site.
Erected in 2006, the current law building was always meant to be a temporary home to the school. The realities of the job market have impeded expansion and required the faculty to find other ways to accommodate law students, Dennis noted.
"We've spent a fair amount of the University's money converting temporary space into more permanent space. It'll allow us to live in this space for a number of years to come," he said.
This permanent space was created by redesigning parts of the law building for more offices.
"And we're getting a classroom in the Integrated Sciences Building," Dennis added.
Dennis said the plans to replace the law building are a "long-term goal," that have been talked about since the school opened in 2006.
The now-delayed proposal would require 235 students per class to be feasible. The building would
provide additional classrooms, offices and a separate law library, and would contain more case study rooms to accommodate "the way business schools work now," Dennis said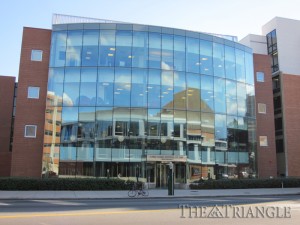 "It'd just be a design catered to the size of the faculty and student body that we'd be aiming for in that point in time," he continued.
In the meantime, Dennis is focusing on giving the students in his college every competitive advantage available to them by providing a strong curriculum and emphasizing the importance of real world experience.
"We're being very proactive in designing a curriculum and aggressively marketing our students, but nevertheless there's a reality of the marketplace," Dennis said.
"We want to be in a position to work with our students as they face the job market, to be responsible about the size of the school and about our ability to help our students get really good jobs when they graduate," he continued.
Dennis called the college's small size a "competitive advantage," one that has allowed for a greater sense of community between members of the school.