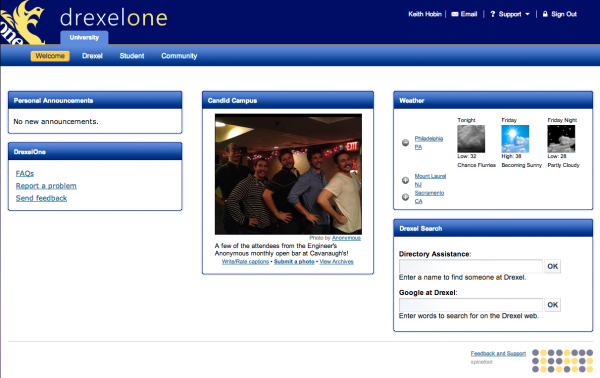 Representatives from Drexel University's Office of Information Resources and Technology reported that the release of the new version of DrexelOne, the University's student and staff Web portal, is delayed.
The Triangle previously reported in November 2012 that the updated version was not yet ready for launch due to "a vital component missing," but IRT hoped to launch it after winter break.
This component is a module that lets DrexelOne administrators display information based on the user's role: student, faculty or staff.
"Without it, DrexelOne would not be able to properly allow access to many other systems," Ken Blackney, associate vice president for core technology infrastructure, wrote in an email.
Blackney said that IRT has received an update from the software vendor, which is supposed to include the missing features. However, this update still needs to be tested before it can be released to the general Drexel population and the new version of DrexelOne can launch.
During the time spent waiting for this update, the IRT staff has moved onto other projects that were ready to move forward. These projects will be finished before IRT staff moves on to implementing and testing the DrexelOne update.
"We will let the Drexel community know when we reach our next milestone with the DrexelOne upgrade; I would expect more communication in the second half of February," Blackney wrote.
The next DrexelOne preview is still available at next.one.drexel.edu. However, Blackney cautions that "new users and those who have changed roles at the University since September may be unable to access the system or certain features of it because of the missing component."
For all other users, information will remain up to date, and IRT encourages users to test out the new system. Any feedback on the preview portal from students, faculty and staff can be sent to [email protected].
"We can't respond to all of it, but we do read it all and it will inform our plans for the future," Blackney wrote.