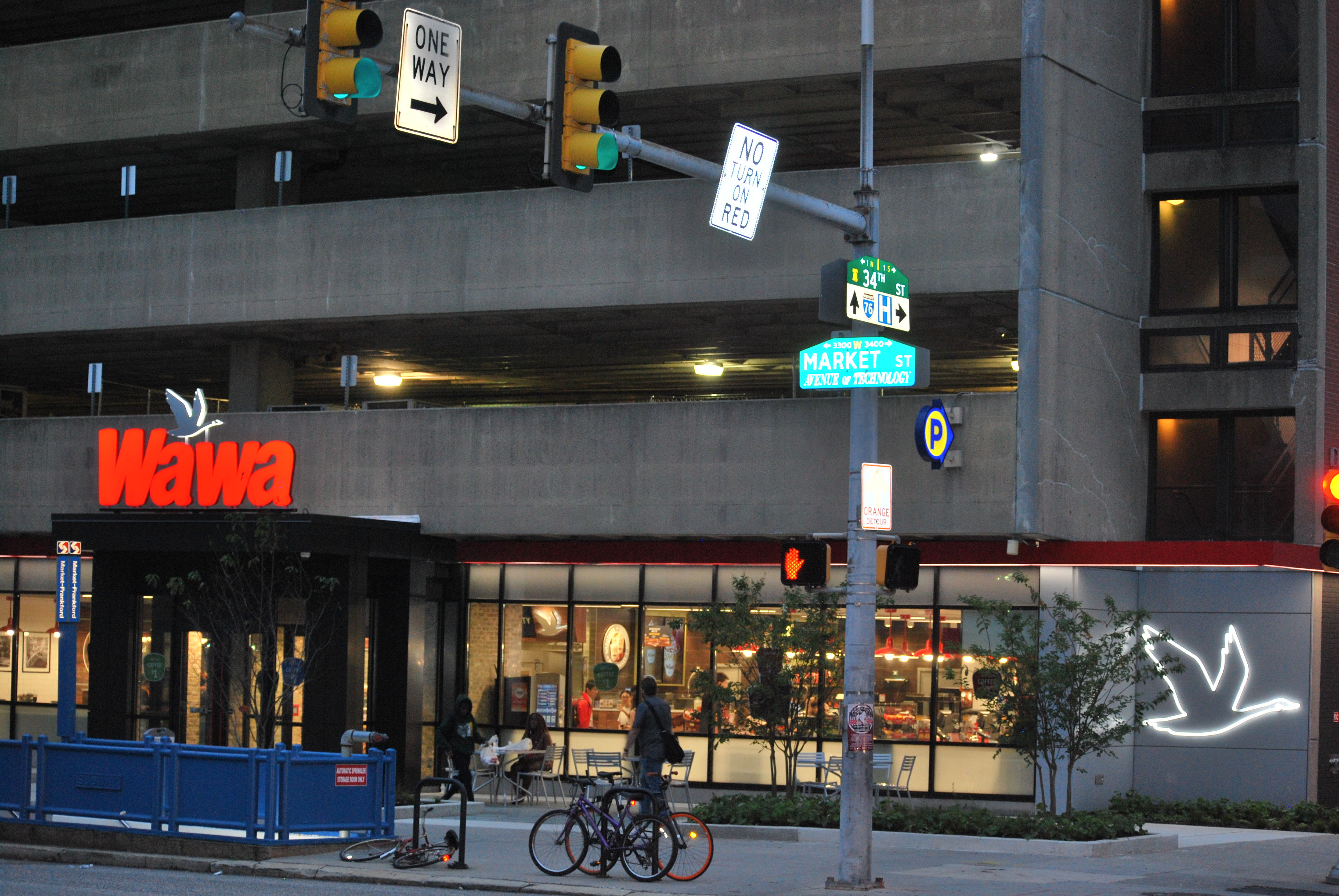 Drexel University students who "gottahava" Wawa can now satisfy their hoagie and coffee cravings at the newest location of the convenience store, which officially opened on Drexel's University City campus on Sept. 21.
As the largest Wawa now in Philadelphia, it stands on the 3300 block of Market Street — right in the heart of campus.
"It's so close to campus now — and classes," Faith Wetter, a senior marketing student, said.
Wetter, who marveled at the convenient set-up of the new store, said the classic East Coast franchise beats its predecessor: Market 16 Noodle Bar, which closed in 2016.
"It's definitely better," she said, noting how the new atmosphere of the space is now far more inviting due to the bright lighting.
Jennifer Viveiros, a lab technician for the biology department, also agreed that the chain outshines the Noodle Bar. While she contended that the former store was rather pricey, she said that all Wawa chains are consistently cheaper.
Besides, she said, Wawa is generally a crowd-pleaser.
"It's something everyone knows and likes already," she said, noting the wide variety of items available.
Brandon Huynh, a senior biology student, said it was a reasonable use of space, though he wishes he could see greater diversity in campus dining options  — especially considering that there is another Wawa just minutes away at 36th and Chestnut streets on the University of Pennsylvania's campus.
"Seeing the same stores is dull," he said.
While some students deem the duplicate store unnecessary, others think the new location is noticeably more convenient for Drexel students, especially considering the hectic schedules that many students have.
Senior biomedical engineering student Raadiya Qadeer said that she never went to the other location because it was still too far of a walk, especially when she was on-the-go in between classes.
"I'll be here much more now," she said.
Qadeer said it is the perfect option for students, as it is more convenient than other campus chains like Starbucks and faster than the neighboring food trucks.
"Plus, it's a Pennsylvania thing," she said, though she noted that the size of the store was not necessary.
Kevin Carbon, an electrical engineering pre-junior, is pleased with the size of the store. At 8,760 square feet, Carbon said that it was just the right size for campus.
"Any smaller would have been too cramped," he said.  
Though the openness of the store is his favorite part, he said he also appreciates the new seating within the store, which includes 20 interior seats with plans for exterior seating to come.
"It'll be a great place to come with friends," Carbon said with a grin. "It's fantastic."
Isaac Woods, a mathematical graduate student, also likes the large size of the store, which he said will prevent customers from running into each other.
He said the size makes sense for the size of campus, which he considers relatively big — especially since campus is growing.
Woods, who is originally from Virginia and grew up on Wawa's long-time competitor, Scheetz, said his time at Drexel has made him grow attached to the chain — though his Virginian counterparts would beg to differ.
"I definitely like Wawa better — but don't tell anyone," he said with a laugh.
Nina Latcheva, a grad student in Drexel's medical school, has always been a fan of Wawa and said that it could be even bigger.
"You can never have enough Wawa," she said.