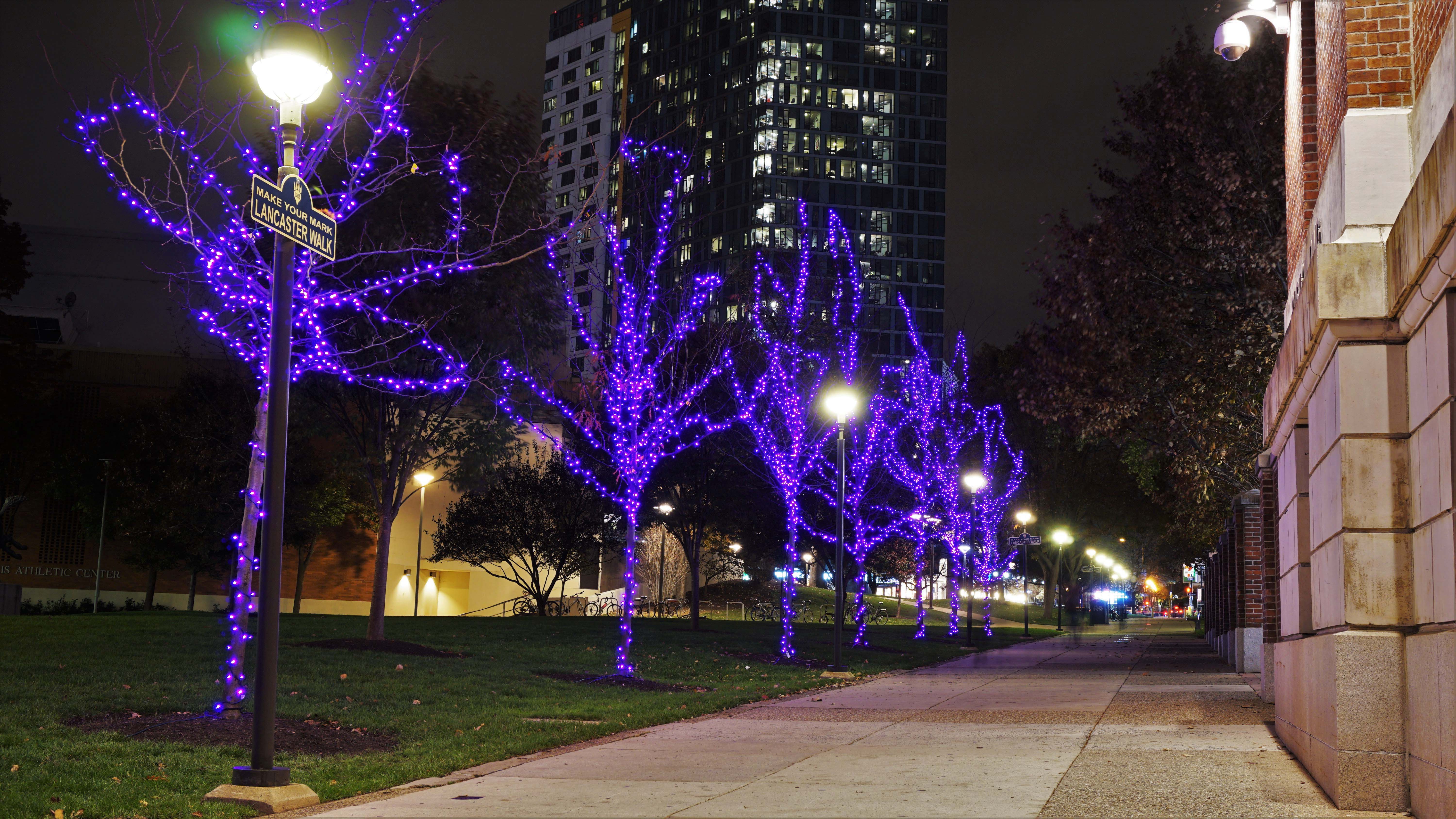 The row of trees on Lancaster Walk and outside the Paul Peck Alumni Center aren't wrapped in purple lights just to brighten your nighttime stroll — they're for National Epilepsy Awareness Month, thanks to a partnership between The Good Idea Fund and the Undergraduate Student Government Association.
The idea was proposed to USGA and TGIF by sophomore biological sciences major Camille Prairie (a former contributor to The Triangle), who began the initiative on her own last year by hanging purple lights near a row of food trucks. This year, she approached the organizations to expand visibility for the cause.
"We liked the idea of hanging lights on Lancaster Walk, because it raises a question in students minds as to what the meaning of what they are. Then, supplemental marketing materials around campus answer the questions in students heads give them a second reminder," Jasper MacNaughton, director of finance for USGA, explained in a digital correspondence.
Drexel University's campus is within the region served by Epilepsy Foundation Eastern Pennsylvania, a local chapter of the Epilepsy Foundation that collaborates with organizations in the area to raise awareness. The EFEP indicates that 110,000 people in eastern Pennsylvania suffer from epilepsy.
According to the Epilepsy Foundation, individuals with epilepsy suffer from unprovoked seizures, the type and severity of which can vary from person to person. For 6 in 10 people afflicted by epilepsy, the root cause of the seizures is uncertain.
"It is important that students, faculty and staff are aware of the effects and symptoms of epilepsy so that they are aware of how it can influence the lives of those students and colleagues that have been diagnosed with epilepsy," Ian Wagner, Chairman of TGIF, said in a digital correspondence.
Besides seizures, symptoms of epilepsy may include loss of consciousness, feelings of fear and anxiety, staring spells, and momentary confusion, according to the Mayo Clinic.
Sudden Unexpected Death in Epilepsy is responsible for the deaths of 1 in 150 people every year who suffer from uncontrolled seizures, according to the Epilepsy Foundation. Because of this, the foundation has created the #AimForZero campaign to raise awareness of the danger of SUDEP and to inform people of strategies that can help to prevent it.
"In a 2016 survey of more than 1,000 people with epilepsy and caregivers of people with epilepsy, only 18% of respondents reported having discussed the risk of SUDEP with their doctor," the Epilepsy Foundation's website states.
Taking prescribed medication, getting sufficient sleep and limiting alcohol intake are among the ways listed by the Epilepsy Foundation to lessen the risk of SUDEP among individuals with epilepsy.
To contribute to the awareness campaign, Wagner encouraged students to get involved with the #AimForZero initiative.
More information about National Epilepsy Awareness Month can be found at www.epilepsy.com.