Co-Founder of GoodSearch.com, now known as Goodshop, and MSNBC's "Your Business" host JJ Ramberg described entrepreneurism Jan. 28 during her talk "A View From the Top" as a career that never occurred to her as something she couldn't do. The event was attended by over 70 Drexel staff and students who gathered in Gerri C. Lebow Hall.
"Every experience is another tool in your toolbox," Ramberg said. The statement served her self-proclaimed path in life which she described as a "not-so-straight-route-to-success."
The Duke University graduate started her career as a receptionist, eventually being promoted to assistant producer for "Dateline," an American television show airing on NBC. Unhappy with her career route at that point in her life, Ramberg went back to school for her Master's degree, becoming a graduate of Stanford's business school. After that she briefly worked for  Cooking.com, an internet-based cookware retailer, and later for CNN in Silicon Valley. During this time, she travelled to Uganda for work.
"I've always been interested in international development and socially responsible companies. I knew that I wanted to work in a business that helped people," Ramberg said. Little did she know, that this interest of hers would distinguish her start-up company from others. GoodSearch.com is a Yahoo!-powered search engine that donates a percentage of its revenue to the charities and schools its user designate.
Being the daughter of successful entrepreneurs, Ramberg has always had a passion for business. Ramberg also has a love for television which explains why she does both. "I work a lot," Ramberg said, making it clear that she has an extremely busy schedule.
Ramberg conveyed that hard work is how her own career in television started. "It was when I was the receptionist that I really saw the power of journalism, the power of storytelling," Ramberg said enthusiastically. It took her a year of recording reels to convince her boss that she was good enough to be an anchor. Each time she brought him a new reel, he would watch and respond with "No," insinuating that she still didn't quite have the anchor skillset. Ramberg, unbothered and motivated, continued to practice anchoring the stories that she produced, determined to one day become an anchor.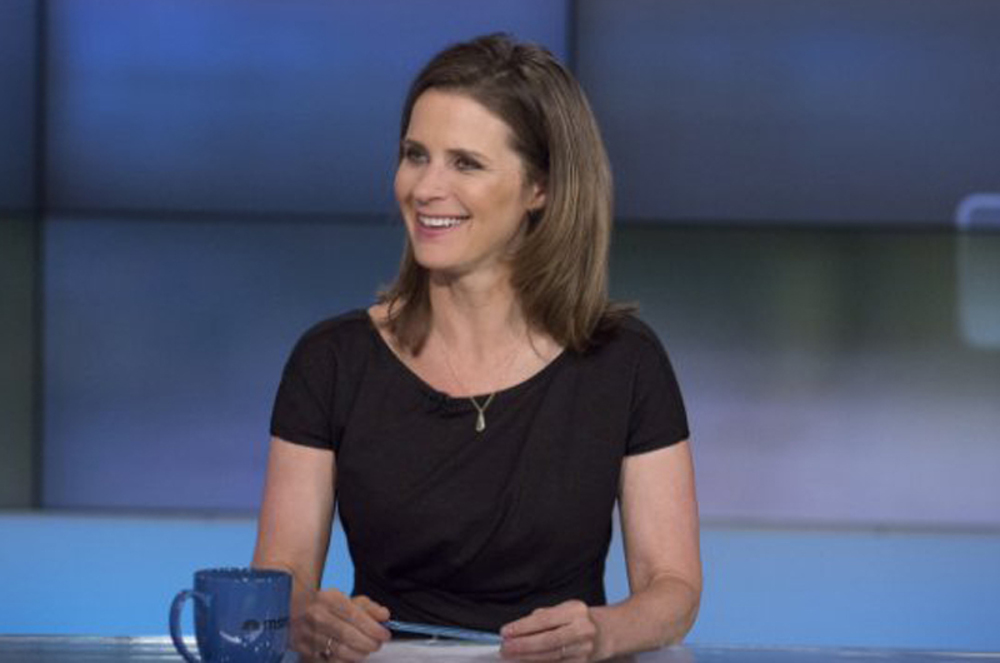 "If I just keep trying and I keep getting advice from people and I keep being open-minded about the advice — then it has to work," Ramberg said. Ramberg believes that hard work is the key to success. She says that being smart, ambitious and willing to listen will eventually help one reach their goals.
However, Ramberg implies that there's a catch — success won't happen overnight. She assured the audience that achieving goals and dreams will take time and sacrifices. "You make decisions of how you spend your time and you give up other stuff," she said.
In addition to perseverance, time management and sacrifices, Ramberg also suggested practice as a means of success. Specifically, she suggested practicing an elevator pitch. On 'Your Business,' Ramberg sometimes challenges her guest to present an elevator pitch — a refined 30-second speech where one sells oneself professionally to the audience. Although these guests are pitching their small business plans, the same advice and criticism is a fitting example for students too.
"An elevator pitch is simply to peak someone's interest. You cannot have one elevator pitch for everyone. You have to be excited about it. Your personality has to come across! Put yourself into their shoes, and figure out what problem they have and how can you solve that problem," Ramberg exclaimed. She went on to say that being able to solve a problem that's present in the workplace makes an employee more beneficial and therefore a good hire.
While on the topic of hiring, Ramberg threw out a trick question that stumped the whole crowd. She asked students to answer the question, "On a scale of 1–10 how lucky do you think you are?" Jokingly, a student answered, "9." Ramberg replied, "Never hire someone who says less than 8 — because people make their own luck."
"A View From the Top" was held in Gerri C. LeBow Hall, followed by a reception. The event was sponsored by Drexel's Rudman Institute for Entertainment Industry Studies, the Antoinette Westphal College of Media Arts and Design, LeBow College of Business and the Close School of Entrepreneurship.