Drexel University has announced plans to build a new 13,000 square-foot Center for Jewish Life at 118 N. 34th St., according to a May 6 University press release.
The center — which will be comprised of a chapel, a student lounge, and several dining aspects including a kosher dining hall, cafe and kitchen — will be the first Jewish center in Philadelphia erected by a university rather than the Jewish community. It is projected to cost $7 million and will be established 36 months after at least half of funding is secured, according to Rabbi Isabel de Koninck, director of Drexel Hillel.
"Quite frankly, at Drexel we need [this center]. We're growing out of our space left and right. We have tons of Jewish students who are really engaged and want Jewish life to be part of their collegiate experience, so we are enormously excited that President [John A.] Fry and the University think that now is the time to help make Jewish life more accessible to students," De Koninck said.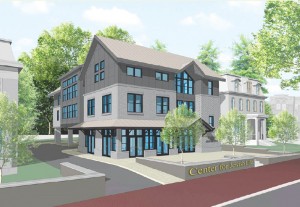 Hillel is an international organization that seeks to enrich the lives of Jewish students on college campuses. Currently, Hillel is centered in an office in the Intercultural Center, and according to De Koninck, the size of the space is not conducive to the large, active population that it serves. The new Center for Jewish Life, however, will have enough space to serve the entire Jewish student population, including space for simultaneous worship services that serve different Jewish populations and interests.
Fry began the initiative for the student center, and De Koninck says she's been involved in every step since the beginning. "I guess it was about two years ago that we first brought together alumni, students and parents to envision what it would look like to build a future for Jewish life on campus," she said. De Koninck and the president's office have collaborated in all aspects from fundraising to meeting with architects and discussing prospective designs.
"Most important, we've worked with students to imagine what would be most beneficial for our campus," she said. De Koninck explained that from the beginning, it was evident that kosher dining would be among the top accommodations that the center would need to provide.
"The dining component will allow students to have access to hot, kosher meals on a regular basis. We expect . . . to make campus life easier for those that are already here," De Koninck said. De Koninck added that she wants Drexel to appeal to students for whom kosher dining is a factor in their college decision process.
Presently, kosher dining is not readily available on Drexel's campus. Drexel has worked with the University of Pennsylvania, which has a large Jewish student population, to offer "guest meal plans" for Jewish students at Drexel.
Chabad serving Drexel — Rohr Jewish Student Center has also worked to provide kosher meals for Jewish Drexel students. Chabad is another international Jewish organization that extends accommodations for Jewish life beyond the college campus.
The Chabad House, which has been in Philadelphia for approximately two years, is not affiliated with the University. There is a Chabad student group that receives funding from Drexel just as any other student group; however, the Chabad house does not receive funding from the University.
"There's only so long you can go without a hot meal, which you cannot get from around here if you keep kosher," Rebbetzin Moussia Goldstein, co-director of the Chabad House, explained.
The Chabad House began offering kosher meals over Passover and other Jewish holidays, but due to large student interest, the house now offers daily meals to all who wish to keep kosher. For the most part, the meal plan is funded by voluntary donations given by parents in appreciation of the accommodation. Even if a student or parent can't afford a donation for the meal plan, Goldstein said, "There's no turning anyone away."
The Chabad House also serves on average between 50 and 70 students, and at most around 150 students every Friday night for Shabbat dinner.
Chabad is excited that the Center for Jewish Life will accommodate the needs of all Jewish Students. However, students of Chabad have thus far not been included in the planning process.
"I think our students are happy about the center but a little disappointed that they didn't even receive a mention," Goldstein said. "They want people to understand Chabad and that they've done so much in changing the Jewish student community. They're not only attracting students but retaining them as well and building a family in the process."
Rabbi Chaim Goldstein added, "We came here to campus, and we're just an independent organization and just do things on our own, so I think Drexel just may not know about our presence."
Moussia Goldstein explained that she and Rabbi Goldstein have met with Fry and other University faculty members but are unsure if they are aware of the extent to which Chabad impacts Jewish student life.
Rachel Wener, a sophomore web development student, said, "Chabad changed my life. When I was a freshman, I was in a lot of clubs and went to all of my classes and was really trying to get involved, and Chabad really provided me with something that the other clubs couldn't. There is something about Chabad that is so 'homey' — you can't come here and not make friends. It took my college experience from 'regular freshman' to 'I can't leave Drexel if I tried.'"
Noah Gross, a senior mechanical engineering major and two-time president and former treasurer of the Chabad student group, explained that he has been in contact with Dean of Students David Ruth as well Ken Goldman, president of the Office of Institutional Advancement and chief philanthropic officer, expressing a desire for Chabad to be included in planning.
"I told them that Chabad has grown exponentially in the two to three years that we've been here and there are no signs of slowing down. I wanted to let them know that we are excited about the Center for Jewish Life but a bit disheartened by the initial oversight in the preliminary stages of planning," Gross said. "We look forward to being an active force in planning and figuring out what steps we can take to enhance the accommodations that the Center for Jewish Life will provide."
Chabad Vice President Ariel Arbley, a pre-junior business major with concentrations in finance and legal studies, said he hopes that the Center for Jewish Life will allow for a variety of Jewish needs to be met and will spark new collaboration between Hillel and Chabad.
"Everyone gets something different out of each one, which is what I think is good about Chabad and Hillel. I think they work really well together and complement one another. … We've done events with Hillel in the past, and we work together to create events to bring Jewish students together," Arbley said.
Currently, Chabad and Hillel sponsor some events together, such as Shabbat 200. Each aims to serve the entirety of the Drexel Jewish community, which at 5 percent includes between 900 and 1,200 students.
Gross said that the Center for Jewish life will "give a sense of pride for Drexel students that says, 'This is my university, and it has the resources to accommodate me religiously, spiritually, culturally and academically.' I am excited to see what the future brings and the growth of Jewish life on campus when we have an official building to call ours."