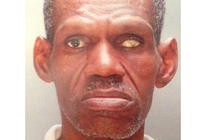 James Harris, the former handyman of the building that Jasmine Wright lived in, was charged in her murder and rape July 24 according to the Philadelphia Police department.
The 56-year-old was banned from the building one week prior to the attack. He has a long history of violence, most shockingly the murder of his father, James Washington whom he was convicted of killing on a voluntary manslaughter charge in 1982. Harris was also charged with the attempted rape and rape of a 15-year-old girl but he was either found not guilty or had the charges dropped, as reported in NBC Philadelphia. 6abc reports that Harris's prior criminal charges account to 31 in total.
Wright's body was found at 2:30 p.m. on July 16. One day earlier, Wright was in her home on the phone with her mother when Harris came up from behind her, attacking her. Her mother had heard parts of the struggle before Wright's cellphone went dead. According to Police Homicide Detective James Clark, Harris had broken into Wright's apartment waiting for her to come home. Wright, entering thirty minutes later, had no idea she was not alone. Harris sexually assaulted Wright as he beat her. Philadelphia Police believed this happened on the floor next to her bed. After strangling her to death, the Philadelphia Police say that he placed her on the bed.
While Harris attempted to use bleach to clean up the crime scene, DNA evidence was successfully collected and and tested, identifying him as Wright's killer.
Despite being fired from the building and evicted (he had lived three doors down from Wright prior to being banned from the building), Harris kept the keys to Wright's apartment complex as the owners of the building failed to recover them.
"I mean, he's a monster. We're very happy to get him off the streets," Clark said during the criminal charge announcement.
Philadelphia Police currently have not released information on the motive for the murder, however Philly.com reports that Harris had posted a picture of a dozen roses on Wright's Facebook page. "All in," he wrote, "for you."
The Triangle will update this piece as further information comes along.