Drexel's newest music venue, Flux, held its first show Feb. 11 at its location in the lower level of the James E. Marks Intercultural Center.
Local band and punk/reggae group The Nomad Clientele headlined at the concert after an opening set by the progressive rock-reggae band Nevergreen.
"The show on Saturday was our first show, but we weren't marketing it as that or as our 'grand opening,' Julie Paradiso, general manager of Flux, wrote in an email. "It was more like a 'soft opening' to get an understanding internally for …  how the shows would run and to test out and practice using the new sound equipment."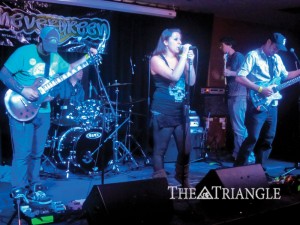 Though two outside bands played the first show, Paradiso said both professional and student bands will be able to play at the venue once it is officially open.
"Mark, on our booking team, knew [The Nomad Clientele] and contacted them about playing the show," Martin Leichter, a sophomore psychology major and the hospitality manager at Flux, wrote in an email. "The headlining band then asked [Nevergreen] if they wanted to come along."
According to Paradiso, the student-operated venue currently employs about 30 students.
"The students help coordinate everything from public relations and marketing to booking, hospitality, and sound and lighting," she explained.
However, Flux does have some outside help from the University, as it is funded by Drexel's Student Activity Fee Allocation Committee.
"The venue is supported by Student Life, specifically the Office of Campus Activities and the Office of Multicultural Programs," Paradiso explained.
The location of Flux isn't entirely accidental, as the website for Flux describes itself as a "music and arts venue at Drexel University."
"Not only does [Flux] add more culture to our campus, but it will also give kids an opportunity to see a show in very close proximity. They won't have an excuse to not go out and see a show," Leichter wrote.
The date of the Flux's official grand opening has not been completely finalized.
"The booking committee is in the process of finding acts for the grand opening, which will happen soon," Leichter explained.