The Innovation Center @3401 opened its doors July 28 as an initiative to create a vibrant, entrepreneurial environment for start-ups, freelancers, researchers and students. The center was made possible through a partnership between Drexel and the University City Science Center.
The center will function similarly to other shared workspaces that are becoming increasingly popular for start-up companies; however, Drexel and the science center have taken a more integrative approach.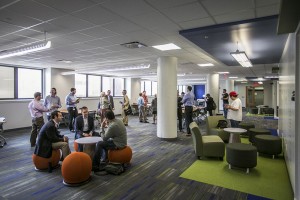 "Instead of just catering to start-ups or individuals looking for flexible office options, the ic@3401 includes more established companies, investors and, of course, academic faculty and students," Chris Laing, vice president of science and technology at the Science Center, wrote in an email. "We believe in 'collaboration,' not just 'co-work.' In addition to the programs and resources offered directly through ic@3401, residents will have access to the programs, resources and expertise at the Science Center and Drexel."
The ic@3401's association with Drexel means increased opportunities for students with their own businesses and those who are interested in working for a start-up. Interested students are welcome to stop by the space to learn more.
"There are opportunities for Drexel students to work as co-ops with residents of ic@3401, and Drexel (and other) students with an entrepreneurial idea might consider locating their start-up there," Laing continued.
The ic@3401 is working with both the Close School of Entrepreneurship and the Baiada Institute for Entrepreneurship to offer additional resources to the entrepreneurs working in the center.
Point.io, a company that works with app development and technology integration, has already moved into the space from its previous location near King of Prussia, Pennsylvania, and their team is eager to take advantage of the opportunities the space provides.
"The company is looking to leverage the access both ways," Glenn Goldberg, chief marketing officer of Point.io, said. "In other words, students that are studying technology and computer science and programming will have better access to the company in the form of internships and potential jobs when they graduate, and Point.io has access to that labor pool. … And secondly, being in that technology hub is advantageous to Point.io because it also helps with access to clients that are based out of Center City."
Point.io is already experiencing the benefits of the new, shared location and of having the opportunity to work with other start-ups to develop mutually beneficial relationships.
"We've already met people just in the hallways, on the way in, on the way out. It's really been a terrific space for us," Goldberg said. "We think it's a great idea, integrating entrepreneurialism in the midst of an educational environment, and we think it's a win on both sides."
This venture has been in the works for over a year as an initiative by both Drexel and the Science Center to strengthen the entrepreneurial mindset that is already present in University City. The 17,000-square-foot space took about six months to complete and can accommodate 50 residents.
Membership starts at $300 per month, a fee that includes rent, Internet, office amenities and programming by Drexel's Expressive and Creative Interaction Technologies Center and the Science Center's Quorum. Interested entrepreneurs can fill out an application by visiting the ExCITe Center website.