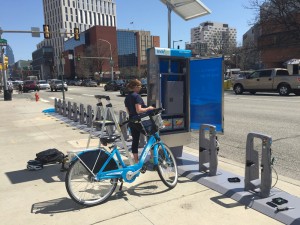 The Daskalakis Athletic Center has long been a place where students can work out on exercise bikes in the gym, but starting April 23, an Indego bike share station will officially open outside the facility on the corner of 33rd and Market streets, allowing students to get their biking fix outside this spring.
In March, Philadelphia Mayor Michael A. Nutter said in a statement, "Great cities provide residents, commuters and visitors with great transportation and recreation options. Indego adds another option to get around, stay healthy and experience our wonderful city."
The station located in front of the DAC is only one of 60 located throughout Philadelphia's city limits. Several others are located around Drexel's campus: one in Drexel Park at 32nd and Baring streets, one at 30th Street Station and one at 36th and Sansom streets. Bike share stations are also found around Temple University's and University of Pennsylvania's campuses, making this form of transportation an easy way to travel from one university to another.
Over 600 of these bulky new blue and white three-speed bicycles will be available for use throughout the city 24 hours a day, year round. Finding a station to drop the bike off at is designed to be easy with the help of Indego's website. Bikes can be rented and returned to any of the 60 stations.
Indego will be Philadelphia's first public bike share system, taking its name from Independence Blue Cross, the program's biggest sponsor with an $8.5 million contribution.
"Independence Blue Cross's sponsorship of Indego is a natural extension of our commitment to the health and well-being of the people and communities we serve," Independence Blue Cross President and CEO Daniel J. Hilferty said. "We're thrilled to be part of this exciting effort that helps residents and visitors alike experience our world class city through a world class transportation system."
Until the year 2020, Independence Blue Cross plans to contribute an additional $1.7 million a year for maintenance and operation of the system. The city of Philadelphia spent $3 million purchasing the bikes and stations, and federal, state and third-party funding has contributed about $4.5 million.
Other cities such as Washington D.C., Boston and Chicago have adopted bike share programs in recent years. These bike share programs have served as a way for residents to help reduce emissions, increase their health and avoid traffic . And while Philly is not the first city to launch a bike share program, it is the first city to offer a cash payment option, making the bikes available to any resident of Philadelphia regardless of income. The city is partnering with Drexel University's School of Public Health over the next three years in an effort to study the impacts of Indego on riders' health.
Drexel students have expressed that they are generally excited for the bike share. Myles Adams is an Information Technology major who regularly rides his bike to work. Adams sees the shuttle as another great mode of transportation to get into the city "It seems like a great alternative on the weekends when the shuttles not running to be able to get West or East. You could just grab a bike and get there that way," Adams said.
Another regular biker and Drexel student, Nina Lish commented that the bike share will allow people to get a wide variety of places in Philadelphia, "People can use them to get into the city for places that aren't on the Market Frankford Line."
Her only concern being that helmets are not included in the bike share deal. "The bike is provided but there's never a helmet and I hate when I see people riding without a helmet in the city because it's still incredibly dangerous. I've been hit once so it just seems dumb to me. Cars have seatbelt when you rent a car. But when you rent a bike there's no rental helmet," Lish said.
To celebrate the kickoff of the program, Indego and the mayor's office have organized a celebration Thursday, April 23 in Eakins Oval. Participants can be some of the first residents to use the bike share program. The party will begin at noon and the ceremonial ride-off will take place at 12:30 p.m.
Those who wish to participate in the program can use rideindego.com to sign up for a 30-day membership giving them free unlimited one-hour rides for a fee of $15 or an annual Indego membership costing $10 and $4 per hour. A few days after signing up, they'll receive a key fob in the mail giving them access to the system. Non-members by comparison can pay $4 per half hour with the bike. Sign up to become a member of the bike share program on the Indego website.