In an effort to provide affordable produce, reduce food waste and give back to the community, Hungry Harvest has been spreading its services throughout the country in the past year. Of recent, Drexel University has also involved itself with the program. Hungry Harvest buys surplus produce that might normally be left on the shelves for not being attractive enough to some customers and eventually thrown out, with the goal of reducing food waste. This produce is then sold to customers of the service and delivered to their homes as ordered.
"We work with local farms and wholesalers to sell surplus produce, which is stuff that's perfectly fine to eat, but normally gets thrown away because of aesthetic imperfections," Evan Lutz, Hungry Harvest's co-founder and CEO, explained. Furthermore, Lutz explained that for every box of produce purchased by a customer, Hungry Harvest donates a free meal to someone in need.
About three weeks ago, at the beginning of February, Hungry Harvest first began offering its services in Philadelphia. The company attracted 65 customers in their first week and currently has about 230 Harvest Heroes (what the company nicknames its customers) in the Philadelphia area. As the company settles into Philly, Drexel's Center for Hospitality and Sports Management and the Dana and David Dornsife Center are forming initiatives with them.
"We've been talking with Drexel's [Center for Hospitality and Sports Management] and we're going to try and get them to create some unique add-ons for our products that we can sell in our boxes," Lutz said. The initiative is underway, being led by Jonathan Deutsch and Alexandra Zeitz of the Center for Hospitality and Sports Management. Zeitz is the center's Food Lab Manager. The potential to partner with Hungry Harvest fits in perfectly with the Food Lab's recent projects to find solutions for surplus food waste.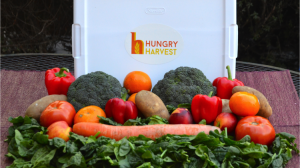 Lutz would also like to be able to designate an area of Drexel's campus as a pick-up location for customers to pick up their produce deliveries, but this has not yet been confirmed. The company is also looking to set up an avenue through which produce can be donated to the Dornsife Center's monthly community dinners, which are held on the first Tuesday of each month. This donation would be in line with the company's mission of donating a free meal for every purchased box of produce.
Lutz believes that getting involved on campuses is a good move for the company and provides a great resource for students. "It really is a way for students to save money, give back to the community as well and eat healthy. It's really difficult to eat healthy in college," Lutz added.  
While Lutz was in his senior year at the University of Maryland in 2013, he and co-founder John Zamora were approached by a surplus produce supplier and began buying surplus produce to sell on campus to other students. The tiny business quickly boomed and by the third week of operation, 400 to 500 students were coming to buy the produce. It was in May of 2014 that the company formally branded itself as Hungry Harvest. A little over a year and a half later, the company was featured on 6ABC's television show "Shark Tank" Jan. 8. On the show, the company received a $100,000 investment for a 10 percent stake in the company from Robert Herjavec, founder of the Herjavec Group and one of the featured "shark" investors.
Although the company started in Baltimore, MD, they are now delivering produce in parts of Philadelphia, as well as Maryland, Washington D.C. and Virginia. The company states on their website that they will soon expand to also serve New York City, Northern New Jersey, Pittsburgh, and Richmond. Growing up near Baltimore, Lutz was no stranger to poverty and food deserts. The USDA defines food deserts as areas which suffer from a lack of sources for fresh produce and healthful foods, which are often located in impoverished areas. The issue has gained more attention since First Lady Michelle Obama launched the "Let's Move" initiative to end childhood obesity.
The company ensures that it gives back to the community by partnering with 14 different companies to deliver produce or meals to those in need, some of which include Manna Food Center, Nourish Now and Growing SOUL. Hungry Harvest currently donates between one and a half to five pounds of produce for every purchased box to the partnering organizations according to CSO Mark Leybengrub. Hungry Harvest also hosts Free Farmers Markets in food deserts to give away free produce to anyone who comes. According to their website, a typical Free Farmers Market provides between 5,000 and 10,000 pounds of free and fresh produce to those in need.
Offering three different types of produce boxes and between two and three sizes of each box with prices starting at $15 a box, purchases can be made on their website at any time.