The Huffington Post President and Editor-in-Chief Arianna Huffington spoke about the positives and negatives of the ever-changing participation-driven Internet April 30 as part of the College of Arts and Sciences' third annual Distinguished Lecture Series.
The lecture, titled "The Brave New World of the 'New Media': How Social Media Has Revolutionized the Communications Landscape," was held in the Main Auditorium. There was a question-and-answer session following the lecture.
"The Distinguished Lecture Series to us is a visible sign of this integration of the arts, sciences and changing society, and I believe we cannot have a better example of this than in our speaker today, Arianna Huffington," College of Arts and Sciences Dean Donna Murasko said in her opening remarks. "Journalism communications is the essence of where we are in the liberal arts, this humanities-social side of the campus. But she understands better than almost anyone that if we don't employ today's technology, this essence of communication is not going to be maximized."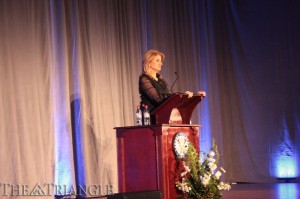 Amy Weaver, director of marketing and communications for CoAS, and assistant professor of English Jennifer Yusin organized the event.
"This series was created in the spirit of intellectual curiosity and engagement with the interdisciplinary connections among the humanities and sciences and social sciences," Yusin said during her introduction of Huffington. "Tonight and with every lecture, we hope to engage our community in the kind of intellectual endeavors that reveal how knowledge in today's world is bounded not by the disciplines but by an ever-expanding frontier of human curiosity."
Huffington took the stage, donning a dragon pin, to a round of applause from the capacity audience. She began the lecture by introducing herself and added in a few jokes.
"For those of you who have not heard me before, this accent is real," Huffington said. "I say that because I joked recently during a speech that I was born in Fresno, Calif., and I cultivated this accent to give myself an air of being an ethnic minority, which is very popular everywhere except in Arizona."
Huffington spoke about the shift in present-day media from presentation to participation. "It's a much more engaged and interactive process," she said. This principal- or participation-driven media is at the heart of the creation of The Huffington Post, she said. The Post serves as both a journalistic enterprise as well as a platform to share information.
The Huffington Post will be 8 years old May 9, and it has grown from five employees to 850 employees. It is now offered in seven countries and will be adding Germany as the eighth in the fall.
"We promise our readers the best of the Web, whether we produce it or find it and bring it to them and link back to the creators of the work," she said.
Huffington explained that there is no hierarchy of contributors to the Post, and the thing that excites her most is bringing new voices on board. She sees the future of media as being a hybrid of traditional media moving more and more online while online media do more and more traditional journalism. This would not be possible without the Internet and social media, she said.
"It offers a certain platform for people who otherwise would not have had a voice," she said. "And the results are amazing, whether it's the Arab Spring or anything minor in our community, the impact is extraordinary. That is the kind of golden age of journalism, in a way."
She then went on to explain that this journalism "Garden of Eden" has a snake.
Huffington described that the criteria of success online is changing from quality to "virality." She is worried that journalists are focusing too much on getting the most Facebook likes and Twitter re-tweets that they are sacrificing the excellence of their work. "I think that is something which is becoming increasingly a problem," she said.
She also believes that this new media is forcing the population to suffer from hyperconnectivity. "I don't know about you, but I have to work hard to unplug and recharge. It's becoming an addiction," she said.
At this point, she realized that the cell phone ringing in the front row was her own BlackBerry, and she asked for it to be turned off.
"There's a real paradox here that we are finding that technology is now being used to help us disconnect from technology," she said.
Huffington shared the story of when she fainted from lack of sleep and too much stress when she went to visit colleges with her daughter. She now champions sleep and dubbed her bedroom as a "device-free zone" so she can "unplug and recharge." She said she values sleep so much that she created nap rooms at The Huffington Post offices and is on the executive council of the Division of Sleep Medicine at Harvard Medical School.
According to Huffington, 75 percent of the United States' health care costs are for preventable chronic diseases, many associated with stress and lack of sleep.
Huffington also spoke about monetizing new media and how advertisers have had to adapt to the participation-driven Internet. She said that banner ads aren't as effective now as they once were, and sponsorships are the new way to advertise on the Web. At The Huffington Post, brands sponsor a section for an extended period of time, which allows them to connect and interact directly with customers. "You have to stay in the arena," Huffington said.
Huffington also invited the entire audience to become Huffington Post bloggers and shared her email address for people interested to email her directly: [email protected].
"By 2020 we're going to add 3 billion people to the Internet. That is absolutely stunning if you think of it. It can be incredibly powerful, or it can be incredibly troubling, and a lot will depend on how much we teach everybody to manage the technology rather than be managed by it," Huffington said.
Huffington was named in the Time 100, Time Magazine's list of the top 100 most influential people, in 2006 and 2011. Since 2010 she has been listed as one of Forbes' most powerful women in the world.