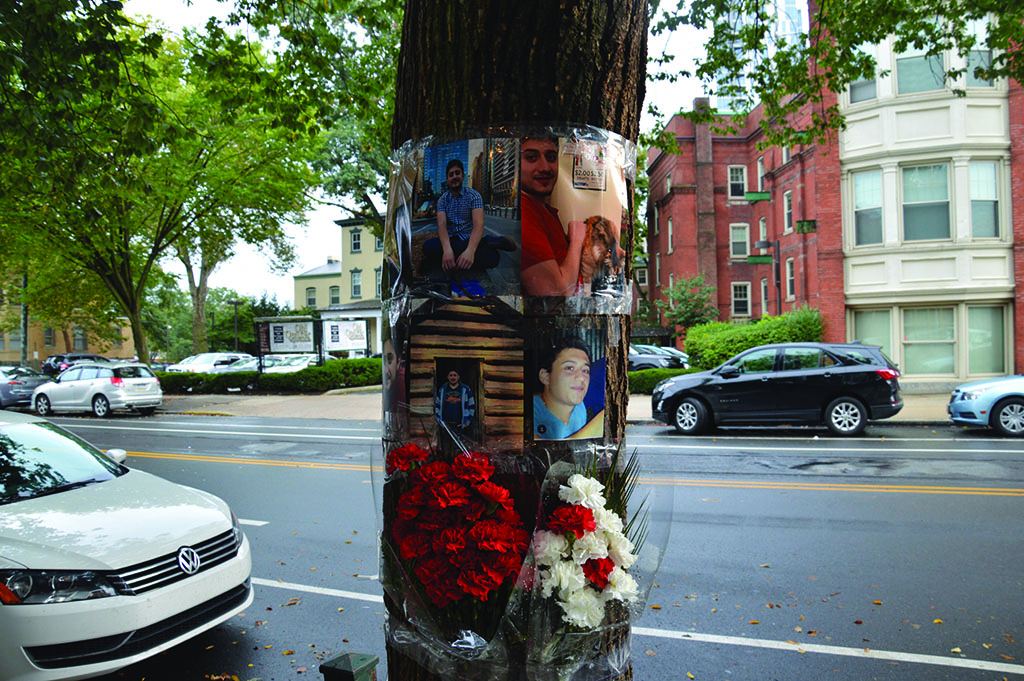 On Oct. 5, the gavel brought down a final verdict on Joseph Howanski, the Drexel alumnus who shot and killed Merlos Mukaj on Nov. 28, 2017. Almost a full year after the incident, Howanski was found guilty of voluntary manslaughter, possession of an instrument of crime and reckless endangerment.
The trial began around 9:30 a.m. when Judge Barbara McDermott entered the small courtroom. The room was packed with people, mostly friends and family of the parties involved. In fact, there were so many people in the audience that some had to sit in the hallway.
Howanski silently acknowledged his friends and family that were there. The families of Mukaj and his fiance were seated at the opposite end of the room. The trial began with the defense, spearheaded by Fortunato N. Perri Jr., and the prosecution, led by Ed Jaramillo, giving their opening remarks and laying out the basis of their argument.
Perri called the night of Nov. 28 a "perfect storm of events that occur in succession."
He argued that the shooting was purely self-defense, since Mukaj attacked Howanski first. He also highlighted that Mukaj was known to have an aggressive attitude, painting a picture of Howanski as a bystander monitoring a situation and only intervening because he was forced to.
On the other hand, Jaramillo put heavy emphasis that Howanksi had owned and trained with a gun for several months prior. On the night of the event, he failed to call the police or ask for assistance of any kind.
Additionally, because of Howanski was not injured, Jaramillo claimed that "in no way, shape, or form could [Howanski] tell us that he was in danger of death or bodily harm."
Several key witness were brought to testify. Two of Howanski's former roommates, Andrew Kennedy and Robert Poston, explained that a few months before the incident, Howanski had had an encounter with a hostile and unfamiliar individual, which sparked his desire to purchase a gun, as well as a license to carry. Their testimony, along with several others, fleshed out the intricate details of the event.
According to key witnesses, surveillance footage from Ed's Pizza, and supplemental evidence, the following events took place the night of Nov. 28, 2017. Merlos Mukaj met his fiance, Samantha Door, at Aloosh Hookah bar at approximately 9 p.m. Mukaj got into an argument with the bartender, who was a friend of his, which sparked an argument between Mukaj and Door, who graduated Drexel this year. The two left the establishment and continued arguing until they stopped on the west end of the 3500 block of Lancaster Avenue at around 11:35 p.m.
After a few minutes, Joseph Howanski and his roommates passed by the couple, heading east to pick up a food order from Savas. Howanski claimed he recognized Door from a mutual friend, who previously had an encounter with Door and Mukaj when they were having an argument and tried to intervene.
Mukaj and the mutual friend had engaged in a "tussle" which resulted in a sprained thumb for the mutual friend. The group continued to Savas, but were still concerned about the arguing couple. Two of the roommates went into Savas to get their order, but Howanski and his boyfriend Poston walked toward the couple to "make sure [Door] wasn't going to be physically hurt."
While walking towards the couple, they encountered Cara DePiano and her roommate, who were coming out of Ed's Pizza. The women asked if Howanski had called public safety yet, who replied that he had not, because the women appeared to already be calling them. Howanski and Poston continued to approach the couple, stopping about 15 to 20 feet away. At approximately 11:40 p.m., the surveillance video shows Howanski lifting up his peacoat on his right side, the same side he kept his holstered gun on. He also pulled out his phone, but as Mukaj walked east, away from Door, Howanski put his phone away. Door began to follow, and as she passed, Howanski said something along the lines of, "Are you alright?" to which Door replied that she was fine.
Mukaj then turned around and extended his arms out and said towards Howanski, "Is there a problem, man?"
Mukaj continued to approach Howanski and pushed him off the curb into a parking spot. The surveillance video shows Mukaj taking two swipes at Howanski's head, with one of the punches knocking off his glasses. In the middle of Mukaj's third swing, Howanski unholstered his weapon and fired three shots into Mukaj's chest, who collapsed sideways onto the ground.
The three remained on the scene until Drexel police arrived. Howanski stepped forward to confess to the shooting and handed over his weapon, and was subsequently arrested. Mukaj was taken to Penn Presbyterian Hospital, where he was pronounced dead.
Several experts were called upon to examine evidence and give their testimonies. The medical examiner who performed the autopsy, Dr. Victoria Sorokin, asserted that two of the three shots that Howanski fired would have been fatal on their own, with the third possibly causing fatality. She also confirmed the toxicology report, which stated that Mukaj had a BAC of 0.165 at the time of the incident, which is twice the legal limit.
Thorsten Lucke was the homicide detective responsible for creating the surveillance video compilation. During the trial, he reviewed several key moments in the video. Right before approaching the couple, Howanski can be seen lifting up the right side of his pea coat, the same side he kept his holstered gun on. When questioned, Howanski claimed he was simply pulling up his pants, but the prosecution insisted that he was making his gun available for quick use.
After all the evidence was presented and witnesses were thoroughly questioned, both sides gave their concluding arguments. The defense claimed that Howanski was legally justified in shooting Mukaj because there was no way to "prove beyond a reasonable doubt that he was not using self-defense without the ability to find safe retreat."
The defense also maintained that Howanski's gun ownership and the fact that he was carrying a gun the night of the event did not constitute a crime. He had a license to carry, and his desire for gun ownership was fueled entirely by self-defense. The defense also presented that "he has a lot of supporters, pouring out of the courtroom." Perri referred to the 36 character witnesses named earlier in the trial that could "testify to [Howanski's] outstanding reputation for being a law-abiding citizen."
Many of these people were friends or family of Howanski who had known him for years or even decades. The defense concluded by painting Howanski as bystander who ended up in a fight he never wanted to be in. It was Mukaj's third aggressive encounter of the night, and Howanski was terrified. He was under the threat of being hit by car, he couldn't see without his glasses, and ultimately, he shot because it was the only thing he could do.
However, the prosecution claimed that Howanski shot Mukaj out of malice. The prosecution pointed out that Howanski did not contact police before he approached the couple. They also emphasized the fact that Howanski had to pull the trigger three times to fire three shots. Mukaj was unarmed at the time, wearing nothing but a t-shirt and holding nothing but a pack of cigarettes in his hands. Howanski was physically larger than Mukaj, and after the incident, had no injuries to his face.
The prosecution claimed that Howanski "did not reasonably believe he was in danger, he told police that, 'I wasn't going to get beat up, so I shot him.'" Because he was not facing a serious threat of bodily harm or death, the prosecution assumed he was acting with malice.
Ultimately, Judge McDermott did not find evidence of malice, but she also did not find that Howanski was justified in using deadly force. She found him guilty of voluntary manslaughter rather than third-degree murder, and also of reckless endangerment and possession of an instrument of crime. Additionally, she revoked his bail because he was not residing within the city — by Oct. 18, however, Howanski's bail was reinstated pending sentencing.
In Pennsylvania, voluntary manslaughter carries a maximum of 20 years for first-time offenders. Howanski's sentencing hearing take place Jan. 7.