Much about Drexel's Homecoming Dance Party 2013, held Jan. 26 in the Armory, was out of the ordinary — most notably Drexel Traditions' decision to bill its widest-known performer, Waka Flocka Flame, as the first headlining act of the night.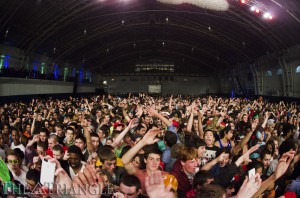 The rapper's performance began at roughly 8:30 p.m., when about 100 students were still waiting to make it into the building. No one was expecting to see the event's top-billed artist onstage so early, especially not Waka Flocka Flame fan and Drexel sophomore computer engineering student Tyler Pingree.
"I thought he was headlining, so I assumed he would be last," Pingree wrote in an email. "[However] it was a very good move in my opinion. I liked the fact that they had the rapper go first and then all of the house music came on later, which was a good mix-up."
According to LeBow College of Business pre-junior James Hamalian, who helped put on the Dance Party, this was a tactic used to keep students and guests engrossed throughout the night.
"We set up the lineup so as students entered the show, they would be grilled in the face by Waka Flocka Flame's energy, could go wild to Flosstradamus' beats and would leave the night in awe following Porter Robinson's triumphant [electronic dance music] set," Hamalian said.
This strategy ultimately worked, with a large majority of concertgoers staying until the very end of Robinson's laser-enhanced electronic performance. It was evident that many students stayed specifically for Robinson's highly dubstep-influenced set, including freshman business student and varsity tennis player Xavier Saavedra.
"I decided to come to the event because Porter Robinson is one of my favorite producers, and since it was a Drexel event, I figured I would know a lot of people and it was going to be a lot of fun," he said.
A delayed performance by Flosstradamus pushed back Robinson's stage time, but the 20-year-old disc jockey could clearly care less. He mixed over an hour worth of songs, all backed by thrilling effects including smoke guns, lots of strobe lights, and a shower of white balloons toward the end.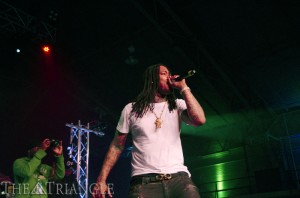 "I thought Porter was one of the best artists Drexel could've gotten for homecoming," Saavedra continued.
Another element unique to this specific homecoming concert was the rowdiness of the crowd. At least six crowd-surfing fans were pulled by the feet over the stage barricade by security personnel and escorted out of the Armory. Most of these incidents took place during Waka Flocka Flame's high-energy performance. One student, determined to reach the front of the crowd so he could use the restroom, was brought onstage, handed a microphone and given his 15 minutes with Waka Flocka Flame.
"The crowd was nuts, and we loved it," Hamalian said. "I can't recall the last time I saw crowd surfing on Drexel's campus, so that was a huge plus in my mind. My apologies go out to those students who were kicked out for crowd surfing."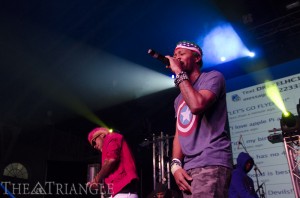 Drexel Public Safety officers were posted roughly every 15 feet in front of the stage, ready to grab anyone who tried to cross the barrier.
"Beyond that, though, this year's show was nonviolent, especially noting that 3,000 students were present in one space," Hamalian said.
This year's concert was only the second to sell out, along with last year's event headlined by Snoop Dogg. The Traditions Program's marketing strategy included an appearance by the "Homecoming Man," who ran around campus in a spandex bodysuit to hand out flyers. Tickets were made available on DHC13.com Jan. 15 and were sold out by Jan. 25.
The soundtrack of the night was eclectic, ranging from screamo-pop (Waka Flocka Flame attempted to cover Will.i.am's "Scream and Shout") to dancehall indie (Flosstradamus remixed Lana Del Rey) to throwback alternative music with a twist (Robinson shared his take on "Sweetness" by Jimmy Eat World).
The concert even included a collaboration between the performers, as Waka Flocka Flame performed his single "Grove Street Party" together with Flosstradamus. Pingree called that "the highlight of the show."
"That was a very cool performance, and I don't think it will happen again anytime soon," he said.
The concert ran past midnight as Robinson rounded out the night with a highly demanded encore performance.
"I definitely plan on going to homecoming next year, as long as they keep on booking such great artists," Saavedra said.
Also take a look at The Triangle's live homecoming coverage of all the major events from Drexel's Homecoming 2013, including interviews with your king and queen and Waka Flacka Flame and a look at this year's Crystal Ball.