After a two-day delay due to inclement weather, Drexel Traditions has officially announced that Schoolboy Q and Carnage will co-headline the Homecoming 2014 concert Jan. 25 in the 33rd Street Armory.
The event will also feature rapper Trinidad James and electronic dance music disc jockey Griz. According to junior entrepreneurship major and Dragon Concert Series talent buyer Ben Melman, "Trinidad James and Griz are technically supporting acts, but they'll sell as many tickets as the other artists."
Drexel Traditions explored many options before deciding on the final lineup. According to Melman, "We went through 20 or 30 potential artists. We were hoping to confirm Calvin Harris at one point, but that fell through. And we were also looking at 2Chainz and Benny Benassi."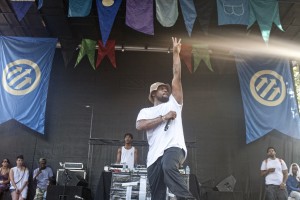 Melman added, "We ended up with this line up and personally I think it's awesome. Anyone who is into music is going to dig this line up and the flow of the show is going to be awesome."
Junior finance and entrepreneurship major and president of Drexel Traditions Jimmy Hamalian explained that he and the planning committee spent most of the summer researching artists.
"We don't operate much like [the Campus Activities Board] in that we don't enjoy taking polls that might boost hype and raise false expectations. … We did a lot of 'search and research,' more or less, just to isolate names that kept popping up at a lot of summertime festivals and these four seemed to be kind of some of the main acts at all the major festivals we attended."
Hamalian added, "I'm thrilled [about the lineup]. I enjoy all of the artists; I've had the chance to see everyone but Carnage live, and I know they'll all put on a killer show."
A junior management information systems major and a DJ himself, Zachary Pashko is also excited for the lineup. Pashko said, "I'm telling everyone and planning to get the dance floor bumpin'. I have a lot of energy and think the performance will be great."
Freshman biology major Sonia Parikh agreed, saying, "They're popular artists and I'd definitely go. I'll probably gather some friends together and we'll go as a group."
In previous years, homecoming concert artists have included Waka Flocka Flame, Snoop Dogg, Sean Paul and Jay Sean. With regard to this year's lineup, sophomore biology major Rachael Deis said, "It's a lot better than Waka Flocka. … I'm surprised they're doing so much EDM instead of just all hip hop."
Each year the Drexel Concert Series and Drexel Traditions present their budget to the Student Activities Funding Allocation Committee for funding. According to Melman, this year they did not receive an increase in funding. Melman also said, "The money we make selling tickets goes right to the artists. They don't pay for production costs or advertising or anything like that — what the student pays for is the artist."
There are 3,000 tickets on sale and in the past the concert has sold out. Melman and Hamalian expect this year to be no different. This year, for the first time, VIP tickets are being offered. With a VIP ticket, attendees will have their own entrance to the Armory, the opportunity to be closer to the stage or even behind the stage, and "a bunch of additional perks," according to Hamalian. Hamalian explained that he could not yet disclose the other additional benefits VIP ticket holders will receive.
The week prior to the concert, there will be various activities intended to rally students for homecoming weekend. On Wednesday, Jan. 22, students can brave the cold and attend the homecoming bonfire and pep rally on Race Street Lawn from 7-9 p.m. sponsored by the Drexel University Student Alumni Association, the Drexel University Alumni Association and the Drexel Senior Experience and Office of Student Leadership Development & Traditions, where they can win prizes including VIP tickets to the concert.
The following day, Thursday, Jan. 23, The Good Idea Fund will sponsor the Drexel Sports Professionals Networking Dinner from 6:15 p.m. in Behrakis Grand Hall. Tickets are free for students with a reservation.
On the eve of the homecoming game and subsequent concert, there will be an invitation-only Fraternity & Sorority Life Alumni Leadership Reception at 6 p.m., hosted by Senior Vice President Jim Tucker and Dean of Students David A. Ruth. There will also be a 007-themed "Crystal Ball" from 7-10 p.m. in the Simeone Automotive Museum, sponsored by the Campus Activities Board. Tickets for the ball are $30 per student or $50 per couple and are on sale now. Provided buses will begin to depart Drexel from outside of the Daskalakis Athletic Center at 6:15 p.m. and will begin to return from Simeone Automotive Museum at 10:30 p.m.
On Jan. 25, students, alumni, family and friends are encouraged to attend the homecoming basketball game at 4 p.m. in the DAC as the men's team takes on conference rival The College of William & Mary. The following day, Jan. 26, the women's basketball team will play Northeastern University at 2 p.m. and the wrestling team will take on the United States Military Academy at 7 p.m., also in the DAC.
Doors for the concert on Jan. 25 will open at 7:30 p.m. and music will be playing throughout the night. Pre-sale tickets are $5 dollars for Drexel students, $10 for alumni and $15 for guests. General admission tickets are $10 for students, $20 for alumni and $25 for guests, and VIP tickets are $25, $30 and $40 respectively. Tickets may be purchased online at DHDP14.com or at the door.
For more details about other homecoming events, please visit the Drexel University Student Affairs website. For more information about Drexel Traditions, email [email protected].