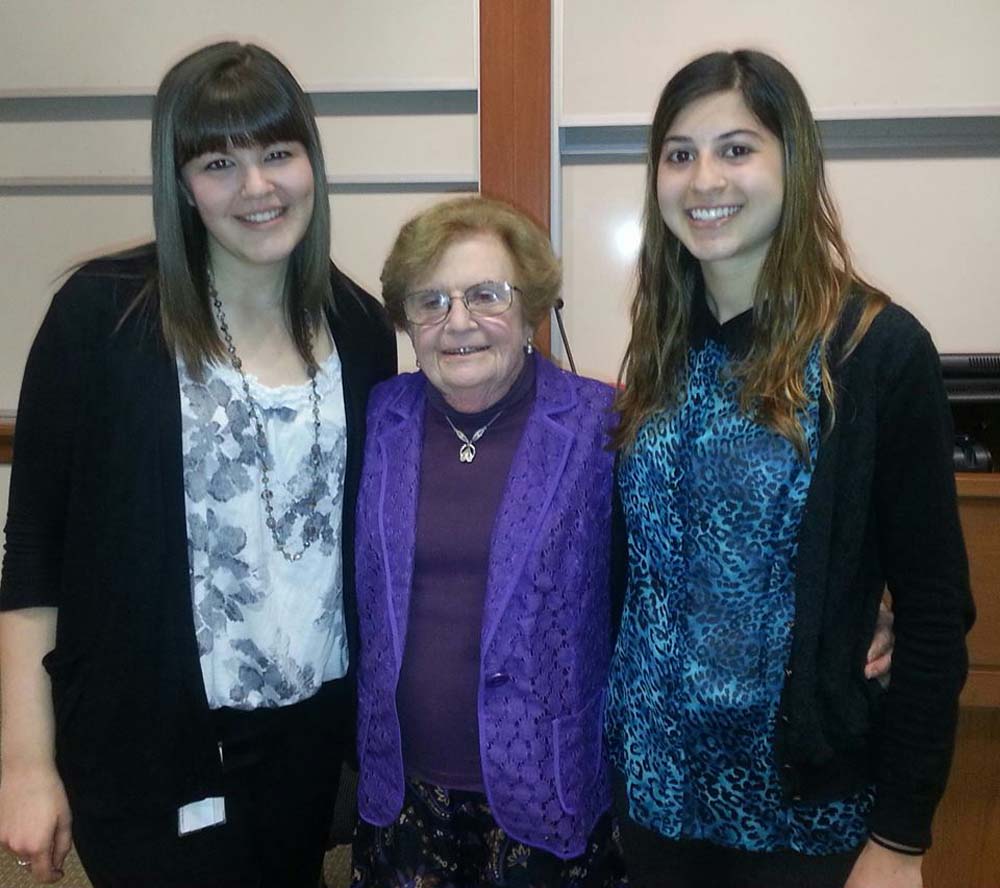 Drexel students, faculty and alumni gathered this past week to honor the memory of the 6 million Jews and 5 million other human beings killed by the Nazi regime between 1939 and 1945, during the Holocaust.
Drexel Hillel and the Alpha Epsilon Pi fraternity hosted the events around Yom HaShoah, or Holocaust and Heroism Remembrance Day. Events began April 23 with a speech , at Gerri C. Lebow Hall by Holocaust survivor Vera Goodkin, who often speaks at schools and events about her experiences during the Holocaust.
"I normally tell my student audiences, especially young students, that if the world had learned anything from the Holocaust, I would probably not be standing in front of them nor would I be standing in front of you. It does not get any easier. It is not cathartic. But it is done because the world has learned nothing. All you have to do is turn on the TV, listen to the radio, pick up a newspaper to see that some place in the world there is lots man's inhumanity to man. While the victims are different and the perpetrators are different, the ugly act of ethnic cleansing and hatred goes on and on," Goodkin said.
Goodkin was born in former Czechoslovakia in a village near Prague. She was the daughter of a doctor, and her middle class, Jewish family lived a relatively happy life before World War II. However, that was all shattered with the Nazi invasion. Nonetheless, the Goodkin family managed to escape through much hardship across the border to Budapest, Hungary, where, though already under Nazi rule, Jews were yet to be put into ghettos.
The reason for this, as Goodkin explained, was that "Adolph Eichmann, that spirit of evil who was entrusted with the final solution, was also a prize coward. The Germans were beginning to lose the war and Berlin was really not a fun place to be. So he took his people, his cronies, and took them to Budapest, a wonderful cosmopolitan city. And somebody had convinced him that if he left the Jews of Budapest somewhat scattered throughout the city, the allies would not bomb his headquarters and thus the delay."
Goodkin was 12 when she and her family made it to Budapest. Unfortunately, their relative safety did not last. Two months after their arrival in Budapest, the Goodkin family was arrested in the middle of the night by the Nazis and taken to a Hungarian castle that was used as a Nazi base. There, she explained, they were imprisoned with thousands of others for about a month. It was in this castle where, after years of hiding together, Goodkin and her mother lost touch with her father when the men were separated.
After this, Goodkin said, she and her mother were taken to another work camp called Kistarcsa. It was there in Kistarcsa where Goodkin was found. She and her mother were taken out by the commandant of the camp to speak with men claiming to be from the Swedish Red Cross.  The commandant informed them that the men had convinced him to let children go with the Red Cross if their mothers would let them. While most didn't, Goodkin's mother pushed her into the arms of the Swedes.
As they left the camp the Swedes informed her that they in fact did not work for the Red Cross, but for Raul Wallenberg, a Swedish diplomat in Budapest who had made it his mission to save as many victims as possible. He would distribute special passports to those in danger, declaring them Swedish subjects and housing them in special buildings purchased by the Swedish crown, thus protecting them from the Nazis under diplomatic immunity.
According to Goodkin, he was most interested in saving children because "children were humanity's hope for a better future." He managed to save over 10 thousand people this way. Unfortunately, at the end of the war, while trying to secure food for his wards from a Russian general, the Russians imprisoned him. According to Soviet sources, he died in a gulag in Siberia in July 1947, though this remains debated.
It was in one of Wallenberg's children's homes, this time actually run by the Red Cross, where Goodkin spent the next two months. Fortunately, Goodkin said, she became very ill and had to be hospitalized for several weeks. During this time, the Arrow Cross, a Hungarian division of the SS, drunkenly raided the children's home and murdered 26 children. After Goodkin's hospitalization, she was moved to an orphanage where she remained until, in Wallenberg's office, she was finally reunited with her parents who had both miraculously survived the war.
As the war continued to go poorly for the Germans, Budapest became a battlefield and the Goodkin family spent the last 10 weeks of the war hiding out in a cellar of one of Wallenberg's protected buildings.
"On January 16, 1945, the sewer covers lifted miraculously and out came the elite troops of the Russian army. And of course that night I don't think I've slept as well before or since because I spent the night listening to the balalaika, as the Russian troops were trying to entertain the children, feed us chocolate and generally we realized we were alive," Goodkin said.
After the war, the Goodkins attempted to return to their old life in Czechoslovakia, but fled the communist takeover and came to America.
Josh Cige, a senior biomedical engineering major, said he enjoyed the event. "Especially being Jewish, there's a lot of contribution to how I've grown up and what I've experienced. It's kind of a matter of pride to see those that survived," he said.
Cige also thinks events such as these are particularly valuable to people his age.
"It's also important to take into consideration that we are kind of reaching the end of the generation of [the] last living Holocaust survivors, so opportunities to see them in person and hear their stories [are] very important," he said.
Senior fashion design major Estee Kalina also enjoyed the event. Having gone to a Jewish day school, Kalina said, "I always make a point to come to things like this. It's something really close to my heart."
She also said that Goodkin's speech was unique among other testimonies from survivors, in that she was particularly engaging, and her story was different than from others that she had heard.
In addition to Goodkin's story, Hillel also hosted an event on Sunday afternoon at the Intercultural Center. The event featured a video of another woman's holocaust testimonies, as well as the saying of "Kadish," the mourner's prayer in Judaism and the lighting of traditional Yahrtzeit or Yizkor memorial candles.
The Alpha Epsilon Pi fraternity also organized their own remembrance, "We Walk to Remember," in which a group of brothers and other Drexel students walked around campus wearing yellow badges reminiscent of those worn by Jews under Nazi rule and sporting the slogan "Never Again." They also distributed flyers explaining why they were walking, reminding students of the lessons to be learned from Yom HaShoah.
Yom HaShoah began the evening of April 27 after sunset and lasted until sundown April 28. Yom HaShoah's date on the Gregorian calendar varies from year to year as the day's only official date is the 28th of the month of Nissan on the Hebrew calendar, a day established by Israel's first prime minister, David Ben Gurion, due to its proximity to both the date of the start of the Warsaw Ghetto uprising and Israel's own independence day.