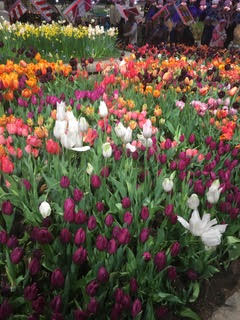 The 2017 Philadelphia Flower Show, hosted by the Philadelphia Horticultural Society , was held in the Convention Center from March 11 to 19.
PHS hosts a flower show annually, and this year marked the 188th show. It is the world's largest indoor event of its kind, drawing a crowd of more than a quarter of a million people.
The theme of this year's show was "Holland: Flowering the World," with many of the presentations including hallmarks of the Netherlands such as bicycles, windmills, wooden clogs and red lights.
"The beauty of Dutch culture and… the nation's ingenuity and leadership in sustainable energy and gardening," was the theme according to visitphilly.com.
There were more than 30,000 tulips at the Convention Center. One singular display, hanging over the entrance of the show, had over 6,000 freshly cut flowers. A brick bridge also located at the entrance was a nod to Amsterdam and the city's well known bridges.
The show was also the first in North America to showcase a 30-foot-tall Eco-dome, which served to highlight Holland's sustainable energy and gardening. In order to be transported to Philadelphia from Holland, the dome had to be broken down into over 100 pieces and shipped. It included bio-based furniture, a living wall, fruit trees, climbing plants, herbs and edible plants.
Tickets at the door were $22 for students, $35 for adults and $17 for children. Proceeds went to PHS and will help fund events such as the PHS City Harvest, Philadelphia LandCare and the Plant One Million initiative.
"I really liked the pieces where the flowers were used to remake pieces of famous art. I never thought of flowers being used as anything other than just flowers," Sabrina Martin, a pre-junior mathematics major, said about her favorite display at the show.
In addition to the flower displays, there were many other things for patrons to do, including a walk through exhibit of 1,000 butterflies of 20 different species, both domestic and exotic. Newly introduced to the show this year, visitors could also get a massage at the Garden Spa.
An early morning tour was available for purchase. This $105 package included early access to the show and the Members Lounge. Patrons could also reserve a spot at the Tea Garden to have tea and a snack for $28.
There were also places to eat and drink at the show, including an Aramark beer garden and a Fine Wine and Good Spirits tasting area. More than 180 booths were selling a variety of products, from succulents to garden gnomes.
During the week, there were also presentations being held. Guest speakers came to talk about different issues such as how to grow vegetables year-round. There was also a book signing and a live presentation of awards in various different categories.  
The theme for next year's show is already picked out. Taking place from March 3 to 11, 2018, the "Wonder of Water" flower show will once again be held at the Philadelphia Convention Center.
More information about the flower show can be found at https://theflowershow.com/plan-your-visit/show-info.