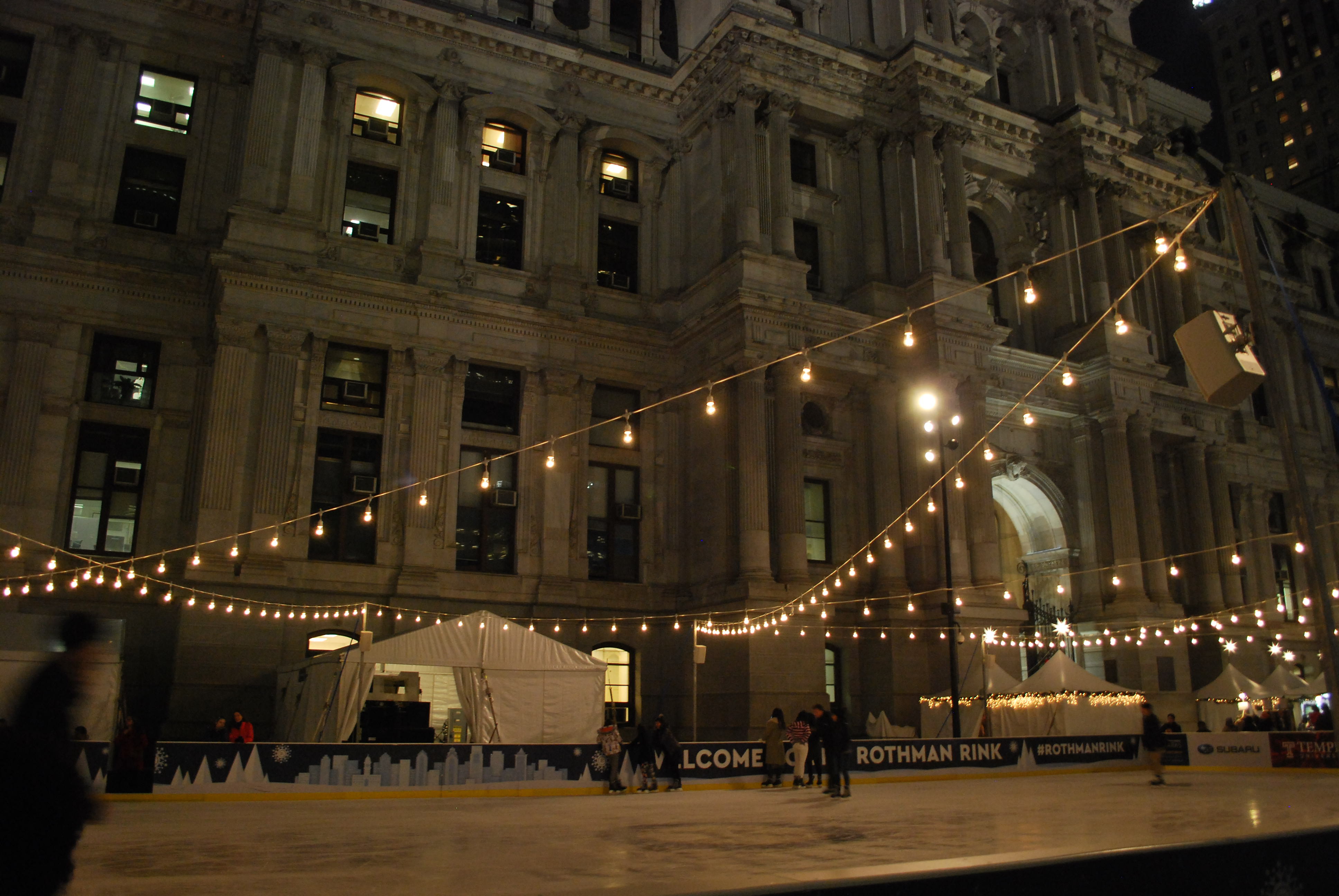 Philadelphia's annual Christmas Village opened Nov. 24, and once again Philadelphians can get in the holiday spirit through exploring the German culinary offerings, handcrafted gifts, ice-skating and light displays at City Hall.
One of the most renowned holiday endeavors in Philadelphia is the Christmas Village, located at City Hall this year while Love Park undergoes renovations.
There, Philadelphians can enjoy a traditional German Christmas market in the heart of their beloved city. There are endless gift options such as candles, scarves, pottery and jewelry sold by more than 80 vendors. There is also authentic European food such as bratwurst and schnitzel that hungry shoppers can wash down with mulled wine.
Open until Dec. 24, shoppers can get all of their shopping done in one place.
"Christmas Village is my one-stop shop for my entire Christmas list," Clayton deGruchy, a sophomore computer engineering student, said.
In the center of Christmas Village lies the Rothman Ice Rink. Whether you are a pro ice-skater or just looking for something new to do with your friends, skaters of all expertise levels can come together to skate until Feb. 26, 2017. Admission is $5 and rental skates cost an additional $10 for adults.
Danielle Calcavecchia, a sophomore design and merchandising student, enjoyed her experience there last year, even though she's not the most experienced skater.
"The ambience was cool, but we sucked," she said.
"We didn't make it around a single time without falling," her friend Nicole Gelfond added.
Adjacent to the ice rink lies a new seasonal addition: America's Garden Capital Maze, created in a collaborative effort between Dilworth Park and Greater Philadelphia Gardens.
Visitors walk through a wooden arch into a maze that features shrubbery shaped like seasonal animals, complete with other holiday decorations like tiny trees and gleaming lights.
Just a few minutes away at the Comcast Center on 1701 John F. Kennedy Blvd., the Comcast Holiday Spectacular has become another must-see holiday tradition.
Open until Jan. 1, visitors can gather in the lobby and view the world's largest resolution LED displays  for a free 15 minute show filled with popular holiday music, joyous sleigh rides and scenes from the Nutcracker. The shows occur at the top of every hour.
Similar to the Holiday Spectacular at Comcast is the Macy's Christmas Light Show at the Macy's on 1300 Market St. Shoppers can stop to watch more than 100,000 LED lights cover a four-story curtain that depicts classic holiday scenes with snowmen, ballerinas and reindeer. Shows occur daily 10 a.m., 12 p.m., 2 p.m., 4 p.m., 6 p.m. and 8 p.m. until Dec. 31 at no cost.
The renowned Wanamaker Grand Court Organ is also played at noon everyday, except for Sundays. Additionally, it is played at 5:30 p.m. on Mondays, Tuesdays, Thursdays and Saturdays, and at 7 p.m. Wednesdays and Fridays.
There are several other holiday attractions that are equally as special that take place a little further from Center City.
Erin Maguire, a sophomore studying marketing, says Blue Cross RiverRink Winterfest is her favorite holiday attraction in Philly.
"It's a really nice atmosphere with the lighting and fire pits and there are tons of little stands with food and drinks. There's also an amazing view for some insta-worthy pics because it's right on the waterfront," she said.
The Winterfest at 101 S Christopher Columbus Blvd. is another seasonal display. Open until March 5, it is Philadelphia's largest outdoor ice-skating rink and winter wonderland.
The landscape features trees lined with sparkling lights, cozy cabins and fire pits to warm visitors. The scene is surrounded by the Delaware River and the Benjamin Franklin Bridge, which attracts visitors.
The Franklin Square Holiday festival at 6th and Race streets is another way to celebrate the holiday season.Visitors can enjoy winter treats while watching a free light show with more than 50,000 lights until Dec. 31.
Kate Broski, a sophomore design and merchandising student at Drexel said Philadelphia is an incredible place to prepare for the holidays.
"There's a lot more to do here than back at home. My town didn't have Christmas tree lightings, ice rinks or cute little Christmas shops," she said. "Philly has so much more to offer."