Dr. Scott Lind, chairman of surgery at Drexel University College of Medicine, has partnered with Operative Experience Inc. to change the face of surgical accreditation in the United States by introducing a competency-based assessment of surgical skills using the lifelike dummies created by OEI.
Currently, surgical residents need to pass both a written and oral exam in order to certify as surgeons. Similarly, surgeons looking to recertify need to take a written exam every few years. "Nowhere in there do you have to demonstrate that you can operate," Lind said.
The lack of a hands-on skills assessment is exacerbated by a developing problem in surgery today. Surgeries are trending toward minimally invasive procedures that rely on small incisions and technology to reduce postoperative pain, scarring and recovery time.
While this method benefits the patient, it also means that residents have little experience with open surgery. When complications arise and the body cavity needs to be opened up further, residents must employ a skill set they have hardly practiced before.
That's where OEI comes in. Dr. Robert Buckman, the founder of OEI, has spent the past decade developing models for surgical training. His mannequin-like creations preserve much of the anatomical and surgical intricacies of the body.
"Bob Buckman has created what I think are the best operative mannequins available for doing surgery," Lind said.
The two hope to implement these models into surgical residency programs so that residents have a chance to practice procedures such as an open body surgery before operating on patients.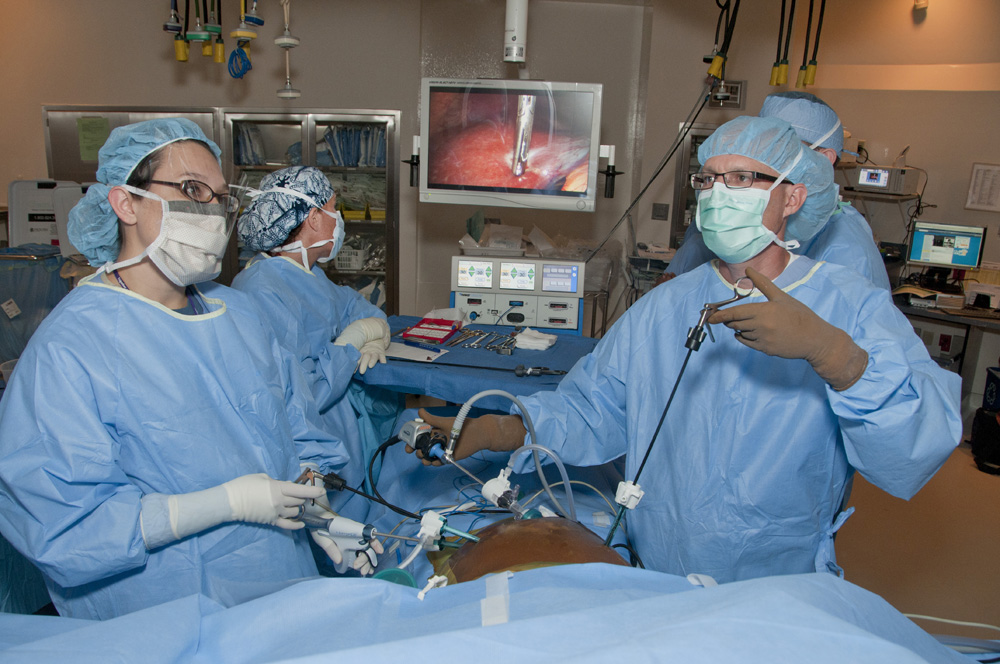 Patient simulations can also be used to train doctors in many other skill sets. For example, Lind worked to develop the first mixed-reality human interaction patient for intimate exams. These models consisted of a virtual patient that would respond to medical students while the students perform an exam on a mannequin.
In this way, students learned how to navigate through not only the technical aspects of procedures such as breast and pelvic exams but also the communication skills necessary to perform such sensitive procedures. Lind explained that patient interaction is a highly complicated skill set that needs to be developed through experience.
"It's probably as complicated as any sophisticated robotic surgery; we just don't realize that," he said. By using patient simulations, medical students can practice their skills before they even step onto the hospital floor.
Lind said he hopes to incorporate these simulations into both the training and assessment of medical school students and residents. He envisions a surgical accreditation process that involves a series of competency tests in which surgical residents must demonstrate their ability to perform certain procedures on mannequins such as those made by OEI. Though initial changes may only occur locally, he said he hopes that competency-based assessment will become a national requirement in the validation of surgical skills.
The proposed changes have received mixed reviews so far. "It's a fantastic if you're trying to learn surgery, but I'm afraid it'll be very expensive," Brendan Ferraro, a junior biology major and pre-med student, said. Students worry that the costs of these patient simulations will result in higher tuition and fees.
While the long-term impact of incorporating surgical dummies in training and assessment remains to be seen, Lind and Buckman are steadily gathering evidence to prove the efficacy of their program. The two surgeons are honing their models in hopes that they can one day change the face of surgical accreditation for the better.