Eric Zempol, a published author, award-winning designer and adjunct professor in the Antoinette Westphal College of Media Arts & Design, died Jan. 25 from complications due to pneumonia. He was 43.
"Eric was a true Drexel enthusiast and a dedicated teacher," Allen Sabinson, dean of Westphal, wrote to students. "His unique combination of humor, adventure and laid-back acceptance was engaging and contagious. Many graphic design alumni kept in touch with Eric, and he continued to mentor and support them in their adult lives."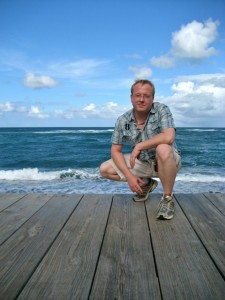 Zempol held a special place in the graphic design program at Westphal as one of the first professors that many freshman students encountered. An instructor with the graphic design program since 2002, Zempol taught University 101, where he helped first-year students transition to life at Drexel. At the request of family and friends, the Eric Zempol Memorial Fund has been set up to name room 436 of the URBN Center, where he taught University 101, in his honor.
"He was one of the few professors that made me feel like I could speak my mind — that I was part of the school," Mia Peters, a freshman graphic design student, said. "He made me feel important. He would always put a smile on my face, even though I had him early in the morning."
Zempol also taught several other courses in Westphal, including Computer Imaging 1, Computer Imaging 3, and Visual Communications 1 for the graphic design, digital media and interior design programs.
"It saddens me that future students entering into Drexel will not be able to know him, and have him introduce them into the world of graphic design," Andrew Stuber, a 2013 graduate of the graphic design program, said.
He chose to teach the next generation of designers at the same school where he received his degree. Zempol graduated from Drexel in 1993, specializing in print, web and interactive design.
Zempol also left an impressive and varied amount of design work outside of the University, with several years designing CD packaging for the music industry. In addition, he worked for over 10 years as an independent consultant for political campaigns and start-ups, as well as clients such as Comcast, Sony Communications, Random House Interactive, American Media, the National Library of Medicine, and the Centers for Disease Control and Prevention.
In 2009, Zempol was awarded an AdobeMAX Award for his work with Equipment Simulations LLC's "CommandSim," a software program to help train first responders. He was also a partner at the firm and contributed to their "Flash MX 2004 for Interactive Simulations" program.
In 2013, Zempol and fellow Westphal professor Sandy Stewart co-authored "Graphic Design School: The Principles and Practice of Graphic Design." The book was released in October.
His online portfolio includes design projects as varied as a website to explain the Kentucky Derby, to an infographic using Philly cheesesteaks to explain different types of social media.
In his private life, Zempol was a supporter of and volunteer with City of Hope's Philadelphia Chapter. His LinkedIn page lists a position as a social media volunteer for the cancer research fundraising organization. He also spoke at least three languages.
"His friends include a diversity that spanned continents, and his natural talent for languages (he was fluent in Spanish, Portuguese and French) allowed his circle to grow and communicate globally," Dean Sabinson wrote.
The college, which announced the death to students in a newsletter Feb. 4, will be hosting a celebration of Zempol's life at the URBN Center March 2 from 2 p.m. to 5 p.m. Close friends and family will be invited to speak about the professor who has been described as "larger than life [with] an army of friends from around the world." The college is also encouraging students, staff and faculty from across the Drexel community to share their memories of Zempol on a specially created Facebook page titled "Comemoracao: A Celebration of Eric Zempol's Life." , "Comemoracao," is Portuguese, one of the languages that Zempol spoke, for "remembrance" or "joyous celebration." Future information about the March memorial service, as well as information on donating to the memorial fund, will also be available on the page.