A team of recent Drexel University graduates was named world champions of Microsoft's 10th annual Imagine Cup July 10 in Sydney. Computer science students Matthew Lesnak, Keith Ayers and N. Taylor Mullen spent the past year creating their mobile application, "Math Dash," to enter in the mobile game design category of the technology competition.
"Math Dash" was designed to help elementary students both learn and increase their skills in math. In the game, the sum of an equation is located at the bottom of the screen, while numbers float in bubbles above it. Players must decide which two numbers will equal the given sum, via addition, subtraction or multiplication.
"Going into the final awards ceremony, we were hopeful we were somewhere in the top three, but we had no idea how we were going to match up with the competition," Lesnak said.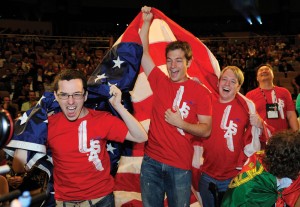 During the competition, the team opted to further develop a feature they had been working on: a way to track a user's progress. The feature would update in real time and permit teachers to see how their students are performing.
According to Lesnak, the application's artwork was a struggle for the team, as they had little professional help, leaving Lesnak and Mullen to create most of it.
"The level of art across the board was more polished and professional than ours," Lesnak said.
The competition in Sydney was broken up into two parts. The first part consisted of a showcase for all the teams to display their products. Later, each team had to make a presentation to two of the judges. Five finalists were chosen, and each team had to make an additional presentation to a full audience of judges, press representatives and spectators.
The Drexel team tailored its presentations to the judges and explained how the app makes a direct impact on education as a global issue. This put them above their competitors, whose products only raised awareness about various worldwide problems.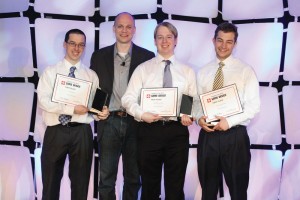 "Through our accomplishments we showed the world that [the] Drexel Game Design Program is not only one of the best game design and development programs in the world — it is the best in the world," Frank Lee, a computer science professor who mentored the team, said.
The team is already working on a multiplayer feature that will allow users to play against each other round by round and compete for the highest score.
Microsoft awarded the team $8,000 and will also make a $10,000 donation to Drexel. The team also has the opportunity to apply for a startup grant from Microsoft, which they plan to take full advantage of as they continue to develop their application.