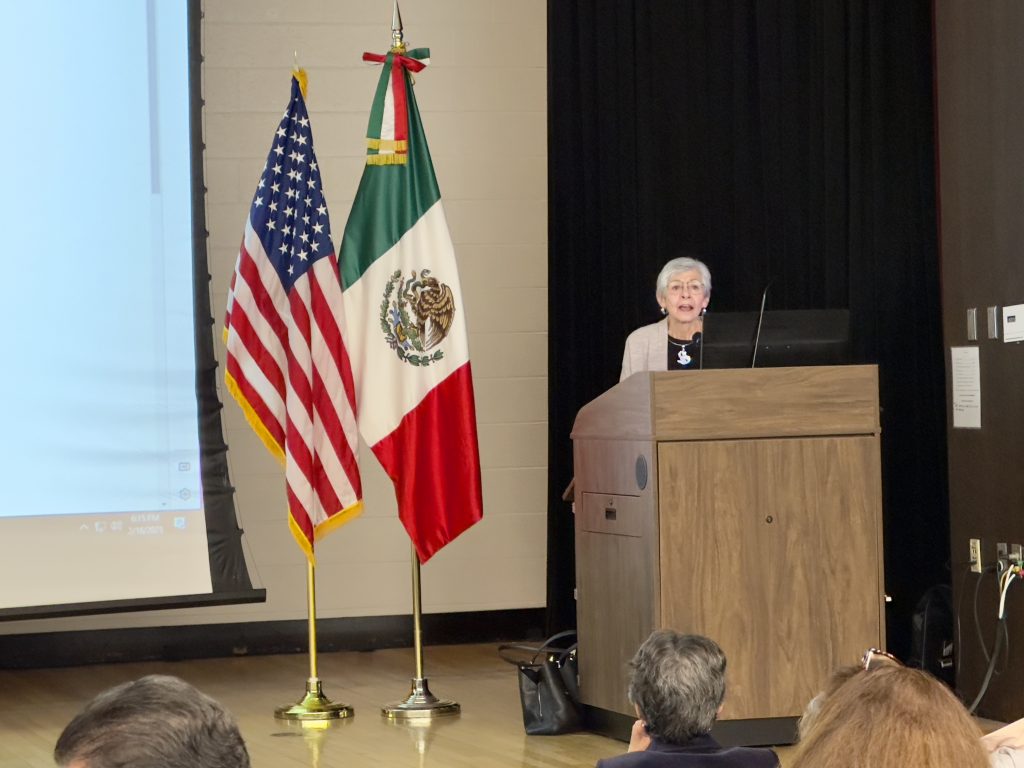 On Feb. 16, Drexel University's Global Studies and Modern Languages Department hosted a Global Passport Series event to celebrate the 200th anniversary of diplomatic relations between the United States and Mexico.
Throughout the celebration at Nesbitt Hall in the Stein Auditorium, it showcased three keynote speakers: Dr. Arthur Schmidt, an Emeritus Professor of History at Temple University; Dr. Aurora Camacho de Schmidt, Professor Emerita of Latin American Literature at Swarthmore College; and Consul Carlos Obrador Garrido, the Consul of Mexico in Philadelphia. All three speakers each gave their say on why this event was so important to commend.
Dr. Schmidt began by referencing critical historical moments that led to the current political relationship between the U.S. and Mexico, from the very beginning to the present day. Dr. Schmidt described Mexico and the U.S.'s first relationship as "not a happy start" due to the start of the Mexican Revolution. However, he moved into talk about how years later the United States made an informal deal to manage their relationship with Mexico.
"They had to recognize that Mexico was a vague and complicated country, it couldn't be pushed around like some Caribbean or Central American country where you could send U.S. troops and tell people what to do," Schmidt said.
Dr. Schmidt continued on to discuss how Mexico was there for the U.S. during times like the Cuban Revolution; When they kept trade relations with Cuba before Mexico officially finally sided with the U.S. during the Cuban Missile Crisis. Dr. Schmidt's speech closed out with him referencing all the diplomatic agreements we have now such as the American Mexican border area being a single environmental region.
Dr. Camacho De Schmidt then spoke about her marriage with Dr. Schmidt, which ties into why she immigrated to the United States. De Schmidt talked about several boiling points during the U.S.-Mexico relationship timeline. One of which was after 9/11 when the U.S. started militarizing the border, but later improved with Mexico and U.S. appointed new leadership and legislation.
"There may be jarring moments or issues when the two countries discuss immigration, but there is a realm where we are the best of friends," De Schmidt said.
De Schmidt closed her panel by showing off a famous poem she likes to read called "Booz Canta Su Amor" written by Gilberto Owen Estrada, a Mexican poet who emigrated to the U.S.
The final panelist Consul Obrador Garrido shifted the previous talks' focus from past to present. He began by giving a presentation about the significance of Mexico's economy. Garrido brought up how Mexico had over 65,000 companies invest in his country for 22 years and the benefits of his country's predominantly open economy.
The presentation then shifted into Garrido's consulate's latest efforts in Philadelphia. One of which is their newest action to provide dual Mexican American citizenship to immigrant children given that Pennsylvania is one of the 13 states with the highest Hispanic population.
"They can come and bring them to the consulate and we will issue them a Mexican birth certificate with their birth certificate of the United States so those children will have dual citizenship, American and Mexican citizenship," said Garrido.
Overall, the GPS event demonstrated how the relationship between the two states includes several tensions over the years, but also tremendous economic and social achievements.