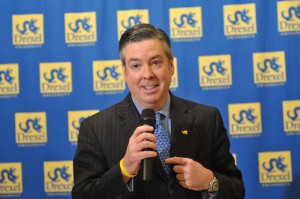 With Governor-elect Tom Wolf's recent election comes the announcement of the transition team who will help to bridge Tom Corbett's policies and administrative staff with Wolf's own. Wolf released the line-up of his transition team Nov. 13 —teeing off with Drexel's very own President John A. Fry as transition chair.
Fry's role as transition chair will involve overseeing of the appointment of Wolf's administrative positions and department heads before the Governor-elect's inauguration in January 2015. He is on this team with other experienced professionals such as vice chairs Kim Bracey, York, Pennsylania's first African-American mayor; Jim Brown, Sen. Bob Casey's previous general services secretary; and Cynthia Shapira, a renowned community activist in Western Pennsylvania.
According to the Philadelphia Inquirer, Fry released a statement, saying, "I'm honored to chair the Transition Steering Committee and work with so many outstanding leaders."
Fry has been working in the field of higher education and consulting for nonprofit companies for his entire professional career. Currently, Fry is working on transforming Drexel into a "modern urban university of the future" and, at that, one of the foremost in the nation.
Before coming to Drexel from 2002 to 2010, Fry also served as the president of Franklin & Marshall College, in Lancaster, Pennsylvania. There, he brought about unparalleled campus growth development and community involvement as he formed partnerships with local businesses and neighborhoods. The college's national rankings improved vastly during this time.
Fry has established himself as one of the most prominent leaders in the Philadelphia region, by redeveloping universities and their surrounding communities. He has aided them in their states of transition and development and is expected to do the same for Wolf's administration as chair of his transition team.
– Updated November 18 at 5:54 p.m. –
President John A. Fry is no stranger to the commonwealth. In 2002, during his time at Franklin & Marshall College, Fry worked as co-chair of former Gov. Ed Rendell's transition team.
He also worked with Gov. Tom Corbett's administration, traveling on trade missions to countries such as Germany, France, Brazil and Chile to expand trade opportunities for the commonwealth of Pennsylvania.
According Brian Keech, senior vice president of the Office of Government and Community at Drexel, Gov.-elect Tom Wolf noticed how well Fry had done these jobs and thought he would make a good member of his transition team. He further expanded that Fry has built up a vast network of people who he's connected with during his lifetime and career in many different industries through the University. His connections in fields such as healthcare, economic development, infrastructure, community engagement and, of course, education are advantageous for Wolf.
Keech commented on the similar issues that both universities and the commonwealth face: "These are organizations that are sort of deeply entrenched in the community and the commonwealth. [Universities are] highly regulated environments by both the federal government and the state government so there's a level of engagement with the government elected officials at a variety of different levels.
"I think John is viewed as a visionary leader: a strategic thinker, someone who's innovative, creative and is really about solving problems. People who run these organizations like Drexel or the University of Pennsylvania or Franklin & Marshall or any other large organization are faced with very significant challenges everyday," Keech said.
In other words, the problems Wolf will be working through as he transitions to governor will be very similar to those that Fry has seen on a daily basis at universities.
"These are all the things that university presidents are really equipped to handle," David Wilson, vice president of the Office of Government and Community, expanded, "and Gov.-elect Wolf thinks that John's really the guy who does it the best.
"This is not just to support you know Republicans or Democrats. This is really just to support the commonwealth," Wilson continued.
Fry's prior work experience has given him connections throughout the state in all different areas and experience mediating between people in different fields. The ability to bring different people from different areas together to discuss problems facing the commonwealth in integral in the transition chair position.
"This is really not about John, this is about the Governor and Gov.-elect Tom Wolf seeing in John someone who has the ability to reach out to a broad audience of people. John is a convener of people," Keech said.
"These are going to be some tough conversations and not everyone is going to agree, but that's the point is to sit down at the table and work through those issues and try to find common ground to move the commonwealth forward," Keech continued, expanding on Fry's ability to mediate.
The specific roles Fry will serve as transition chair have yet to be determined. Wolf has yet to delegate tasks to his team and divvy up roles and responsibilities.
Wilson talked on the specific position Fry would serve in the transition teams, "When they do the real small groups, by being [transition] chair he's going to be in every one of those groups."
Keech commented on the general specifics of being on the transition team, "You're going to be diving deep and really dissecting all the agencies and departments in the commonwealth of Pennsylvania and looking at how things work and determining how you're going to improve and make those things better than they currently are."
The level of involvement of the vice chairs and other co-chairs on the team will impact Fry's time commitment. However, serving as chair of the board will only be about a two –and-a-half to three-month commitment until Wolf's transition to governor is complete. He has said that his role on the team will not detract from his priority role as president of Drexel University.