Drexel University student Ashley Kuhn and alumna Haley Holmes created a GoFundMe campaign May 19 in an effort to remember the recently deceased Drexel graduate Emily Selke, one of the passengers of the Germanwings Flight 9525. Kuhn and Holmes sought to honor both Selke's memory and the other passengers by using GoFundMe to host an annual music festival on the day of the crash to raise money for music industry students who wish to study or intern abroad. Within two days, the page has received more than $6,000 in donations and is spreading across all forms of media.
Selke and her mother Yvonne Selke were among the 150 fatalities from the crash and sent waves around the world as a new aircraft related terror incident. Both Kuhn and Holmes were close to Selke, being in the same music industry program at Drexel. Holmes was also her college roommate. Following the crash, the two began thinking of a way to honor Selke's memory, as she was deeply invested into helping others and the community, being a sister of the national service sorority Gamma Sigma Sigma Zeta Chapter.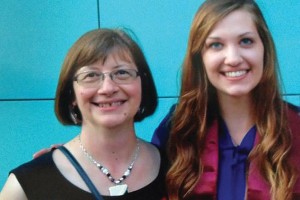 The idea of the GoFundMe campaign came about after combining the passions of Selke's life: live music, love of travel and helping others. An annual music festival devoted to helping other music industry majors in their pursuit of study and travel was chosen as the best way to help Selke's memory and endeavors live on. Selke's own life was greatly influenced from her time abroad, having studied in Edinburgh, Scotland, and hosting her very own live music festival as a part of the international group Fringe Fest.
The funds being raised will go towards the various overhead costs for the festival, such as deposit fees and promotions. Funds will also be allocated towards the scholarship for current and future students. All proceeds that the festival would garner will go towards the scholarship as well. A list of Selke's favorite bands has also been compiled and artists will be contacted in order to try and have them perform at the festival.
Having already raised an impressive sum of $6,000, as of May 21, the campaign is well underway towards achieving the lofty goal of $150,000.
"Seeing such a fast response is a mind-blowing, amazing feeling," Kuhn said. "It goes to show just how many people cared, those who knew her and others who have never even met her before. The campaign helps us put our energy towards something positive which is something that Emily would have wanted us to do."
Others on campus are just as motivated towards helping the cause of honoring Selke's memory on campus. Gamma Sigma Sigma has been promoting the page on Facebook and other social media, and people on campus are responding positively towards the efforts.
"It's a grand and daunting project the two took on," Raj Patel, third year finance major, said. "Everyone here at Drexel may not have known Emily personally, but I think it still hits home to them that we lost someone of great potential, and we should help honor her anyway we can."
Donations for the campaign can be given directly online through GoFundMe.