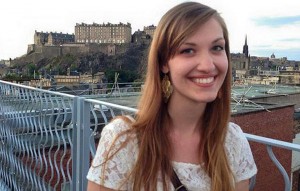 More than a week after Germanwings Flight 9525 crashed in a remote area of the French Alps, friends and family are still grieving over the loss of Drexel University graduate Emily Selke and her mother Yvonne Selke. The two are among the three Americans listed on the flight manifest and are among the 150 fatalities from the tragic incident.
Emily Selke was a 22-year-old 2013 graduate with honors, who majored in music industry. Selke was from Nokesville, Virginia, and attended her undergrad at Drexel. She had also previously studied abroad in Edinburgh, Scotland. Her activities on campus involved service as a member of the national service sorority Gamma Gamma Sigma, Zeta Chapter. The chapter is promoting the memory of Selke on social media as well as a Facebook page replacing her profile with "Remembering Emily Selke." Drexel also contributed a public statement issuing their condolences and reporting to students and the community:
"Drexel is deeply saddened to hear about the tragic loss of alumna Emily Selke and her mother. Emily graduated with honors from Drexel in 2013 and was a music industry major in Drexel's Antoinette Westphal College of Media Arts & Design. Our thoughts and prayers are with her family and friends."
Selke's mother, Yvonne, was employed at Booz Allen Hamilton Inc. acting as a consultant to the Pentagon in Washington. She graduated from Gannon University in Erie, Pennsylvania, with a degree in biology and was involved with many of her daughter's activities. Yvonne also attended the first inaugural 2013 Pittsburgh Fringe Festival, which Selke helped to fund as part of her initiative in the music industry field. Pittsburgh Fringe is part of a series of music festivals under an umbrella initiative called World Fringe, originally hailing from Edinburgh, Scotland.
Selke and her mother were traveling from Barcelona, Spain, to Duesseldorf, Germany, when the plane began its unforeseen descent and ultimate crash. It was only until recently that new information came to light detailing the cause behind the crash due to the pilot being locked out of the cockpit while the co-pilot, identified as Andreas Lubitz, put the plane into a downward trajectory. The plane's two black boxes, which contain flight data and audio recording, have led investigators to believe that Lubitz purposefully piloted the plane into its fatal dive.
The crash left no survivors and only fragments and pieces of the plane's various parts and fuselage. The site is still being salvaged and thoroughly investigated, with the second black box only being unearthed recently. Additionally, inquiries are now being made into the co-pilot Lubitz's life and mental history.
Authorities have most recently found a personal tablet detailing an extensive search history on suicide methods and mental health treatments. The newfound information, along with a colorful past of mental history and depression, have the world and authorities looking to blame Lubitz. During his pilot training, Lubitz was forced to take a year off due to mental health problems but was later cleared and eventually he was able to earn his license. The question about his mental state arose due to audio logs from the first black box recovered, which described the head pilot trying to get into the cockpit while Lubitz's breathing could be heard.
No official cause for the crash has been given, but prosecution is currently the working with the pending results of the investigation of the crash site, black box data and research into Lubitz's state of mind.
Raymond Selke made the following statement:
"My wife and daughter, Yvonne and Emily Selke, were widely loved and respected by family, friends, colleagues, and our community. They were deeply attuned to the needs of others and regularly engaged in volunteer service supporting needy individuals and the community at large. My son and I are incredibly proud of our girls and will miss them terribly.
We would take this opportunity to thank everyone who has taken time to communicate expressions of sympathy and offers of support. Those sentiments are very dear to us and mean more than you can imagine as we move through this grieving process. At the end of the day, I firmly believe your support will help us emerge as stronger, better, and more loving people. In closing, our heartfelt thoughts and prayers go out to all the other families who've lost loved ones in this tragedy."