Rapper Childish Gambino, the stage name of comedian and actor Donald Glover, performed Nov. 1 at Midnight Madness to kick off the 2013-14 Drexel men's and women's basketball seasons.
Midnight Madness was produced by the DAC Pack and held in the Daskalakis Athletic Center with supporting acts OverDoz and Twin Syndrome.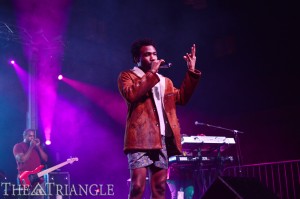 Doors opened at 8 p.m., and the event got underway at 9 p.m. with the introduction of the men's and women's basketball teams and a few words from head coaches James "Bruiser" Flint and Denise Dillon.
"Midnight Madness is pretty good, gets me excited for the season. I can't wait to see Gambino live," senior forward Dartaye Ruffin said,
Following the team introductions, disc jockey pair Twin Syndrome played remixes of hit songs like Imagine Dragons' "Radioactive" and Robin Thicke's "Blurred Lines." They were followed by rapper group OverDoz, which performed with Mario the Magnificent onstage.
The crowd was packed tight to the barrier in front of the stage as they waited eagerly for the headliner's arrival.
When asked about the concert so far, sophomore business student Gayle Tadler said, "This is better than last year as far as the acts go, but it is still pretty hot in here and a little hard to hear what they are staying onstage."
Just before 11 p.m. Gambino took the stage to a roar from the crowd. He then dedicated the show to Drexel before launching into a track from his new album followed by two of his earlier hits, "Firefly" and "Freaks and Geeks." Gambino invited the crowd to sing parts of the verses.
The rapper fed off the audience as he danced all over the stage, repeatedly saying, "I [want to] see everyone in the f—ing place jump," as the bass line boomed through the DAC. The jam-packed crowd responded in kind.
About an hour into his performance, Gambino invited his brother and fellow rapper Steve G. Lover III onstage to sing in the last few songs, including "Make 'Em Mad." They also went into a freestyle section where both performers played to the Philadelphia crowd with the creative rhyming of "Drexel" and "pretzel" as well as some Philly cheesesteak references.
Before his final song, Gambino told the crowd, "This has been a rough year for me. … This [concert] is definitely a highlight." He then proceeded to rip his shirt off as the bass dropped and confetti and fog cannons fired. The show ended just before midnight.
After the show, Gambino met with several members of the DAC Pack, including DAC Pack President David Morrison. Morrison told Gambino, "We were really happy to be able to get you to come here. Money looked to be a problem, but we knew students would pay to see you perform."
Gambino replied, "It was really fun; I had a really good time." When asked about playing his new songs at the concert, Gambino jokingly said, "I would get the album out tomorrow if I could, but I think the label would sue me."
Gambino gave fans a special treat by playing his new album "Because the Internet" on Lancaster Walk and signing autographs around 7 p.m. after he announced it on his Twitter account. His new album drops Dec. 10.
After all was said and done, sophomore finance major Jeff Herr tried to sum up the night, saying, "I don't listen to much modern rap, but such a high-energy performance by both Gambino and the crowd was well worth the ticket price. The hype was palpable. This was my second Midnight Madness at Drexel, and while both were very well executed, this year's definitely had the edge."
Bryan Antonik, DAC Pack Game Day Activities Coordinator, said, "I'm pretty impressed with the turnout we got tonight. It was a lot of effort to get everything ready, and I'm glad that it paid off."
This was the first Midnight Madness with an admission fee. Tickets were $10 for Drexel students and $20 for guests.