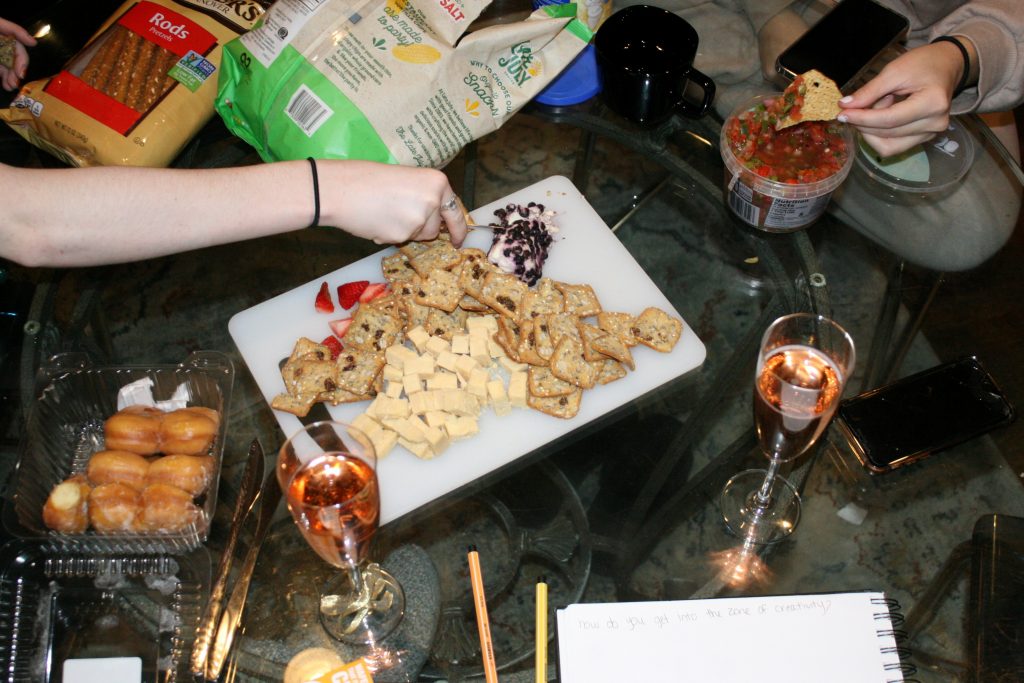 Valentine's Day is always a celebration for couples where they express their profound love to each other, but this year is all about celebrating your gals and pals.

We have all experienced being single on Valentine's Day and it is no fun. Everywhere you go, there are couples on dates reminding you of how alone you are. Most people do not even celebrate Valentine's Day anymore.

This year, we are changing things up. It is time for Galentine's Day. A day all about celebrating friendship and having fun.

Here are three going-out ideas and three staying-in ideas to make your perfect Galentine's Day a reality.

GOING OUT
1. Mini Golf
If you are looking for something fun and cheap to do with your friends outside of your walls but near University City, mini golf is an awesome idea.

Open until Feb. 26, Chilly Philly Mini Golf with LOVE is an 18-hole mini golf course located in Franklin Square, themed like Valentine's Day and featuring small models of Philadelphia's most famous landmarks.

Open hours are 10 a.m. – 7 p.m. Thursday – Sunday. Tickets are $15 for adults and $12 for kids ages three to 12.

To buy tickets to Chilly Philly Mini Golf with LOVE, go to historicalphiladelphia.org.

2. Cupid's Arrow Archery
You have been waiting for Cupid long enough, it's time to be your own Cupid!

For those of you who are feeling a little more adventurous, John Heinz Wildlife Refuge is hosting a free Pop-up Archery Range this Valentine's Day. It is open for people ages eight and up and doesn't require any prior archery experience.

So if archery has been on your bucket list for a while, give it a shot!

This amazing free opportunity is located at 8601 Lindbergh Blvd Philadelphia, PA 19153, requires no registration and will be open on Feb. 14, 4 p.m. – 6 p.m.

For more information, check out https://www.fws.gov/event/cupids-arrow-archery and https://phillyfamily.com/event/cupids-arrow-archery/

3. Adventure Aquarium
Open until Feb. 20, the Adventure Aquarium in Wiggins Waterfront Park is featuring a special event called "We SEA You" where the aquarium shows its appreciation for the guests.

During the "We SEA You" event, there will be giveaways that will give guests the opportunity to have up-close animal encounters, hippo kisses, gift cards and more.

On Feb. 14, general admission tickets cost $30.99 for adults and $20.99 for children ages 2-12.
Tickets sell out quickly so make sure to go online and reserve yours!

STAYING IN
1. Bake Off
Gather all your friends, choose a recipe and invite them to compete in a bake-off to see who can bake and decorate more successfully in the least amount of time.

If you are the host, you can also be the judge and try each of the desserts…sounds exciting, right?
This idea is great for larger groups of friends and is cheap and easy to pull off.

Here are two delicious recipe ideas from the "Ahead of Thyme" blog:
Red velvet cupcakes: https://www.aheadofthyme.com/red-velvet-cupcakes/
Oreo brownies: https://www.aheadofthyme.com/oreo-brownies/
2. Cookie Swap
There are two ways to go about this game.

The first one is to invite all of your friends and tell them to each bring their favorite cookie for the rest of the group. When you have gathered up, give each other the cookies so you will each end up with an assortment of your and your friends' favorite cookies.

The second way to play this game is more interactive and hands-on, and a lot more fun.
The way this game works is to start by making teams and each of the teams picks a cookie recipe that the other team must bake.

Each team will take turns in the kitchen baking their cookies, however, not every member of the team will be cooking at the same time. Every 10 minutes, a timer will go off and whoever is cooking must stop and let their teammate continue. This will go on until the cookies are in the oven baking. The next team will do the same.

Later, each team will decorate their cookies. This time, all members of the team will work together.
Get someone to blindly taste each cookie and choose their favorite one, but do not worry, it is all fun and games here so even if your team loses, you still get to enjoy an assortment of delicious cookies.

3. Host a Game Night/Sleepover
A good solid idea. A game night or a sleepover, or even both together, never fails. Invite all of your friends to your house, make the living room nice and cozy, get your favorite snacks and games, and watch your favorite movies. There is just one rule: no romance movies.
---
Now that you have some awesome Galentine's Day ideas, get to planning and make them happen. It is time to celebrate yourself and your friends.