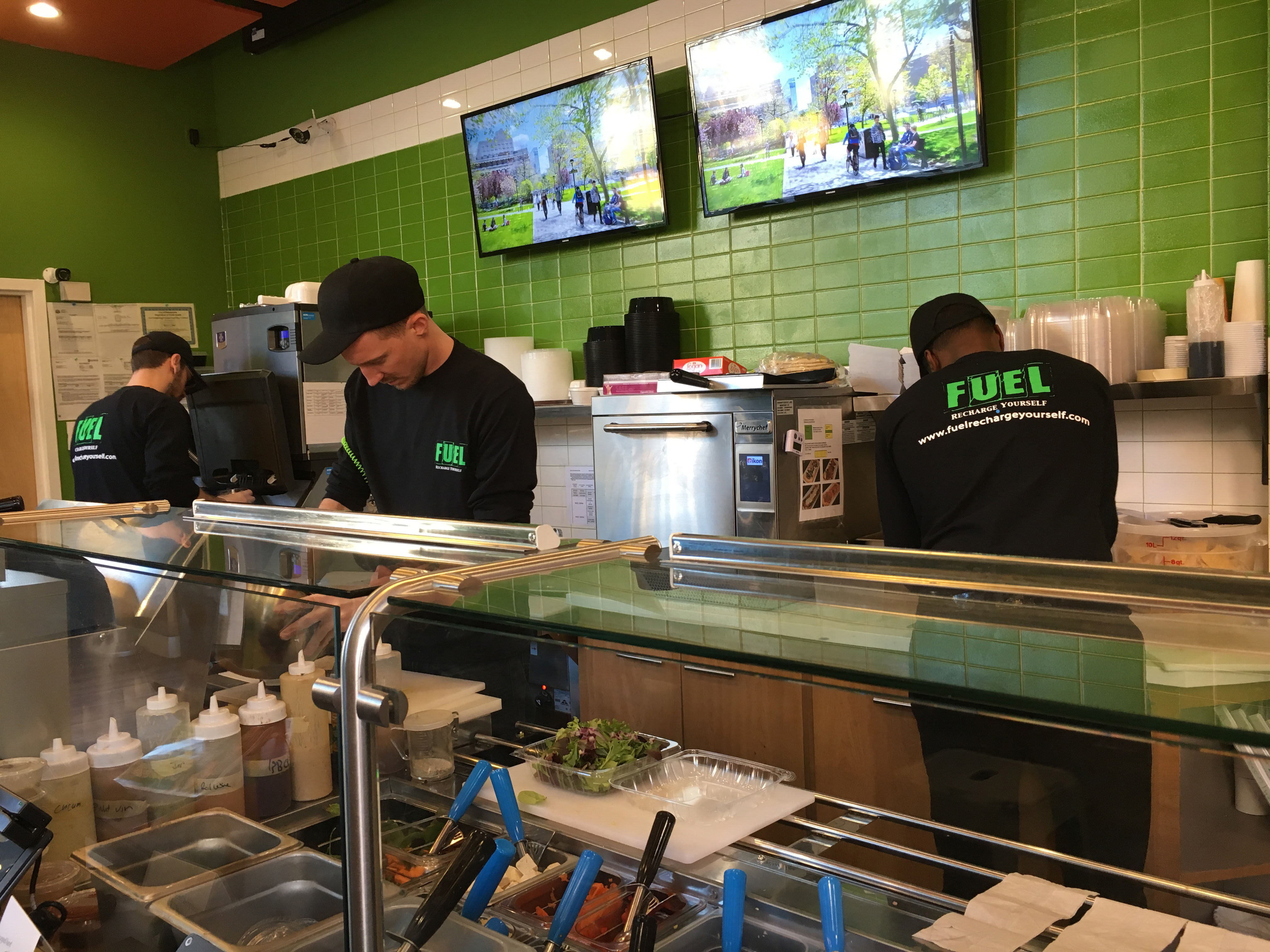 Fuel, Drexel's newest street-level dining option, held its grand opening Jan. 30 at 3200 Chestnut St.
To celebrate the opening, Fuel offered the first 25 customers a free meal, and the first 100 people received a free Fuel gym bag.
Fuel offers an assortment of healthy options including paninis, wraps, salads and rice bowls. There is also a smoothie and juice bar.
Customers order their food from a screen, which simplifies the ordering process.
"We just hit order and paid and our food was ready in under two minutes," Tom Hays, a junior studying engineering technology, said.
Gianna Masini, a pre-junior studying finance, agreed that the ordering system was very straightforward.
Though she was excited to try Fuel for the first time, she would prefer a different location.
"It would be more convenient if it was near the gym," she said.
Since they offer healthy meals and protein smoothies, it would make more sense for it to be located near Drexel's gym on 33rd and Market, so that students could enjoy a post-workout snack, Masini explained.
All of the menu options are made from local ingredients and are under 500 calories.
Masini said, "it's a good fit for [Drexel's campus], though, because there are a lot of healthy, active students here."
Christopher Siracusa, a pre-junior studying marketing, said he wishes Fuel had done a better job marketing the new store.
"I had no idea it was here until five minutes ago when I walked by it," Siracusa said, sipping on a smoothie.
"Not many students really know it's here yet, which could be detrimental to the business," he said. If you don't typically spend time on that part of campus, there is no way knowing that it's there.
Jon Landrigan, a psychology student in the graduate program, is elated to have a Fuel on campus. He frequents the other locations in Center City, so he is happy he can now simply go to this location instead.
He imagines that a lot of students will enjoy going, especially since it makes it easy to grab food in between classes despite hectic schedules. Customers can dine in, pick up and even get Fuel delivered to them.
Landrigan added that the prices are very affordable; everything on the menu is less than eleven dollars.
"It's a good — and healthy — alternative to all of the food trucks on campus," he said.