The faculty, professional staff and students involved with the task forces of Drexel University's 2012-17 Strategic Plan recently completed the first of five official phases dedicated to improving the University and started the second phase, President John Fry announced via email June 27.
The Drexel University Strategic Plan: 2012-17 is being coordinated by Fry, his senior vice presidents, Provost Mark Greenberg and Vice Provost Janet Fleetwood. Development of the final phase of the plan is scheduled for completion by January 2012.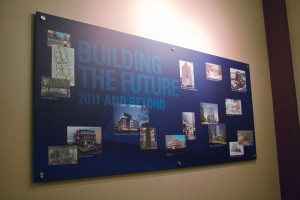 According to Fry, the start of the process began in January when he began hosting open forums with faculty, professional staff and students to provide discussions on areas that could use improvement.
"These informal, interactive discussions have provided me with a unique opportunity to understand Drexel's incredible strengths, our challenges and how we see ourselves," Fry wrote.
The information gained through these meetings was used during phase I of the plan, which lasted from March to May. Phase I addressed problems and opportunities for improvement through phase I task forces.
The five multidisciplinary phase I task forces included Task Force on Academic Quality and Innovation; Task Force on Quality of Life for Students, Professional Staff and Faculty; Task Force on Research; Task Force on Community Partnerships; and Task Force on Scale.
"Over 60 faculty, professional staff and students were engaged in these task forces with a level of informed participation that has never been achieved previously at Drexel," Fry wrote.
Each individual task force produced their own white paper reports detailing its members, a summary of the group's activities, questions that the team answered through discussions, and a list of recommendations for further study or implementation. Each task force's white paper accounts are available to everyone within the Drexel community through a SharePoint link on the Drexel Strategic Planning website.
"These white papers — along with key themes from the online discussion contributions — informed the discussion at our two-day strategic plan leadership retreat. That two-day retreat, which I attended and which involved over 50 participants from faculty, professional staff and administration, helped identify our strengths, clarify our aspirations and create a shared foundation from which to build," Fry wrote.
According to the Strategic Planning website, the two-day retreat, which ran June 2-3, included presentations on research and on Drexel's global impact. There was also a special presentation from George Gephart, president of The Academy of Natural Sciences, and several of his colleagues about the Academy's new affiliation with the University.
Additionally, delegates divided into small group workshops focused on the recommendations by the phase I task forces and on planning for Drexel's future.
A full retreat summary, complete with photos and key documents, is available for viewing on the Strategic Retreat website.
Now that phase I is finished, the second phase of the Strategic Plan has started, with the phase II task forces to complete their work in the fall.
"In our next phase of the planning process, faculty, professional staff and students will continue collaborating on phase II task forces to sharpen Drexel's vision, create an agenda for action, determine estimated costs, and identify modes of assessment for our measurable outcomes," Fry wrote.
The Strategic Plan website states that the phase II task forces will be announced in June 2011; however, at the time of print, the names were not available.
Fry also commended the Drexel Board of Trustees, which is composed of preeminent Drexel alumni and supporters, for its involvement with the Strategic Plan. He wrote that during the fall Board of Trustees meeting, the members would analyze a working outline of the plan and aid the organization with initial strategies.
"Through hard work and respectful collaboration, we will create a plan that illuminates Drexel's key values, enduring mission, and aspirations," Fry wrote.
The University recently launched a website dedicated to the Strategic Plan to provide important information related to the organization, including an overview of the planning process, contact information, links to documents and webcasts elaborating the game-changing forces in higher education and frequent updates and announcements.
An active discussion board with forums for 11 different questions relating to improving aspects of Drexel and its community is also available on the website. Users can leave comments and questions that are directly addressed by Fleetwood and Bob Francis, vice president for University Facilities, in a timely matter.
"The online discussion forum is designed to foster informed conversation among our students, faculty and professional staff at all of our campuses, on co-op and abroad," Fry wrote.
For more information about The Drexel University Strategic Plan: 2012-17, visit the strategic planning website.