A Drexel University delegation — including President John A. Fry; University benefactors Dana and David Dornsife; and Shannon Marquez, associate dean of Drexel's School of Public Health — recently traveled to Ethiopia for inspiration for potential University programs and future partnerships dedicated to health care practices and safe drinking water access.
Through World Vision, the Dornsifes support economic, educational and agricultural developments in seven African countries. "When we were speaking with the Dornsifes about the gift for the [Dana and David Dornsife Center for Community Partnerships], we were in the process of getting to know each other, and they spoke with passion and commitment about water projects in Africa. I just remember being moved and impressed and curious," Fry said. Soon thereafter, the couple invited Fry to join them on their trip to Ethiopia.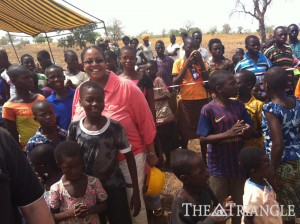 The group spent the beginning of their trip in Ethiopia's capital, Addis Ababa. They then traveled to villages outside the capital including Yekasha, Kechema, Sekekelo, Waliso, Walkite and Gimbichu to observe various water projects such as well drilling, sanitation and hygiene programs. Villagers continuously greeted the group with songs and flowers.
Since the visit, Fry has expressed hopes to develop programs offered to Drexel students and faculty that could combine co-op, research and civic engagement experiences.
"I'd like if the program could be offered a year from now, maybe sooner, but the logistics and the work to be done to make this a good experience are still being deliberated. Judging from my own experience, I think there is so much good to be done, and I'd rather take the time to do it right than rush to get a program," Fry said.
The program could be enriching for students and faculty from both an academic and volunteer standpoint, according to Fry. He recalled his own feelings of the trip and said, "It was really the most incredible experience. … It was just so warm, so nice; it was beautiful. I don't know what I expected to see, but I didn't expect to leave feeling so uplifted. The villagers were so lovely and gracious, even though they had so little."
Fry said he believes that students and faculty could learn a lot from the villages in terms of resiliency and resourcefulness, at the very least. Perhaps more importantly, students and faculty could provide villages with technology that could alleviate fears of resource scarcity. Fry said that engineering would be a central component to the potential program.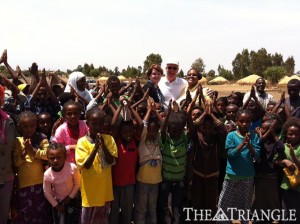 The itinerary was planned by volunteers of World Vision, an international organization dedicated to "building a better world for children," according to its website. The volunteers also accompanied the Drexel group throughout their travels. World Vision has built over 1,500 wells and 70,000 latrines and provided nearly 1 million people with access to safe drinking water. World Vision also seeks to improve health, education, food access, child protection and economic development, as well as to provide disaster relief to developing countries.
Dana Dornsife is a 1983 graduate of Drexel's LeBow College of Business, and her husband David is a graduate of the University of Southern California. The couple is committed to improving the quality of life for all people. The Dornsifes donated $10 million for what is now the Dana and David Dornsife Center for Community Partnerships, and they are active supporters of World Vision along with various other organizations, including the Lazarex Cancer Foundation, of which Dana is founder and CEO.