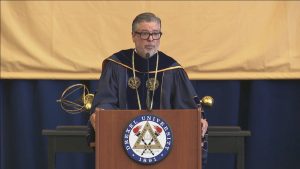 Drexel University initiated its 125th year as an institution on Sep. 16 with Convocation, an annual tradition consisting of a series of speeches to ring in the new academic season. President John A. Fry welcomed the incoming freshmen, and distinguished speaker Michael Crow gave the keynote address.
Chairman of the Drexel Board of Trustees Richard Greenawalt gave a few opening remarks preceding President Fry's welcome, comparing Drexel's current status to the original vision of its founder.
"Just imagine if the legendary financier and philanthropist Anthony J. Drexel could step out of the nineteenth century and be here with us today. I can only trust that he would say that the Drexel University of today is just what he envisioned in 1891," Greenawalt, class of 1966 Drexel alumnus and Chairman, stated.
President Fry followed Greenawalt on stage. He noted that this Convocation was not only the first to be held in the Recreation Center, but also the first to allow graduate students in the procession alongside distinguished faculty. He informed the audience that the university had accepted almost 2500 new graduate and professional students this academic year.
"Convocation is a chance for me to thank you all personally. It's also an opportunity to greet the newest members of our Drexel family, our new faculty…and the incoming members of the great class of 2020," President Fry began.
He then transitioned into a review of Drexel's policy to accept fewer applicants, which was implemented two years ago. He explained that the decision was made so that time could be allotted to give each applicant extensive attention to determine if the university was the best choice for them.
"We began this emphasis on getting the right students, and I'm happy to report that it's working. The current one year retention rate for the class of 2015 is 88.7 percent, which is at an all time high, and we think we'll make more progress from there," he reported.
President Fry then echoed Greenawalt's sentiments on continuing to carry out Anthony Drexel's original vision for the university.
"As the founder once put it, he wanted a Drexel education to be not only good, but good for something. He planted the intellectual seed for what would later become Drexel's cooperative education approach, and make us a global model for combining academic depth and excellence with intensive career discernment and preparation," he elaborated.
He also reminded the audience that in 1891, Anthony Drexel was unique in his belief that all applicants should be considered equally, regardless of gender, race, religion or socioeconomic class.
"And I like to think that the head start we got 125 years ago set the stage for a strong commitment to inclusion, and the kind of civic engagement that's such a big part of who we are today, especially here in Philadelphia. We remain hard at work on our goal of making Drexel the most civically engaged university in the United States," he stated.
He then explained how the university's involvement with the Schuylkill Yards innovation district would work to further this goal of serving the community as well as provide resources for Drexel students and staff.
"Schuylkill Yards will create substantial long-term employment opportunities for our neighbors in Mantua and throughout West Philadelphia, not by chance, but by design. And as it develops over the next two decades, it will result in new co-op jobs for our students, and research and commercialization opportunities for our faculty," he described.
President Fry then introduced the event's keynote speaker, Arizona State University president Michael Crow. Crow began by highlighting what about Drexel makes it a unique university, informing the incoming freshman of the type of institution they were about to enter.
"Drexel — for those of you coming in as students, you may not know this — that you're sitting now as a part of one of the last remaining free independent universities, not trapped in the box of playing a game wherein the entire [of the] institution is built on who you didn't admit. This is an institution with a purpose," Crow claimed.
He also stressed the importance of a well-rounded education, and becoming students who are capable of learning anything.
"What do we do at Drexel? We produce master learners. What do those master learners do? They create the future. How do they create the future? Differently than the other hard, rigid, fixed, institutions. We're committed to the city, we're committed to the city and its future," Crow continued.
Following Crow was Ludo Scheffer, Chair of the Faculty Senate. Scheffer, also a teaching professor in the psychology department of the College of Arts and Sciences, highlighted some of the ongoing changes at the university intended to improve it even further. Among these changes were the increased focus on civic engagement, the establishment of Responsibility Center Management (RCM) and the renaming of Enrollment Management to Enrollment Management and Student Success to reflect its broader purpose as a division.
"We are changing the way we do business, the ways in which we support and encourage research, the way we become an integral part of the fabric of the Philadelphia environment to become a true urban university…and the way we recruit and enroll and support all students towards their graduation," Scheffer explained.
Provost M. Brian Blake wrapped up the ceremony by wishing the best in the coming academic year for the students and faculty in attendance. The honored guests filed out of the hall as Rebecca Siler sang the first verse of the Drexel Ode, concluding Convocation 2016.
A video of the Convocation ceremony in its entirety is available online at https://www.youtube.com/watch?v=1rxn3V30Y2g.