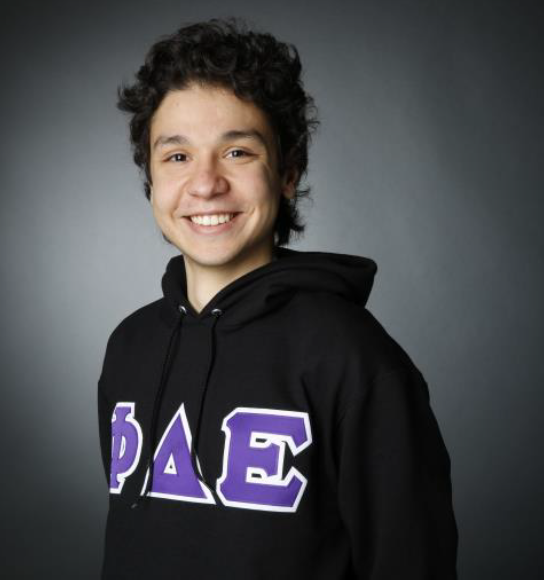 In Aleppo, Syria, Mahmoud Hallak's life was relatively normal — until it wasn't.
His parents, both physicians, worked to support Hallak and his two sisters. But as the regime of President Bashar al-Assad tightened its grip on Syria, everything began to change.
"He [my father] decided to help some injured civilians … at that point, that was viewed as treason. Helping anybody who was injured by the government was a crime. So he was kidnapped, arrested and killed because of that," Hallak, a pre-junior chemical engineering major, said.
The incident took place in May 2011. Hallak's family was one of the first to be affected by political unrest in that part of Syria.
In the southern part of the country, protests were becoming common. However, around the time Hallak's father died, Aleppo was still fairly complacent. Hallak was one of several catalysts that brought the resistance to his city.
"I was one of the people who decided that, in order for the revolution to carry on, our city has got to be part of it," he said.
When he first began protesting, all the assemblies were peaceful.
"A group of people and I started protesting, and the city, in a few months, started joining more and more. So we started from a few people, to tens, to hundreds, and then we ended up with thousands of people every protest."
By that time, Hallak said, essentially the entire country was swept up in the revolution. The Free Syrian Army was established soon after with the goal of overthrowing the Assad regime. It was when the FSA entered Aleppo to free it from regime control that the war really began, according to Hallak.
"Neighborhoods near mine were liberated, fighting started near me, and at that point, I gained the news that our identities were exposed. So the government knows who was protesting, and how we were working on that. So I had to flee the country."
With his mother and two sisters, Hallak fled to Turkey. He resided there for a few months before coming to a conclusion that he had no future there — he didn't even speak Turkish.
However, he could already speak English fairly well. Before the fatal accident, his father had applied for a U.S. visa for Hallak so that he could come visit his cousins. It had been granted to him the summer prior to their flight, but he'd never used it.
"I decided to go ahead to the U.S., and try to start over again," Hallak said.
That was in October 2012.
Hallak stayed with his uncle in the U.S. for a year and a half to complete high school. At the time, he wished to follow his parents' examples and become a physician. He was offered admittance to 19 of the 21 colleges to which he applied, but the cost proved to be a burden. Even the financial aid he initially received from Drexel was not enough. By sharing his story, Hallak was able to successfully appeal his financial aid.
"I was actually able to get a full scholarship. Which pretty much was the first step on the road for me. And since then, that taught me really how to go get what I'm trying to get and never give up. Work hard. And that's been the way I'm doing things since I came to Drexel," he said.
Things began to look up for Hallak once he began his education at Drexel. However, the rise of Donald Trump as a political force brought about a new set of problems for him.
Despite Trump's campaign rhetoric regarding a "Muslim ban", the seven-country travel ban implemented during Trump's first days in office was still more frightening than Hallak had anticipated.
"What really scared me is that when it happened, it was [applied to] specific countries. So it was more focused than I expected, which meant that everybody from those seven countries was going to be affected in a different way, because the way they were looked at was going to be different."
Hallak had applied for permanent residence (a green card) in February 2016. If the ban was not revoked, he figured, he would never get approved for it.
"If I don't get my green card, then there's no grounds for me to stay in the country. So it was a very stressful time, a lot of fear. In the back of my head, I was always thinking 'what if, what if, what if.'"
The lifting of the ban has provided some relief for Hallak, as he thinks that green cards may now start to be granted again for individuals from the seven previously restricted countries. However, he still remains wary of other possibilities.
"You'll never really know what's going on inside of immigration services. They may be still holding everything back [on granting green cards] to see if there's another order that's going to come up, or something else that will change our status."
Still, with Trump's views on immigration and his green card status up in the air, the threat of Hallak's deportation looms.
"Is there a possibility [that I could be deported]? There's always a possibility. Even when you have a green card, unless you're a citizen, there's always a way. I hope it never happens, and I hope I get my green card soon, because that would be just a little bit more helpful," he said.
To cope with the pervasive uncertainty of his own future, Hallak says, he just focuses on working towards his goals and completing his degree.
"The most important part is my education — if I keep stressing over it, it's not going to change anything. So I better focus on my main goals. Unfortunately if it [my deportation] does happen, or if it comes very close, very obvious, then I will have to shift my focus to a backup plan. But yeah, I try not to think about it. I really do. It's very distracting, when that's in the back of your head."
Hallak is one of 66 students at the university who hail from one of the seven originally banned countries. Out of thousands, that makes his position relatively unique. However, he says he generally has no trouble relating to his peers.
Despite Trump's executive order, Hallak says he has not encountered any unkindness due to his ethnicity.
"That's something I'm very thankful for in the U.S., that I've never felt unwelcome, I've never felt unsafe, I've never felt different. I only felt unique."
Unfortunately, Hallak said, this fair treatment did not carry over other places he's lived.
"I was in Europe for my co-op, and at some point I did feel that way [unwelcome] because I'm Syrian. So the fact that I lived years in the U.S. and never had that problem, and just lived three months in Europe and did have that problem, just tells me a lot," he said.
In the U.S., Hallak started a series of presentations to raise awareness of the humanitarian crisis in his home country. With Trump's election and the passing of the immigration ban, his optimism faltered, but he now thinks the solution is simpler than it seems.
"When you look at Facebook and look at the Internet, it's all articles that are very angry, articles that are attacking people who voted for Trump. 'Oh, they're stupid, oh, they're this and that.' Which is only making the situation worse. The fact that they voted for someone with these ideas is saying a lot about how far they have been pushed, and how much they have been ignored,"
Despite widespread political disagreement, Hallak does not think that anything resembling the current conflict in Syria will happen here. The Syrian war occurred as a result of many factors, and it took decades to incubate.
"The country (of the U.S.) has come together as a melting pot of different backgrounds and different ideas. There are some issues, but there's general freedom of speech, freedom of thinking, that's really appreciated and protected. And as long as that is there, there is hope," he said.
Just because it isn't happening in the U.S., though, does not mean it isn't a problem. Hallak encourages people to be aware of violent unrest in other countries like Syria to prevent its spread.
"But we can see something similar to Syria happening in different countries, which would lead to another humanitarian crisis, and that will keep going. And I feel like it's really important to prevent in different countries."
In terms of his community, Hallak says he has felt very supported throughout the events of the past several weeks.
"I have received far more support from Drexel than I expected. I mean, the amount of emails I got from professors, faculty, friends, peers … it was, I mean, heartwarming, to be honest," he said.
If he is able to complete his education here, Hallak will continue to pursue a career in energy, which he is extremely passionate about. Eventually, he aspires to be CEO at an energy-focused company, where he will aim to shift the country's energy dependence to renewable sources.
"I personally feel that it's only possible through companies that deal with non-renewables right now, because they're the people who have the capital to do it, and they're the people who have the influence, and they will not let it happen unless they have a hand in it. So my goal is to work with these companies, gain the experience, and go from there and help them transition into renewables, all through chemical engineering."
Hallak will be giving a talk on human rights and social justice as part of the Crossing Borders conference on March 2 in Behrakis Grand Hall.