Greek Week, a celebration of Greek life at Drexel, was held April 25 to May 7 as various fraternities and sororities competed in a variety of events.
The first week of events included three days of flag and powder puff football games that culminated with championship games at Buckley Field April 29. A Greek Challenge Blood Drive was also held at both Tau Kappa Epsilon and Behrakis Grand Hall.
Greek Week events also serve as competitions, as a winning sorority and fraternity receive points for completing each challenge.
Greek chapters fought for Greek Week points by collecting pennies in the Penny Wars game. Positive points were awarded to teams for pennies accumulated, while rival teams could donate silver coins and bills to their opponents for negative points. The team who collected the most number of pennies took home the Greek Week points for that event. Proceeds from the Penny Wars were donated to the Ian Alexander and Jon Williamson Scholarship Fund, a fund created by Alpha Chi Rho in honor of two brothers who passed away in January 2009.
"Penny Wars was a lot of fun because it was early in the week and we won," Hillary Davis, vice president of Phi Mu, said. "That win made us feel really good right at the beginning of the week."
A panel of faculty and staff judged the 2011 Greek tiles that will eventually take the place of the 2010 tiles that currently run along the fence of the Buckley Volleyball Courts. Chapters gained points for designing the most creative and well-executed tiles.
The talent show, one of Greek Week's most popular events, took place May 5 in the Main Auditorium.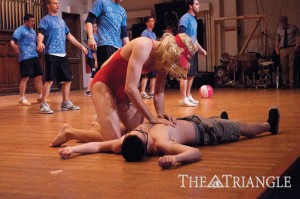 "The talent show is incredible," Lucas Quagliata of Sigma Phi Epsilon said. "It's months and months of work culminating in two hours of awesome performances. It's great to see what everyone does and how everyone supports one another; despite the fact that there's fierce competition involved, it's one of the most unifying experiences I've been a part of."
A new event that debuted this year was the rock wall challenge, which was held at the Drexel Recreation Center rock wall. Teams from each fraternity and sorority competed to complete the climbing challenges, and Sean O'Connor of Pi Kappa Alpha set a wall record by completing the course in 5.25 seconds, according to a statement on the fraternity's website.
In addition, strength was challenged again as students competed in the Greek arm wrestling tournament. Teams moved through two weight classes as the audience cheered them on.
"All I do is win," Sam Alston of Pi Kappa Phi said after winning the arm wrestling contest for the second year in a row.
Athletic skills were also on display as Greek chapters channeled the ancient Greeks during a chariot race. Teams built their own chariots before racing them down Arch Street.
Water relays, volleyball and dodgeball tournaments all rounded out the athletic competition of the week.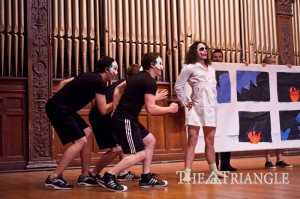 There was plenty of food to go around during both the pizza and pie-eating contests, with pizza for the fraternities and pies for the sororities. Lambda Chi Alpha also hosted a pasta dinner to benefit the Nicholas P. Pipino Memorial Foundation and to help runners prepare for the University City 5K that was held the next morning.
The CANstruction event also had members crafting sculptures out of non-perishable canned food that had been collected. The teams crafted architectural designs using the cans as building blocks. After the creations were judged for Greek Week points, all of the collected food was donated to the local Philabundence food bank.
"CANstruction is an amazing event because it promotes healthy competition and supports a great cause," Pete D'Antonio Jr. of Sigma Phi Epsilon said.
"Pi Kapp built the Parthenon for CANstruction, taking first place for the event," William Iamurri of Pi Kappa Phi said. "It was a fun and creative way to be able to donate food. I thought it was pretty cool – we built a mini model of a famous Greek structure out of cans of food and donate the cans."
Greek Week culminated with a classic tug-of-war at the volleyball courts that became the defining moment of Greek Week this year. After events were tallied before the tug-of-war both Sigma Phi Epsilon and Pi Kappa Alpha had a total of 248 points. After a final tug-of-war match, Pi Kappa Alpha was awarded the title of overall Greek Week Champions for 2011 in the Interfraternity Council Division, while Phi Sigma Sigma came in first within the Panhellenic Council.
The winning fraternity in the Multicultural Greek Council was Sigma Beta Rho while Kappa Phi Gamma was the winning sorority in the same division.
"Greek Week is a really fun time," Davis said, "But the best part is that you see a lot of familiar faces that come out, people you don't get to see too often, and have a really healthy competition."
A full list of teams and their results, along with scores and rankings from each of the events, is available on the Fraternities and Sororities section of Drexel's Student Life website.