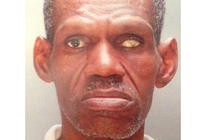 On Oct. 13, Municipal Judge James DeLeon held for trial former West Philadelphia handyman James Harris, who stood accused with Drexel graduate Jasmine Wright's rape and murder.
An eyewitness account from Tanya Giebus provided circumstantial evidence that placed Harris at the base of Wright's apartment building on the 50th and Locust block around the estimated time of Wright's death. Giebus, a neighbor who had lived on the same block as Harris for two months, testified that she had talked with "Jimmy" daily since moving into the neighborhood and that he'd talked to her about his handyman work for two apartments.
Giebus was able to identify Harris on the stand. She told the court that she'd seen him the day of Wright's July 15 slaying. She placed him on the porch of one of the apartment buildings at 5:45 p.m., after he'd told her his employment had been terminated there. She also noted that he backed away upon seeing her.
Authorities assert that shortly before Harris was seen on the porch, he was inside the third floor of the apartment building brutally raping, beating, and strangling 27-year-old Wright.
Harris' sperm was identified by DNA analysis inside Wright's genitals, as well as on a towel and pillow in her apartment.
According to Assistant District Attorney Gail Fairman, the Medical Examiner's Office determined Wright's death to be the result of manual strangulation. The report also stated that Wright sustained blunt-force-trauma injuries to 12 parts of her body including her forehead, eye, lips and four hits over the top of her head.
A statement that Wright's mother, who was not present in court, gave the authorities was then recounted Fairman to the judge. Paulette Wright was the last known person to speak with her daughter. They were speaking by phone at 5:29 p.m. July 15 when she heard nothing but background noise and hung up. Although she tried to call back repeatedly, her daughter did not pick up.
Wright's body was discovered the following day at 2:15 p.m. July 16 when Mary Umbrell, an agent at Realty World Properties who manages Wright's former apartment building, let herself into Wright's apartment. Umbrell had received a call from Wright's father who was concerned because he could not get in contact with her by phone.
"I seen Jasmine laying in the bed," Umbrell testified. "It looked like she was sleeping."
Umbrell said that she thought Wright was sleeping at first and yelled, "Jasmine, Jasmine wake up," and then called 9-1-1 when Wright did not respond. Wright was pronounced dead by emergency responders upon their arrival.
Umbrell testified that she knew Harris under the name James Camp, a man whom the apartment building's owner had hired for cleanup work.
Fairman argued the circumstantial evidence was enough to prove Harris guilty of raping, beating, and strangling Wright.
On behalf of Harris, public defenders Thurgood Matthews and Geoffrey Kilroy argued the possibility Harris engaged in consensual sex with Wright and that the timeframe of Wright's murder wasn't clear. They asserted that someone else could have strangled Wright after Giebus' account of him at the apartment building.
Harris was arrested in July on charges of Wright's rape and murder after determined that he had access to her apartment building a week after his employment's termination, when Wright was slain. He has served state prison time before. He was convicted of voluntary manslaughter, slaying his reportedly abusive father, James Washington in 1982. Harris has also previously been convicted, separately, on charges dealing with criminal trespass and drugs.